The Digital Office: Prepping the organization for digital transformation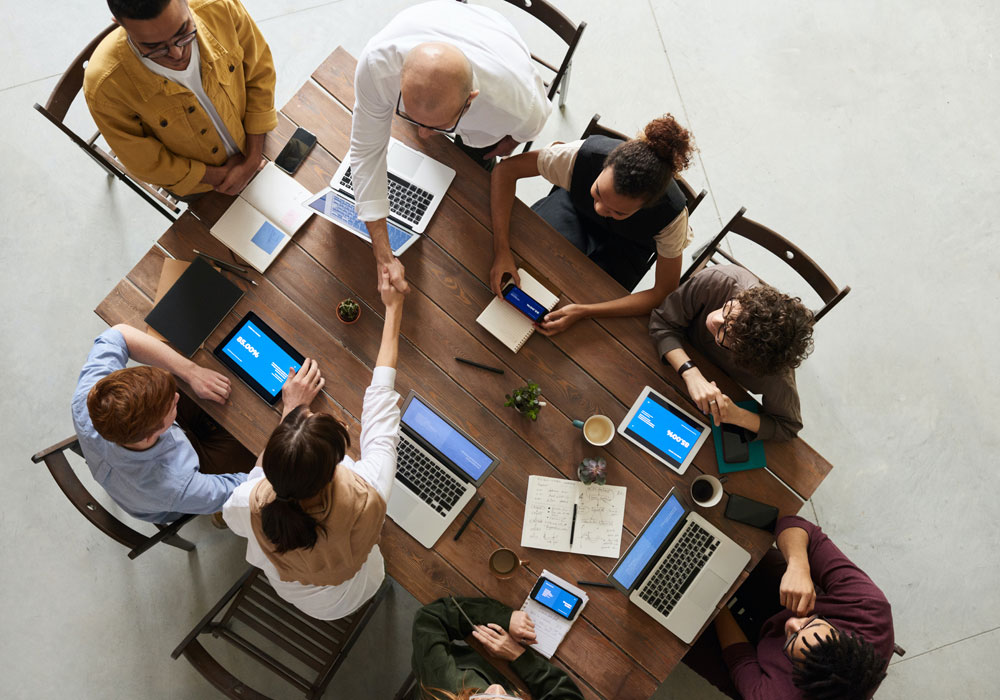 Featured photo by Marvin Meyer on Unsplash.
The digital age has transformed everyone's daily lives – from the way we shop, listen to music, read the news, and even make appointments.
The age when an "office" that serves as a physical space where employees are gathered to work is slowly transforming.
The always-connected culture that provides instant access to our fingertips has totally blurred the lines between the physical office space and the place where work happens. The apparent boundary between professional and personal life is slowly dissolving as the world truly embraces digital transformation.
And with the global health crisis that we are experiencing today, employees from various organizations are now communicating and collaborating in unprecedented ways.
Digital Transformation in Today's "Modern" Office
The evolution of digital technologies today is dramatically changing and reshaping various industries all over the world.
Business collaboration software Slack defines digital transformation as the adoption of digital processes and tools to achieve strategic business goals. It is a complex and multidimensional process that signifies a massive cultural shift in the workplace. Its changes can affect every part of an organization, including the way employees work.
Organizations today are scrambling to make company-wide changes to capture the benefits of digital transformation and keep up with the competition.
In a McKinsey Global Survey on digital transformations, more than eight in ten respondents say their organizations have undertaken such efforts in the past five years.
But what does an actual "digital transformation" mean for the organization? What does it take to make actionable digital transformation strategies to benefit the organization's employees and its stakeholders?
Implications of Digital Transformation to the Business
Digital transformation changes the ways teams work and collaborate together. It is not just about the technology they are using to get things done.
Upon hearing the term "digital transformation," people tend to have a fixation on the word digital instead of the platforms and processes that companies need to go through to actually transform.
Organizations often assume that they just need to buy the right software to increase employee productivity. It is also important to note that digital transformation looks different for every company depending on its needs and characteristics.
Any company's digital transformation plan is bound to fail unless the organization equips and empowers its employees to create a productive digital office that will help boost engagement and agility.
Here are several key elements that organizations need to have a successful digital transformation plan:
STEP 1: Vision
The organization's digital transformation plan needs to be aligned with the company's goals, objectives, and long-term vision. There should also be a compelling rationale on why the company needs to overhaul its work environment.
Thus, the company needs to carefully collaborate with organizational stakeholders such as the Human Resources department, IT department, and facility managers to help plan and execute the changes seamlessly. Organizations also need to think about the implications that the digital transformation will have on various workplace demographics and the potential impact that it will have on all stakeholders.
It's also essential to bear in mind that the firm should not execute a half-baked digital transformation plan. The company needs to have a clear purpose and objectives for the project to work, or else it will just consume a significant amount of money and resources for the organization.
STEP 2: Strategy
Along with a clear vision, the company should also establish a clear roadmap or blueprint of its digital transformation initiatives. The plan should be cascaded to every department in the company, including marketing, sales, customer support, manufacturing, HR, and IT.
Everyone involved needs to be invested enough to do their homework and understand how employees work to make the necessary changes that will help execute the digital transformation initiatives seamlessly.
Expect employees to bombard the firm with questions upon the execution of the plan and be ready to help them get used to the new technology during the transition period. It is crucial to help them embrace the new processes and reduce their anxieties at the same time.
STEP 3: Persona
Employee personas are a critical aspect of any digital transformation initiative in the office. It will help the company establish a reference for their staff's digital workflows. It will also help identify the specific tech tools that employees need to be more efficient and productive.
Employee personas include the staff's technical know-how such as their technology adoption and mobile usage, content creation, consumption, collaboration, and even their organizational knowledge. Tracking the technology consumption for each employee personas will help the firm craft a more effective digital transformation strategy.
STEP 4: Metrics
Organizations can use analytics to set their own KPIs and business metrics with a digital scorecard. Creating a scorecard will help the firm assess user engagement and track daily active users to their established collaboration software.
Quantifiable results are essential to track the positive impact on workforce effectiveness, including employee agility, satisfaction, and retention. These metrics are used to gauge the value of the company's technological investment. Firms can also use this data to assess change management and refine their approach to digital transformation.
STEP 5: Employee experience
Improving the overall customer experience is the end goal of a smooth transition to a digital office. However, firms must strengthen their employee experience first. Assemble the IT team and work with the firm's facilities manager to establish smart and mobile workspaces that will help enhance both individual collaboration and workplace productivity.
Ultimately, the organization's digital transformation needs to keep employees engaged enough to achieve the desired results. Companies can create an online portal that can serve as an avenue to recognize employee contributions and success stories. It can then be incorporated into a shared IT and HR metric to help monitor employee engagement.
STEP 6: Organizational change
An organization's digital transformation initiatives require a considerable amount of organizational change and management efforts. Companies will have to revamp their internal processes, departmental structures, incentives, skills, culture, and behaviors.
As such, a thorough assessment of new skills and digital competencies are needed to make the organization fully transition to a digital office. The management team needs to anticipate the challenges and obstacles that will hinder the successful adoption of digital technologies. Firms need to integrate these new technologies into every employee's workflows and set new rules, guidelines, and best practices.
STEP 7: Training
Transitioning to new technologies may tend to make employees anxious and stress about their jobs. Training is essential to help employees ease into this transition. Organizations need to plan the necessary training required to reskill their employees with new technologies. Firms could also hire the right personnel to train employees if it's necessary.
STEP 8: Processes
Companies will probably need to overhaul their business processes once they transition to a digital office. Create an employee journey map that will analyze and collect employee activities and experiences. Consider merging AI and IoT technologies to track workspace usage patterns. Eventually, companies can use AI to automate burdensome and routine tasks that hinder employee productivity.
STEP 9: Information
Employees want digital technologies that will help them work smarter, not harder. They want the relevant company information that they need to be delivered promptly. Implement a file-sharing system that integrates mobile access and real-time synchronization. Even simple video conferencing tools that work seamlessly can be a huge help for the company.
STEP 10: Technology
Companies do not need to go digital just because everybody is doing it nowadays. Organizations need to carefully think about the type of digital architecture that is necessary for their firms. Most of all, they need to innovate their core processes, which can be enabled by a fully digital office. Connect the firm's digital platforms and create a seamless process that allows mobility and real-time information delivery for the organization.
Introducing the digital office
To accurately reflect the organization's changing workplace needs, companies have started to implement a new workplace environment – the digital office.
Forward-thinking organizations are integrating technologies that employees use – from emails, instant messaging, social media to HR applications, and virtual meeting tools.
The digital office successfully breaks down communication barriers and positions the organization to transform employee experience by encouraging efficiency, innovation, and growth for the company.
The key to its success, however, will ultimately rely on the implementation of an effective digital transformation strategy to drive an inherent cultural change within the organization.
Here are several digital office trends that are making waves in the modern office setup:
TREND 1: The Cloud
A fully digital office will not exist if cloud-based services are not taken into consideration. It is more than just moving data and files into the cloud; it's also its service offerings. Cloud-based services such as infrastructure as a service, platform as a service, and software as a service have completely transformed today's office environment.
Changing the behavior of how information is produced, relayed, and consumed is a crucial aspect of a successful digital office adoption. The best feature of a digital office is that it can act as a single and unified place where employees can find relevant information.
The first step to digital transformation is to use cloud scanning and printing technology that delivers improved productivity by accessing other cloud-based services. RICOH's Integrated Cloud Environment (ICE) is an office software that successfully converts all the company's paper documents into digital files with the help of cloud technology.
TREND 2: Document Management and Archiving
Decades ago, managing an employee's paperwork meant that there should be a physical copy of the documents, and it should be installed in filing cabinets. This is not only a tedious and inefficient process, but it also takes up too much time to file and archive all paperwork.
A digital office means that the days for filing cabinets are long gone. Moreover, a genuine digital office will provide seamless access to the organization's content and digital assets without requiring obsolete web plugins, programs, and tedious file downloads.
Office software such as RICOH's Kofax® PaperPort Professional will help simplify document management across for the organization. From scanning and converting, to editing and sharing files, Kofax provides a simplified document management system that will help improve an organization's efficiency and productivity.
TREND 3: Mobility and Collaboration
Collaboration tools are one of the most sought-after benefits of a digital office. It is also one of the most reliable ways to help increase productivity in the organization. Having mobility, however, is a step beyond collaboration. It gives employees the power to access company information and work on any device, at any time, from any place.
Nowadays, mobility and collaboration are considered as a necessity rather than a perk in the office. It can increase employee productivity by allowing employees to access the information they need and collaborate with colleagues instantly.
RICOH's Open Bee™ software solutions do exactly that and more. Open Bee enables firms to organize company files, search, and share all types of files with colleagues and partners. It is the ideal tool to equip the organization with high performing and intuitive solution that is optimized for workplace mobility and collaboration.
TREND 4: Remote Access
The days when employees need to be glued to their office cubicles to get things done are over. Whenever an employee is out of the office, a remote office software like RICOH's @Remote Enterprise Pro provides centralized monitoring and device management for the organization.
Even if the firm is not using cloud-based applications as of the moment, a remote access software is crucial to the success of a fully digital office. Even simple things such as troubleshooting problems on the computer get so much easier when the IT support personnel has access to this software.
TREND 5: More IoT (Internet of Things) and AI (Artificial Intelligence) to improve workflow
AI and IoT devices are transforming the way companies are doing their business. Smart devices and office automation are making it easier for organizations to streamline workflows, monitor, and improve their services.
Take advantage of these new technologies and check out RICOH's AIspace to enable an AI-infused digital transformation for the organization. AIspace uses various AI resources such as speech recognition, computer vision, and OCR (optical character recognition) to the firm's digital assets. It enables all documents, images, and other digital media within the organization to be discoverable by the World's First Unified Search Engine.
Are you ready to move into your own digital office?
The advancement of digital technologies is prompting more and more organizations to consider implementing a digital transformation plan for their companies. As such, the digital office is gaining more prominence across the globe.
With the increased use of digital services, every organization, whether intentional or not, is slowly seeing the benefits of a digital office for their business.
Ricoh Philippines has a proven track record of creating IT infrastructure and software services that will help your organization's digital transformation. Click on this link to find out more!