RICOH Fleet Management Solution
Optimize costs and simplify maintenance of your printer fleet.
Client-based device management utility software designed with advanced productivity in mind
• Optimize the support of printing at your company
• Reduce printer-related support calls
• Automate printer and multifunction device management
RICOH Device Manager NX Lite
Device Manager NX Lite is a client-based multifunction device and printer management utility designed with advanced productivity in mind. Built with a fresh user interface that provides loads of print fleet information including device status information for a mixed fleet in a simple three pane view.
Advanced printer management features simplify the process of batch configuring Ricoh models. In addition, it permits 'cloning' of select features Ricoh's new 'services-led platform' devices.
Who Should use Device Manager NX Lite?
IT managers who seeks to simplify printer monitoring and management of their multifunction device fleet
Service providers who manage a fleet of print devices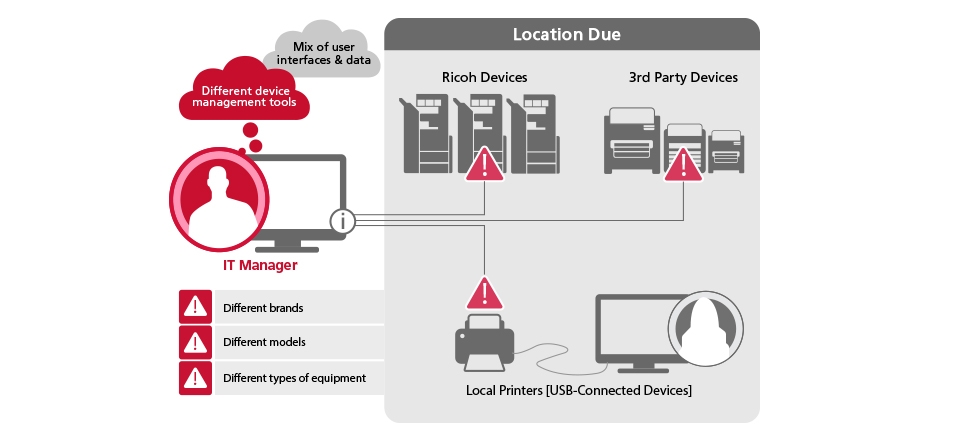 Using Device Manager NX Lite
Supports up to 250 printers and multifunction devices from a single client-based instance
Collects a standard set of data (i.e. manufacturer, model name, serial number / MAC Address, IP address, for most manufacturers' devices) along with the total print meter
Printer monitoring tracks toner, paper levels, and other basic device status
Collects additional detailed meter data for Ricoh devices, including copy, scan, print and fax usage — even distinguish between color and black & white and measure output by settings like duplex or 11" x 17"
When used with Ricoh's services-led platform devices, device cloning lets you export select settings from one MFP to create a template, then "clone" that template to configure the model devices with minimal effort
Display list lets you quickly navigate to a specific device and display its detailed properties
Custom filters can be set-up to quickly identify devices based on user-defined criteria
On-Site Support
Ricoh provides On-Site Support (ideal for multiple installations) to provide seamless and worry- free maintenance. Our Customer Engineer (CE) will report directly to the customer's premise.
Maintenance Support

Preventive Maintenance
On-Site Repair
Emergency Maintenance
Inspections and Diagnostic
Replacement of Parts

Supply Management

Supplies replenishment
Supplies Forecasting and Ordering
Used Toner Bottle
Collection and Disposal

Fleet Management

Machine Installation, removal and disposal
Machine re-allocation and replacement

Reporting

Machine performance Report
Total Document Volume
Cost Centre
Web Image Monitor (WIM)
Web Image Monitor allows users to remotely monitor and change the network configuration of Ricoh copiers, multifunction and printers via common web browsers.
Check printer status
Once you have entered the right IP address, you can use common browsers to see whether the printer is ready or not.
Platform independent
Because Web Image Monitor works via web browsers rather than PC software, it is platform independent and can be used with any operating system. As long as the target printer is networked and has an IP address, you can check its status at any time.
User-friendly monitoring
Using Web Status Monitor is as easy as browsing the internet. Simply type in the IP address of the printer to check, and an HTML page will appear with the status of the target peripheral.