Ricoh in the Philippines
Ricoh (Philippines), Inc.
Message from the CEO
It gives me great pleasure to welcome you to the Ricoh Philippines new website. Many changes in business environments have created exciting and challenging times for us. I hope our portal will give you, our visitors the opportunity to learn more about our products and services. Ricoh has helped raise office productivity with its innovative technology. Today, we offer products-including a diverse line of office imaging equipment-as well as related solutions and services in the Philippines and to approximately 200 countries around the world.
Since the establishment of Ricoh Philippines in 1999, our goal has been to support our customers with the best technology and professional services to enable them to achieve their business objectives. "Customer satisfaction" has always been our top priority – we endeavour to provide value-added services to help our customers overcome operational challenges, so that they can focus on their core business.
Ricoh Philippines is a part of a global company that cares deeply about people, our profession, our society and our planet. We dedicate our winning spirit innovation and team work to sharpen our customer centric focus and we commit to the highest standards of ethics and integrity.
I hope you enjoy our website and feel free to contact Ricoh Philippines for additional information and inquiries.
Yours Sincerely,
FREDERIC E. SULIT
President & CEO
Company Profile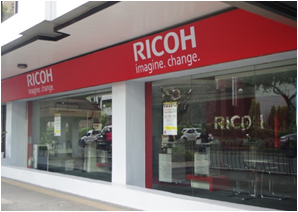 "Exclusive distributor of Ricoh Multifunction Devices (MFD), Printers, Production Printers including Direct To Garment (DTG), Visual Communications including Video Surveillance Solutions (VSS), Workspace Solutions, Software Solutions, IT Services including complete After-Sales Support".
Ricoh (Philippines), Inc. was formerly named Inchcape NRG (Phils.) Inc. (INRGP). The company was established and registered with the Securities and Exchange Commission on January 6, 1997. INRGP was a 50-50% joint venture of Inchcape NRG, Ltd., a British owned company and Ricoh Japan, a 100% Japanese company. The Company was established to become the exclusive distributor of Ricoh copiers, fax and other document solutions in the Philippines.
The first office established was located at 7904 Lawaan Street, San Antonio Village, Makati City. This was subsequently expanded in July 1997 to G/F Antel 1000, 139 Valero St., Salcedo Village, Makati City for its executive and sales office leaving Lawaan offices to house its service, distribution and warehouse offices.
After almost three (3) years of operations in the Philippines, INRGP slowly but surely carved a niche in the copier industry besting other leading competitors. Thus, in September 1999, Ricoh Company Ltd. Japan decided to buy out its partner to have more focus in selling exclusive Ricoh products thus making the company a sales subsidiary in the Philippines. The company was renamed Ricoh (Philippines), Inc. (RPH) in same month and became a 100% Japanese owned company. In January 2000, the company, to better streamline its operations, moved all its offices to B5 Karivin Plaza, 2316 Pasong Tamo Makati City. After seven (7) years of its operation in the said location, the Management has grabbed the opportunity of locating the office within the heart of Makati Central Business District and has decided to transfer and house its operation at Ground Floor 349 Oppen Building, Sen. Gil J. Puyat Avenue, Makati City, Philippines, where it is now presently located.
With the continuous effort towards business expansion, the company ventures on leasing its warehouse and workshop area at #153 San Francisco St. Mandaluyong City, Metro Manila. The rented space is for the storage facility and repair of office equipment. All machines, spareparts and consumables imported overseas are safekept in this facility.
Ricoh (Philippines), Inc. continues to expand business offices and depot nationwide. Last April 2015, Ricoh housed its new branch in Metro Cebu and a service depot was situated in Turbina, Laguna to easily cater the service needs of our growing clients in the Visayas and South areas respectively.
Ricoh (Philippines), Inc. was formally established and registered with the Securities and Exchange Commission on September 22, 1999. This was made to meet new challenges in the market and to provide focused growth in the Philippines. It is now a sales subsidiary of the leading global manufacturer of office automation equipment, Ricoh Company Ltd. The company's present lineup of products includes digital and analog copiers, fax machines, and related supplies and services. The Company is rapidly building a solid presence nationwide as a provider of comprehensive document solutions that help customers streamline their businesses and cut operating costs.
It is directly reporting to Ricoh Asia Pacific Pte. Ltd, whose offices are based in Singapore, which is exclusively owned by Ricoh Company, Ltd, Japan. The regional headquarters covers marketing and sales activities in the South East Asia and Oceania. The whole region shares a common goal by developing valuable marketing know-how and experiences from different countries. It is also committed to supply the most advanced products together with outstanding services. Customer satisfaction is the most important key factor for the Company's future growth.
Philosophy
Ricoh's Corporate Philosophy
The Spirit of Three Loves , by Kiyoshi Ichimura, founder.

"Love your neighbor"
"Love your country"
"Love your work"
Ricoh's Management Philosophy
Our purpose
To constantly create new value for the world at the interface of people and information.
Our goal
To be a good global citizen with reliability and appeal.
Our principles
- To think as an entrepreneur.
- To put ourselves in the other person's place.
- To find personal value in our work.
Quality and Environmental Policy
We, at Ricoh (Philippines), Inc. are committed to foster and exhibit the following in conformance to the requirements of Ricoh Global and the International Standards:
Responsible for meeting the needs and requirements of our customers, our workforce, business partners and interested parties, focus on customer satisfaction.
Provide high quality and environment-friendly products and services to our customers, with commitment to continually improve our performance, objectives and targets.
Harmonize with the environment by minimizing environmental impact of our business operations in compliance to applicable legal and other requirements for the continued protection of our planet.
Are you troubled about wrongdoing at work?
Report if you witness, hear, or concerned about a breach of the laws, or a breach of the company regulations.
RPH Whistleblowing Channels
Your identity will be protected and your report will be kept confidential.
20th Anniversary

Ricoh (Philippines), Inc. celebrated its' 20th Anniversary last September 2019 together with the presence of Ricoh Global President and CEO Mr. Yoshinori "Jake" Yamashita and Ricoh Asia Pacific Managing Director Mr. Kazuhisa Goto.

CSR Activities

Ricoh Philippines donates MFP to Masungi Georeserve

Digital Transformation

Ricoh Philippines is currently using Robotics Process Automation and Document Management Solutions to increase productivity and reduce cost

Internal Health and Wellness Program

Ricoh Philippines initiates activities and programs to promote healthy lifestyle for the employees and their families

RPH Cares for the environment

Ricoh Philippines initiates activities and programs to protect our environment