An intelligent Remote Management System
that lets you:
• Centralize and Simplify Fleet Management
• Maintain and monitor your Ricoh devices proactively
• Improve print device performance
Get Thorough Management and Control of your Devices
Find out how your entire printer network including multifunction printers (MFPs) are utilised. RICOH @Remote management system can help with that and more.
Accurately track device usage, check which devices are overused or underutilised and identify opportunities for supply cost reduction. This enables optimized fleet management and reduced running costs.
It also collects usage data from all your networked devices and automatically transmits this information using secure communication capabilities directly to our datacenter. Data is then processed to generate reports that can assist you in creating or updating device usage policy for your business.
Automate and Scale-up your Device Management
Centralize monitoring and device management of your entire network; Multifunction products and laser printers. It is a server-based solution gives I.T. support personnel significant information and control needed to maximise uptime and lower support costs.
Effective management of your fleet
Review detailed information for usage on network printers and MFPs in order to make better choices when it comes to overall management
Save time, no more manual meter reading
Eliminates the need for manual meter reading by automatically providing accurate information from fleet without user intervention
Powerful, enterprise-class solution
Make informed decisions via detailed device reporting and versatile management tools
Very Accessible via Web-based control
Easy access to device metrics, including meter readings and device activity reports such as print volumes and usage
@Remote Connector NX
Are you managing a large fleet up to 5,000 Ricoh and other third party devices? Monitor them effortlessly with @Remote Connector NX. It is available as a standalone software solution or as a licensed option via Streamline NX.
To help ensure optimal fleet performance, have a predefined schedule to collect and provide device meter readings, communicate critical and timely service alerts, and send low ink-level notifications directly to yourservice provider.
Peace of Mind at No Extra Cost
Ricoh Advanced Remote Mobile System (ARMS)
RICOH ARMS allows our technicians to remotely monitor your devices and diagnose the problem in advance of a visit so they can come fully-prepped to make the necessary repairs fast and efficiently the first time.
We aim to improve customer experience with our proactive, behind-the-scenes technical support by:
Reducing service call duration
Increasing system uptime
Providing latest firmware updates
Having higher efficiency on device management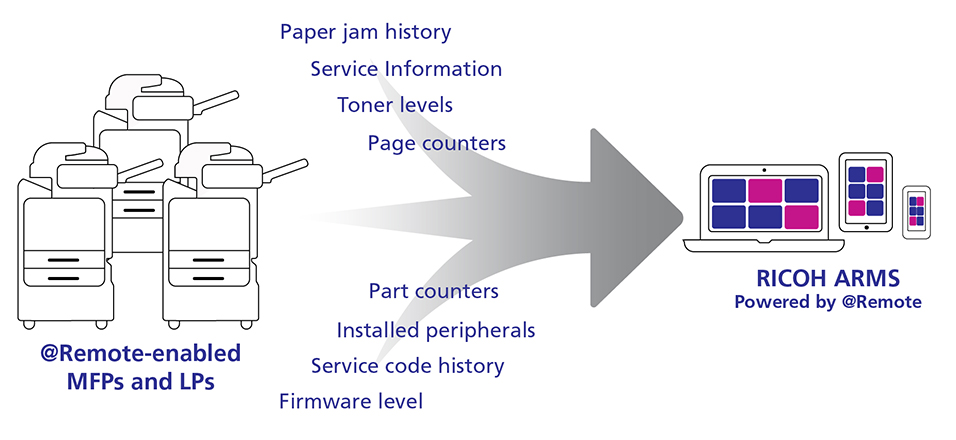 You can already use @Remote for automated meter reads, supply reorder notifications and green reports. Now, it can do more for you. Just allow our technicians to connect to your devices for pre-visit diagnostic purposes and supply data for RICOH Predictive Maintenance, which increases your device uptime through pre-emptive repairs. If you are not using @Remote, try it today! Enrolment is free and easy for eligible Ricoh and third-party devices.
R Track Features
No internet access is needed
Data are sent out via e-mail
Data are used for billing Black and Color A4/A3
Meet customer network security policy such as Banks, Government Agencies