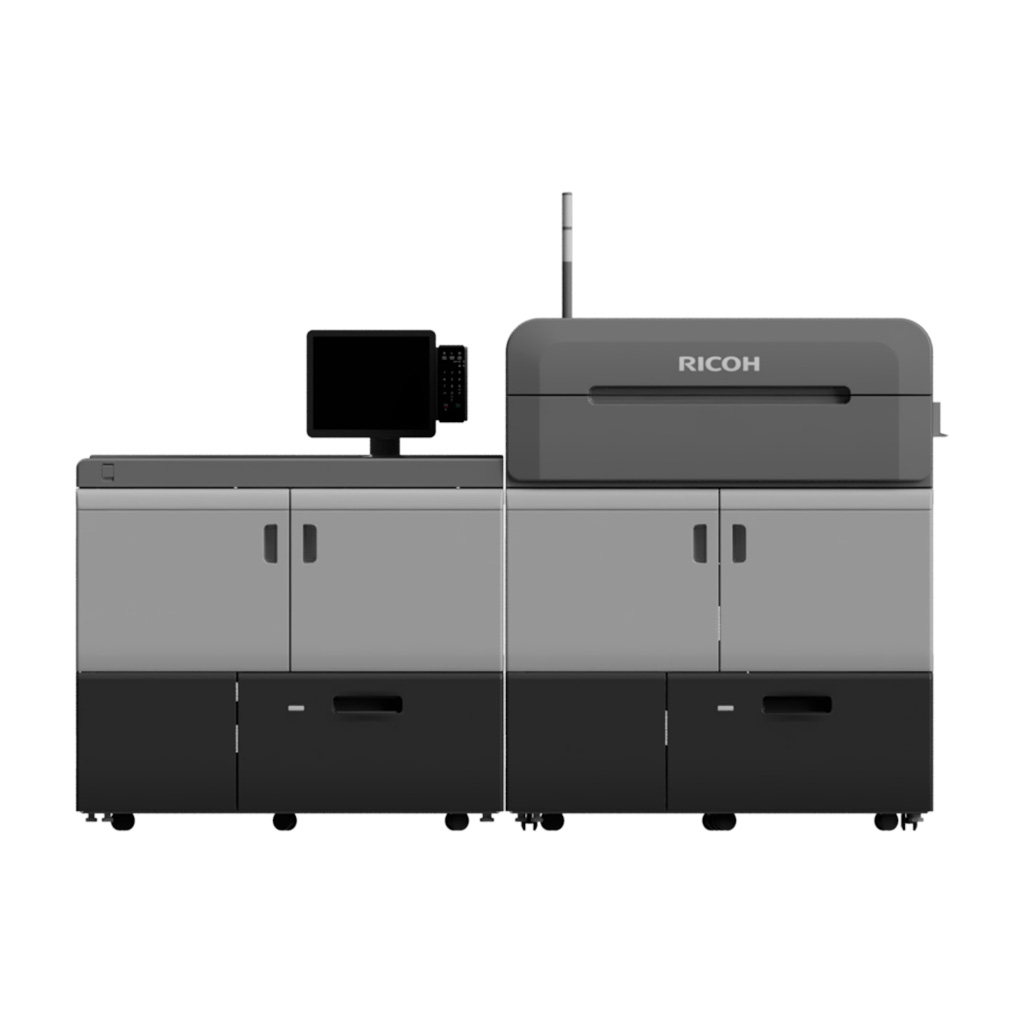 Back
Pro C9210 Graphic Arts Edition
Colour production printer
Prints up to 135 ppm
Up to 470 g/m2
18,100-sheet max input
529,000-sheet APV
The more choice, the better
Ricoh's production range is made to work with a massive variety of stock. Imagine all the coated, coloured, textured, and synthetic possibilities ready and waiting to amaze your customers
Supersize your print room with high speed, high quality, high volume colour printing
Beat the competition with a more affordable digital printing solution. The Pro C9210, Graphic Arts Edition, delivers with precision to help you win new business.
More opportunities, less cost
Say 'yes' to more work with digital print production that delivers high speed, capacity and quality at low cost. Deliver oversize banners (auto double-sided to 1030mm), magnets, synthetic, linen and textured stocks with impressive results. There is a choice of controllers, including Fiery, to best suit your printroom needs. Booklets, folders, trimmers and other finishers can be added inline to further automate your operations.
Keep running
Paper capacity can be increased to 17,600 sheets
Wide media support
Choose from many media types, including metallic, super gloss, coated stock, transparencies, thick cards and sheet size up to 330 x 1260mm
Precision with speed
High definition imaging, auto-calibration, auto-registration and mechanical paper registration
Do it yourself
Handle maintenance issues in house with Trained Customer Replaceable Units (TCRUs) to maximise uptime
Find what you need
Use the paper library to configure jobs for specific media and stocks
Stay in control
Choice of two EFI Fiery controllers or Ricoh TotalFlow controller with direct connectivity to Heidelberg Prinect, Kodak Prinergy or Screen Equios workflows
Finish it off in style
Improve turnaround times and increase your print capacity. Ricoh's line of finishers make it easy to print more types of documents, quickly. Create professional saddle-stitched booklets with minimal effort using the booklet maker, folder and trimmers. Fold media in multiple styles to give customers more options. Collate, bind, punch, trim and add or close rings with minimal manual intervention.