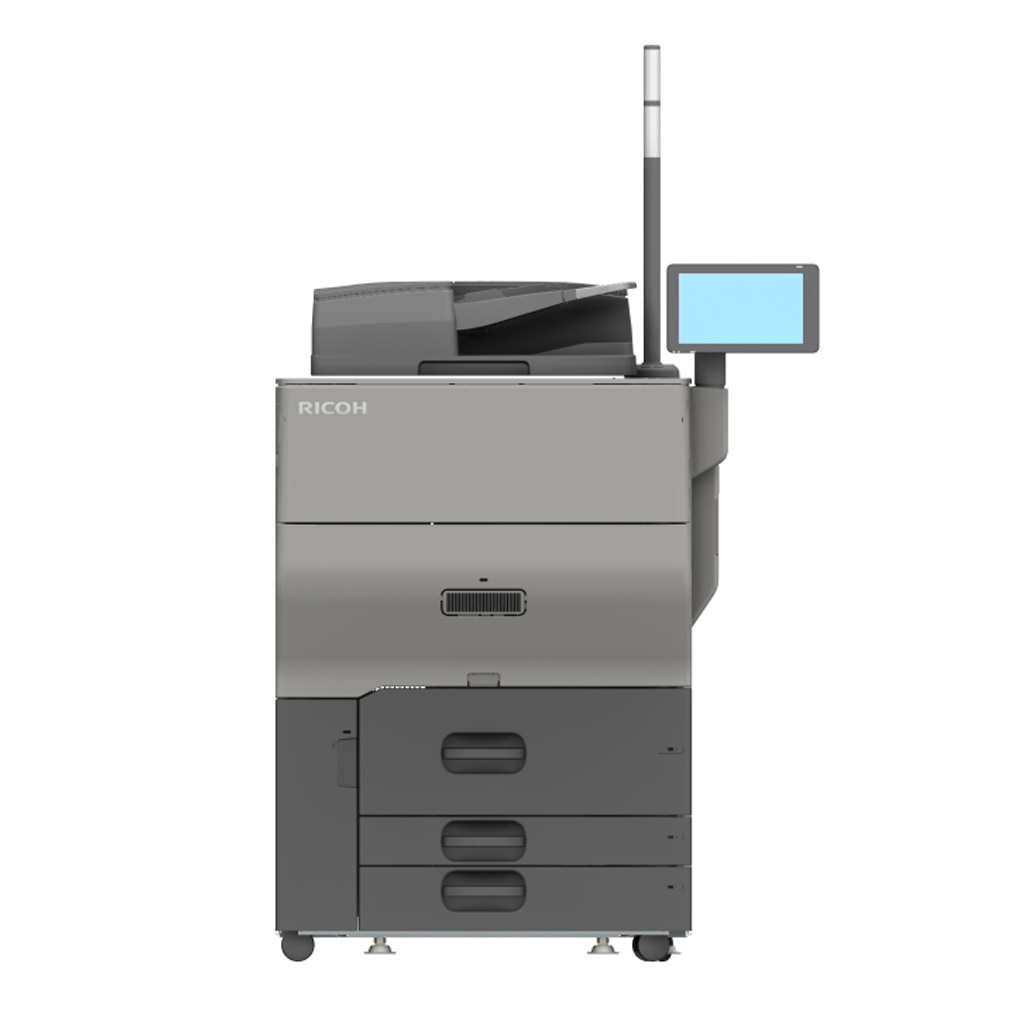 Back
Pro C5310S
Colour production printer
Prints up to 80 ppm
Up to 360 g/m2 duplex
Up to 13" x 19.2" paper size
High-end finishers
Get ready for the new normal
With Pro C5310S, quality print is expected. What is astonishing is that exceptional imaging in a range of finishing options can be delivered from such a compact machine. Who says good things don't come in small packages?
A powerhouse with a small footprint
RICOH Pro C5310S comes in a surprisingly small package yet delivers a big performance. Designed to meet the quality demands of graphic design and advertising agencies and the professional standards of printing firms, Pro C5310S is a trusted companion to any business needing professional prints fast.
Quality and reliability comes as standard
The success of your business depends on you delighting your clients. And that means high-quality, high-speed output of prints that allow you to exceed expectations - brilliantly. The Pro C5310S delivers genius ideas in vibrant colour and pristine image quality.
Explore creative concepts across more media types
Print in a wide range of different mediums from lightweight gloss sheets to the most interesting synthetic and textured stocks and 1,000 preset custom profiles for posters, book wraps, mailers and more.
Deliver as-it-should-be-seen proofs for client approval
With the highest pixel density for the most vivid prints, no longer will inferior production dampen the vibrancy of your team's creative ideas ever again.
Offload short print runs and colour proofing orders
Handle rush jobs and demand spikes with ease by offloading print-on-demand jobs to Pro C5310S and increase your margins.
Publish to professional standard every time
Bring outsourced print jobs inhouse with the ability to print books up to 120 pages and collaterals with heavy paper weights up to 360 gsm.
Pick and choose from our comprehensive options
A variety of input and finishing options is available to help eliminate manual finishing tasks and integrate automated end-to-end professional quality document production workflows. The new high-end finishers with dual shift trays provide increased stacking capacity and non-stop delivery to meet the demands of high print volume, while the vacuum-feed paper bank provides a high level of feeding accuracy for a variety of media types and weights to suit various needs.
Specifications
Functions

Copy, print, scan

Colour

Yes

Printer controller - standard

GWNX

Printer controller - optional

Fiery colour controller E-27B
Fiery colour controller E-47B

HDD

640 GB (320 GB x 2)

Document server

170 GB HDD capacity—shared with other applications
3,000 maximum stored documents
3,000 pages maximum per document
15,000 pages maximum of all stored documents
1–180 days storage, or no limit

CPU

1.6 GHz

Memory - standard

4 GB

Operation panel

10.1-inch Smart Operation Panel
Physical dimensions (WxDxH)—mainframe

799 x 880 x 1,648 mm

Physical dimensions (WxDxH)—other

587 x 520 x 175 mm—SPDF
352 x 540 x 625 mm—4,400-sheet LCT RT4060 (A4)
869 x 730 x 658 mm—2,200-sheet LCT RT5140 (A3)
1,054 x 730 x 1,000 mm—4,400-sheet Vacuum-Feed LCT RT5120
1,290 x 730 x 1,000 mm—4,400-sheet Vacuum-Feed LCT RT5120 with optional vacuum-feed banner sheet tray attached
690 x 561 x 210 mm—Multi-Bypass Tray BY5020
1,090 x 561 x 210 mm—Multi-Bypass Banner Sheet Tray Type S9 when attached to Multi-Bypass Tray BY5020
1,290 x 730 x 1,302 mm—Multi-Bypass Banner Sheet Tray Type S9 with the cover open
225 x 730 x 1,000 mm—Bridge Unit BU5030 for Vacuum-Feed LCT RT5120
1,290 x 730 x 1,000 mm—Vacuum-Feed Banner Sheet Tray Type S9 when attached to Vacuum-Feed LCT RT5120
20 x 514 x 207 mm—A3 Tray Type M26 for internal tandem tray
350 x 220 x 360 mm—Multi-Bypass Banner Sheet Tray Type S6
516 x 718 x 135 mm—Banner Sheet Guide Tray Type S13 for A3 LCT
657 x 730 x 980 mm—Finisher SR5090 with all extendable trays closed
169 x 539 x 203 mm—Output Jogger Unit Type S11 including jogger operating range
657 x 730 x 980 mm—Booklet-Finisher SR5100 with all extendable trays closed
169 x 539 x 203 mm—Output Jogger Unit Type S11 including jogger operating range
1,113 x 730 x 1,490 mm—Finisher SR5110
1,334 x 730 x 1,622 mm—Finisher SR5110 with banner sheet option
1,113 x 730 x 1,490 mm—Booklet Finisher SR5120
1,334 x 730 x 1,622 mm—Booklet Finisher SR5120 with banner sheet option
1,115 x 591 x 555 mm—Trimmer Unit TR5050
740 x 730 x 1,290 mm—Cover Interposer CI5040
500 x 600 x 600 mm—Cover Interposer CI5050
900 x 730 x 1,010 mm—High-Capacity Stacker SK5040
350 x 500 x 170 mm—Copy Tray Type M26
376 x 885 x 1,140 mm—Decurl Unit DU5080
330 x 730 x 1,010 mm—Buffer Pass Unit Type S9
470 x 730 x 1,000 mm—Multi-Folding Unit FD5020
330 x 740 x 1,010 mm—Bridge Unit Type BU5020

Weight—mainframe

262 kg or less

Weight—other

14 kg or less—SPDF
20 kg or less—4,400-sheet LCT RT4060 (A4)
83 kg or less—2,200-sheet LCT RT5140 (A3)
230 kg or less—4,400-sheet Vacuum-Feed LCT RT5120
20 kg or less—Multi-Bypass Tray BY5020
3.5 kg—Multi-Bypass Banner Sheet Tray Type S9
41 kg—Bridge Unit BU5030 for Vacuum-Feed LCT RT5120
7 kg or less—Vacuum-Feed Banner Sheet Tray Type S9
11 kg—A3 Tray Type M26 for internal tandem tray
1.1 kg or less—Multi-Bypass Banner Sheet Tray Type S6
1.98 kg—Banner Sheet Guide Tray Type S13 for A3 LCT
38 kg or less—Finisher SR5090
2 kg or less—Output Jogger Unit Type S11
53 kg or less—Booklet-Finisher SR5100
135 kg—Finisher SR5110
160 kg—Booklet Finisher SR5120
75 kg—Trimmer Unit TR5050
50 kg—Cover Interposer CI5040
12 kg or less—Cover Interposer CI5050
120 kg or less—High-Capacity Stacker SK5040
15 kg or less—Roll-away cart for High-Capacity Stacker SK5040
2.2 kg or less—Copy Tray Type M26
30 kg or less—Decurl Unit DU5080
90 kg or less—Buffer Pass Unit Type S9
92 kg or less—Multi-Folding Unit FD5020
40 kg or less—Bridge Unit Type BU5020

Minimum space requirements

100 mm—left
100 mm—rear
900 mm—right
400 mm—front
Average monthly volume

60,000 prints per month

Average monthly statement

40,000–130,000 prints per month (recommended)

Max monthly volume

150,000 prints

Machine life

9,000,000 prints or 5 years, whichever comes first

Duty cycle

450,000 prints per month

Colour ratio

80%
Supply yields

31,000 copies per 1,020 g bottle—black
26,000 copies per 1,020 g bottle—cyan
26,000 copies per 1,099 g bottle—magenta
26,000 copies per 1,020 g bottle—yellow

110,000 sheets per bottle—waste toner bottle

Note: All toner yields are based on A4/8.75% coverage, 20 pages per job. Waste toner bottle yield is based on A4/8.75% coverage, 20 pages per job, 80% duplex, and 60% colour ratio.

5,000 staples per Type X cartridge for finisher SR5110/SR5120—normal staple
5,000 staples per Type V cartridge for finisher SR5090/SR5100—normal staple
2,000 staples per Type W cartridge for booklet finisher SR5100—saddle stitch staple
5,000 staples per Type U cartridge for booklet finisher SR5120—saddle stitch staple

5 cartridges per Type X refill for finisher SR5110/SR5120—normal staple
3 cartridges per Type V refill for finisher SR5090/SR5100—normal staple
4 cartridges per Type W refill for booklet finisher SR5100—saddle stitch staple
2 cartridges per Type T refill for booklet finisher SR5120—saddle stitch staple
Standard input capacity (sheets)

3,850

Maximum input capacity (sheets)

8,500

Standard output capacity (sheets)

Not available

Maximum output capacity (sheets)

4,500

Paper input configuration - standard

2,500-sheet tandem input tray, 2 x 550-sheet paper input trays, 250-sheet bypass tray, 220-sheet SPDF, duplex unit

Paper input configuration - optional

4,400-sheet Vacuum-Feed LCT RT5120, 4,400-sheet LCT RT4060 (A4), 2,200-sheet LCT RT5140 (A3), 50-sheet Multi-Bypass Banner Sheet Tray Type S6, 500-sheet Multi-Bypass Tray BY5020, 500-sheet Multi-Bypass Banner Sheet Tray Type S9, 730-sheet Vacuum-Feed Banner Sheet Tray Type S9, 2,500-sheet B4 Paper Size Tray Type M2 for LCT RT4060 (A4), 250-sheet Banner Sheet Guide Tray for A3 LCT Type S13, 1,000-sheet A3 Tray Type M26 for tandem tray (internal)

Paper output configuration - optional

500-sheet Copy Tray Type M42, 3,000-sheet Finisher SR5090, 2,000-sheet Booklet Finisher SR5100, 4,500-sheet Finisher SR5110, 3,500-sheet Booklet Finisher SR5080, Timmer Unit TR5050, 50-sheet SR4000 Series Banner Sheet Output Tray Type S6, 200-sheet SR5000 Series Banner Sheet Output Tray Type S6, Decurl Unit DU5080, Buffer Pass Unit Type S6, Multi-Folding Unit FD5020, 200-sheet Cover Interposer CI5050, 400-sheet Cover Interposer CI5040, 5,250-sheet High-Capacity Stacker SK5040

Paper output configuration - 3rd Party

Plockmatic PBM 350e/PBM 500e, GBC StreamPunch Ultra, GBC e-Wire Binder

Supported media

Standard paper input tray 1, LCT RT4060 (A4)
Plain paper, recycled paper, letterhead, pre-printed paper, pre-punched paper

Standard paper input trays 2 and 3
Plain paper, recycled paper, letterhead, pre-printed paper, pre-punched paper, tab stock, envelope

Bypass tray, LCT RT5140 (A3), duplex unit
Plain paper, recycled paper, letterhead, pre-printed paper, pre-punched paper, OHP (transparencies), tab stock, translucent paper, label, envelope, glossy/matte coated paper

Maximum paper size

13" x 19.2"

Media weight (g/m2)

52.3–360

Limitless paper supply

Supported
Interfaces - standard

Mainframe
10Base-T/100Base-Tx/1000Base-T (Gigabit Ethernet)
USB Type A—2 ports on rear and 1 port on operation panel
USB Type B
SD slot—on operation panel

Smart Operation Panel
IEEE 802.11 b/g/n (Wireless LAN)1
Bluetooth 4.22
SD Card Slot—SDHC memory card
USB Host Type A—USB Flash memory
USB Host Type A—1 port for USB keyboard (optional)2
USB Host Type mini B—for NFC card reader (optional)2
microSD card slot—ROM storage expansion2
NFC Tag2

1—Limited printing for a peer-to-peer mobile device via RICOH Smart Device Connector
2—Cannot be used for printing

Interfaces - optional

IEEE 1284
Wireless LAN (IEEE 802.11 a/b/g/n)
Copy Connector Type M25

Note: Wireless LAN cannot be used with Bluetooth at the same time.

Network protocols - standard

TCP/IP (IPv4, IPv6)

MIB support

Standard
MIB-II (RFC1213)
Host Resources MIB (RFC1514)
Printer MIB (RFC1759)
Printer Port Monitor MIB

Private
Ricoh original MIB
Copy speed

80 cpm—A4 LEF

First copy time

8.1 seconds or less—black and white
9.6 seconds or less—colour

Copy resolution

600 x 600 dpi—4 bit

Quantity selection

Up to 9,999

Copy reservations

8 jobs

Job presets

8 jobs

Job programs

25 programs

Zoom range

25%–400%, in 1% steps

Enlargement ratios

115%, 122%, 141%, 200%, 400%

Reduction ratios

93%, 87%, 82%, 71%, 61%, 50%, 25%

Image density adjustment

Automatic selection, manual selection—7 levels

Image density adjustment

Automatic or manual selection

Copy modes

Auto text and photo separation (default)—printed/glossy/copied, Photo—printed/glossy/copied
Text, Map, Generation, Highlight pen, Inkjet

Colour mode

Options
Black and white (default), single colour, two colour, full colour, Automatic Colour Selection

Single colour
12 colours x 4 density—single colour preset; default red
15 colours x 4 density—user selection

Two colour
Black and other colour, red and black

Paper selection

Default
Auto Paper Selection (APS)

Standard
1st tray, 2nd tray, 3rd tray, bypass tray

Optional
A4 LCT RT4060, A3 LCT RT5140

Duplex copy

Simplex, duplex, simplex to duplex, duplex to duplex, book to duplex, front and back cover to duplex, duplex to simplex

Book copy

Booklet, magazine, layout and booklet

Series copy

Book to simplex, duplex to simplex

Combine copy

2, 4, or 8 pages into 1 simplex sheet
1, 2, or 4 duplex pages into 1 simplex sheet
4, 8, or 16 pages into 1 duplex sheet
2, 4, or 8 duplex pages into 1 duplex sheet

Interrupt copy

Supported

Auto tray change

Supported; default off

Paper library

Supported

Copy prevention pattern

Supported

Bates numbering

Supported

User codes

1,000 user codes, 8 digits in each code

Centring

Supported

Cover sheet

Front and back covers—copy or blank; default copy

Slip sheet

Supported—user can choose to copy or not copy to slip sheet

Chaptering

Supported—up to 100 chapters

Stapling

Supported—with finisher

Punch

Supported—with finisher

Electronic stacking

Supported—with finisher

Electronic sorting

Rotate sort

—s

upported
Shift sort

—s

upported without finisher
Without shift sort

—s

upported without finisher


Margin/erase adjustment

Margin and scan position

—

0–30 mm in 1 mm steps
Creep

—

0–99 mm in 1 mm steps
Erase centre and border

—

2–99 mm in 1 mm steps


Image adjustment

Sharpen/soften—7 levels
Contrast

—

9 levels
Background density

—

9 levels
Under Colour Removal (UCR)

—

9 levels
Text and photo separation sensitivity

—

9 levels
Colour erase sensitivity

—

5 levels

Image creation

Repeat, double copy, mirror, positive/negative, erase inside—5 parts, erase outside—1 part

Colour creation

Colour conversion—supported—maximum 4 colours, selectable from 12 preset colours, black, or 15 user colours
Colour erase—supported
Colour overlay—supported

Stamps

User stamp—4 stamps
Date stamp—5 styles
Page numbering—6 styles
Preset stamp—8 stamps
Bates stamping—9 digits without zero suppression

Image rotation

Supported

Other copy features

Automatic Colour Calibration (ACC), Colour Balance Adjustment, Colour Balance Program, Auto start, Sample copy, Unauthorised copy prevention
Print speed colour

80 ppm—A4 LEF

Print speed black and white

80 ppm—A4 LEF

Printing process

4-drum dry electrostatic transfer system with internal transfer belt

Printing technology

Vertical Cavity Surface-Emitting Laser (VCSEL) technology

Fusing

Oil-less belt-fusing method

Toner development

PxP-EQ chemical toner
Polymerisation

Print resolution

2,400 x 4,800 dpi

Page description languages (PDLs)

Standard
PCL 5c, PCL 6 (XL), PostScript3 emulation, PDF Direct emulation

Optional
Adobe PostScript 3, Adobe PDF Direct, XPS, IPDS

Printer drivers

Standard
PCL 5c, PCL 6, PostScript3 emulation

Optional
Adobe PostScript 3

Printer driver resolution

Maximum
2,400 x 4,800 dpi

PCL 5c
300 x 300 dpi (1-bit)—black and white mode
600 x 600 dpi (1-,2-, and 4-bit)

PCL 6, PostScript 3
600 x 600 dpi (1-,2-, and 4-bit)
1,200 x 1,200 dpi (1- and 2-bit)

XPS—optional
600 x 600 dpi (1-,2-, and 4-bit)

IPDS—optional
300 x 300 dpi, 600 x 600 dpi (1-bit)

Duplex printing

Standard

Host printing

Genuine Intelligent Printer Data Stream (IPDS)—optional

Envelope printing

Supported—standard input trays 2 and 3 paper, bypass tray, LCT RT5140 (A3)

Fonts

PCL 5c/6, PostScript3 emulation, PDF Direct emulation
45 Roman fonts + 13 international fonts

Adobe PostScript 3—optional
136 Roman fonts

IPDS—optional
108 Roman fonts

Maximum printable area

323 x 480 mm

Note: Configurable up to 1,260 mm in SP Mode.

Fiery controller

Fiery colour controller E-27B or Fiery colour controller E-47B—optional

Page Description Languages (PDLs)
PostScript 3—CPSI v3020, APPE v4.4
PCL 6

Fonts
80—PCL
136 + 2MM—PostScript 3

Fiery menu via operation panel
Supported

2-character operation panel
Supported

Supported file formats
Adobe PostScript Level 1, 2, 3
Adobe PDF
Enhanced PCL 6/PCL 5
Microsoft Native Formats (doc/x, xls/x, pub/x, ppt/x) via the Fiery driver or optional Fiery Hot Folders

Variable Data Printing (VDP)
Fiery FreeForm Create
Fiery FreeForm Plus
VDP record range printing
Optimised PostScript and PDF
Define record length
Record and set level finishing support
VDP raster preview
Scan speed

A4 LEF, black and white, via SPDF
Simplex
120 ipm—200 x 200 dpi, 300 x 300 dpi, 1-bit

Duplex
220 ipm—200 x 200 dpi, 300 x 300 dpi, 1-bit

A4 LEF, colour, via SPDF
Simplex
120 ipm—200 x 200 dpi, 300 x 300 dpi, 4-bit

Duplex
220 ipm—200 x 200 dpi, 300 x 300 dpi, 4-bit

Scan methods

Scan to email

Colour scanning

Standard

Scan mode

Black and white
Text, text/line art, text/photo, photo, greyscale

Colour—24-bit
Text/photo, glossy photo, Automatic Colour Selection

Scan resolution

100 dpi, 150 dpi, 200 dpi (default), 300 dpi, 400 dpi, 600 dpi, 1,200 dpi

Scan area

297 mm—main scan
432 mm—sub-scan

Image density adjustment

Automatic selection, manual selection—7 levels

Scan to file types

Single- and multi-page TIFF
Single-page JPEG
Single- and multi-page PDF, PDF/A
Single- and multi-page high compression PDF

Scan to file type support

Single- and multi-page TIFF
Black and white 1-bit—MH, MR, MMR—compression on
Black and white 1-bit, black and white greyscale, full colour—compression off

Single-page JPEG
Black and white greyscale, full colour—compression on

Single- and multi-page PDF, PDF/A
Black and white 1-bit—MH, MR, MMR, JBIG2
Black and white greyscale JPEG, full colour JPEG—compression on
Black and white 1-bit, black and white greyscale, full colour—compression off

Single- and multi-page high compression PDF
Black and white greyscale, full colour—JPEG, JPEG 2000—compression on

Scan to email

Authentication
SMTP authentication, POP before SMTP authentication

Scan resolution
100 dpi, 150 dpi, 200 dpi (default), 300 dpi, 400 dpi, 600 dpi

Scan to email file types
Single-page
TIFF, JPEG, PDF, PDF/A, High Compression PDF, Encrypted PDF, Searchable PDF

Multi-page
TIFF, PDF, PDF/A, High Compression PDF, Encrypted PDF, Searchable PDF

Note: Optional OCR unit is required to support scanning to a searchable PDF.

Scan to email—other features

Scan to email size
128–102,400 KB—with restriction
700 MB—without restriction

Maximum email addresses per send
500—from HDD
100—direct input
100—via LDAP

Email addresses stored in HDD
Maximum email addresses—2,000
Maximum registered group addresses—100 groups, 500 addresses per group
Maintain email addresses—via operation panel, SmartDeviceMonitor for Admin, Web Image Monitor
Search method—by name, email address

Body message
Manual input—maximum 80 characters over 5 lines via operation panel
User pre-registered—maximum 400 characters, 80 characters over 5 lines via operation panel
Preset message—This e-mail includes attached file sent from <device name>.

Input subject
Manual input—maximum 128 characters via operation panel
User pre-registered—maximum 20 characters via operation panel

Input of destination email address via operation panel
100 maximum destinations per job

LDAP search
Supported

Input file name
Supported

Simultaneous transmission
Maximum 550 destinations

Attention
To, Cc, Bc

Program registration
Up to 25 programs

Divide and send
Divide by page or size; default divide by size


Note: If the sent file is larger than the email size restriction, it will be divided into multiple sends. The size restrictions of the email recipient may also impact the send.

Resend
Yes—default/No

Other scan features

sRGB support, Image rotation, SADF/batch mode, Mixed size mode, Reduce/enlarge scanning, Split scan from booklet
Unauthorised copy protection

Copy

Data Overwrite Security System (DOSS) - Standard

Yes

Data Overwrite Security System (DOSS) - Optional

Data Overwrite Security (DOS) unit Type M19

Encryption

HDD, PDF, Secure print encryption

Authentication

IEEE 802.11i.w security
IPv6
Network user authentication

Other security features

IP filtering—access control
IPsec communication
SNMPv3 support
SMTP over SSL communication
Secure Sockets Layer (SSL)
Transport Layer Security (TLS)
PDF digital signature
Windows

7, 8.1, 10, Server 2008, Server 2008 R2, Server 2012, Server 2012 R2, Server 2016, Server 2019

Citrix support

Citrix XenDesktop 7.0/7.1, Citrix XenApp 7.5 and later

Macintosh

v10.11 or later

Unix

Sun Solaris, HP-UX, Red Hat Linux, SCO Open Server, IBM AIX

SAP

R/3, S/4
Standard

Device management and monitoring
@Remote
Device Manager NX
Device Software Manager
Web Image Monitor

Workflow solutions
Ricoh
Streamline NX
Global Scan NX
Integrated Cloud Environment
Ricoh Smart Integration
ProcessDirector
TotalFlow Prep
TotalFlow Production Manager
TotalFlow BatchBuilder

Third party
EFI DigitalStoreFront
EFI Colour Profiler Suite
EFI Fiery Graphic Arts Pro
EFI Fiery ColorRight
EFI Fiery Automation
EFI DirectSmile
EFI Fiery Central
CGS/ORIS Lynx & Evaluate
Objectif Lune

Software development
Device SDK
Power source

220–240 V, 16 A, 50/60 Hz

Power consumption

3,840 W or less—maximum power
60 W or less—SPDF

Power consumption—options

50 W or less—4,400-sheet LCT RT4060 (A4)
85 W or less—2,200-sheet LCT RT5140 (A3)
1,000 W or less—4,400-sheet Vacuum-Feed LCT RT5120
70 W—Multi-Bypass Tray BY5020
83.6 W—Bridge Unit BU5030 for Vacuum-Feed LCT RT5120
67 W—Finisher SR5090
15 W—Output Jogger Unit Type S11
67 W—Booklet-Finisher SR5100
150 W—Finisher SR5110
150 W—Booklet Finisher SR5120
75 W—Trimmer Unit TR5050, average
250 W—Trimmer Unit TR5050, maximum
95 W—Cover Interposer CI5040, excluding peak consumption
43 W or less—Cover Interposer CI5050
144 W—High-Capacity Stacker SK5040
30 W—Decurl Unit DU5080
200 W or less—Buffer Pass Unit Type S9
240 W—Multi-Folding Unit FD5020

Typical Electricity Consumption (TEC)

5,813 Wh

Warm-up time

120 seconds or less

Sound power level

Mainframe
33.9 dB(A)—Standby
70.0 dB(A)—Operating

Full system
75.2 dB(A)—Operating

Emission levels

0.2 mg/h—dust, black and white
0.24 mg/h—dust, colour
0.26 mg/h—ozone, black and white
1.5 mg/h—ozone, colour
0.039 mg/h—styrene, black and white
0.067 mg/h—styrene, colour

Reduction of environmentally sensitive materials

100% lead-free solder used in PCBs—lead
0%—PVC
100% chrome-free steel plates—hexavalent chromium
0%—cadmium
0%—PBB/PBDE

Safety standards

EN60950-1
IEC60950-1
CNS14336

Electromagnetic Compatibility (EMC) standards

EN55022 Class A
EN55024
EN55011
EN61000-3-2, EN61000-3-3
EN301489-1
AS/NZS CISPR22, CISPR11
CNS13438

Identification of plastic components

All plastic components that weigh more than 25 g are identified in accordance with ISO 11469 standards.

Laser standards

EN60825-1