According to Forrester, digital services adoption, anywhere-work arrangements, and cloud-first strategies are among the current principal trends for organisations across Asia Pacific.
Companies also have to contend with radically evolving customer and employee behaviour brought about by changing priorities arising from the pandemic. Concerns over public health, cybersecurity, data privacy, and sustainability have become hot button issues.
Reflecting on recent events, I can see clearly the pace of change is accelerating more dramatically than ever before. Changes in technology trends that might have taken years are now taking place in a matter of months—leaving organisations scrambling for guidance.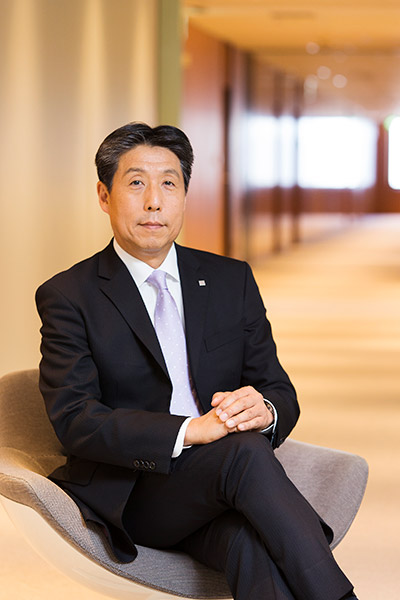 Joji Tokunaga
To surmount these challenges, I believe companies must accelerate innovation to reinvent their business and operating models plus fast-track their digital transformation programs to improve agility, reliability, and efficiency.
So, how do you fuel growth, best harness information, stand out from the crowd, and generate sustainable revenue in the post-pandemic world?
Flexibility and innovation are at the heart of Ricoh. And so is diversity. When you partner with us, you can draw on our experience working in a wide range of business processes across a multitude of cultures. As we learn from each other's strengths, we combine diverse ideas and discover new ways to innovate.
With a keen eye to the future, we have bolstered our capability to provide a comprehensive Digital Services Portfolio that allows our customers to optimise performance and employee engagement anytime, anywhere, safely, and securely.
Since arriving in APAC, I made learning more about you, our customer, a strategic imperative. We built the "voice of customer" into re-inventing our portfolio. Our new Digital Services Portfolio covers four key areas of expertise—Hybrid Workplace, Digital Workflow & Automation, Cloud & IT Infrastructure, and Cybersecurity.
Expanding our capabilities also means we continue partnerships with best-in-class companies like Microsoft, IBM, Cisco and more. And we continue pursuing strategic partnerships in arenas such as document workflow management, and security, to ensure we stay on-point, ready to meet ever-changing needs.
Understanding how businesses run is what we do best. We invite you to join us and be part of this exciting journey forward. We all must Focus on Forward to build the future Ricoh.



JOJI TOKUNAGA
Head of Ricoh Asia Pacific / Latin America