Ricoh wins BLI Award for A3 multifunction device
SINGAPORE, February 14, 2022 – Ricoh is once again celebrating Keypoint Intelligence's seal of approval having won a Buyers Lab (BLI) Winter 2022 Pick Award for its RICOH IM 2500, an intelligent, black & white multifunction device.
Awarded twice a year, BLI Pick Awards acknowledge the office equipment and products that scored highest in Keypoint Intelligence's extensive lab tests over the previous six months. The RICOH IM 2500 was declared the winning device for Outstanding 25-ppm A3 MFP.
The device features: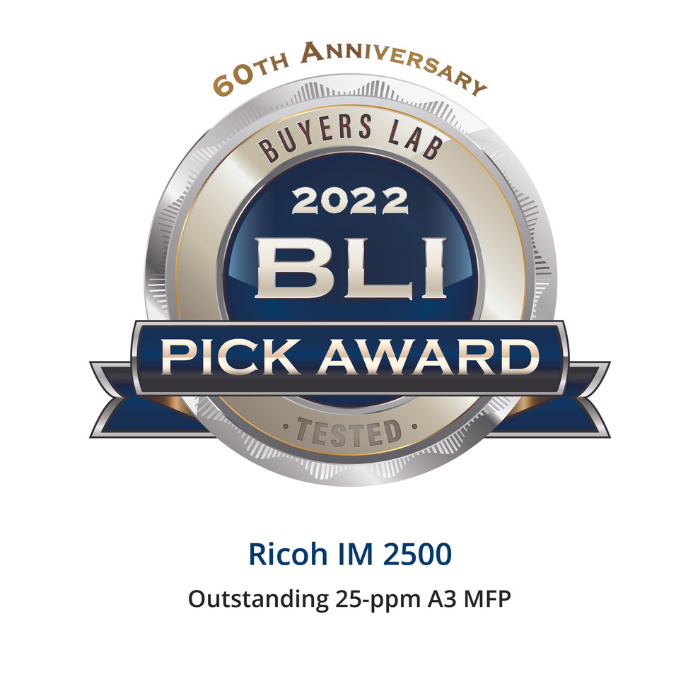 Always Current Technology to provide users with access to the latest apps, features, and upgrades
Smart Integration Platform for cloud-based apps and document workflow integration across multiple devices
Intuitive Smart Operation Panel to make devices quick and easy, while ensuring workflows are more intuitive
Smart Device Connector so all print, copy, scan, and fax functions can be controlled safely from Android and iOS devices
"This batch of BLI A3 Pick Award winners earned the accolades by delivering consistently impressive performances throughout testing," said Pete Emory, Director of Research & Lab Services US/Asia at Keypoint Intelligence. "From strong or flawless reliability to the type of usability that any user would appreciate, these eight devices will meet or exceed the needs of their target market. What's more, with the types of features that are required for today's connected workforce, such as cloud/mobile capabilities and software-readiness, our Winter 2022 A3 Pick recipients are perfect for the present and have staying power into the future."
Steven Burger, General Manager of Business Enablement for Asia Pacific and Latin America, adds: "Ricoh's strategy of providing digital services to our customers requires industry leading print technology as a key foundation to support our changing customer needs. The RICOH IM 2500 leverages Ricoh's latest technology suite to support our customers new work styles and work environments. Technology such as Always Current Technology, the Smart Integration Platform, and Smart Device Connector enables customers and Ricoh to focus on other areas of their businesses, such as; Hybrid Workplace, their Workflow Automation, Cloud and IT infrastructure, and Cybersecurity."
For more information on Ricoh products and services visit www.ricoh.com
About Keypoint Intelligence
For 60 years, clients in the digital imaging industry have relied on Keypoint Intelligence for independent hands-on testing, lab data, and extensive market research to drive their product and sales success. Keypoint Intelligence has been recognized as the industry's most trusted resource for unbiased information, analysis, and awards due to decades of analyst experience. Customers have harnessed this mission-critical knowledge for strategic decision-making, daily sales enablement, and operational excellence to improve business goals and increase bottom lines. With a central focus on clients, Keypoint Intelligence continues to evolve as the industry changes by expanding offerings and updating methods, while intimately understanding and serving manufacturers', channels', and their customers' transformation in the digital printing and imaging sector.
About BLI Office Hardware Pick Awards
Buyers Lab Picks stand alone in the industry and are hard-earned awards as they are based on rigorous testing, including an extensive durability assessment and evaluation of key attributes such as usability, image quality, and value. Each product that passes its lab test earns the Highly Recommended or Recommended Seal and a Certificate of Reliability, with the best performers qualifying as Pick contenders.
About Ricoh
Ricoh is empowering digital workplaces using innovative technologies and services that enable individuals to work smarter from anywhere.
With cultivated knowledge and organizational capabilities nurtured over its 85-years history, Ricoh is a leading provider of digital services and information management, and print and imaging solutions designed to support digital transformation and optimize business performance.
Headquartered in Tokyo, Ricoh Group has major operations throughout the world and its products and services now reach customers in approximately 200 countries and regions. In the financial year ended March 2021, Ricoh Group had worldwide sales of 1,682 billion yen (approx. 15.1 billion USD).
For further information, please visit www.ricoh.com