Ricoh joins inaugural Climate Leaders Asia-Pacific 2022 list
TOKYO, June 1, 2022 – Ricoh Company, Ltd., a global digital services company and pioneer of green manufacturing, today announced its inclusion in the inaugural Climate Leaders Asia-Pacific 2022 list. Compiled by the Financial Times, Nikkei Asia and research provider Statista, the list recognizes companies across the Asia-Pacific region for their continued dedication to reducing their carbon footprint.

Selection for the Climate Leaders Asia-Pacific 2022 list includes months of intensive research, scrutiny of existing emissions data, public calls for participation and direct contact with companies in the region. The 200 top performers were identified on the basis of successfully reducing their core greenhouse gas emissions relative to their revenue.

In April 2017, Ricoh became the first Japanese company to join RE100 – a collaborative group made up of the world's most influential businesses committed to using 100% renewable electricity. It has set ambitious targets, seeking to reduce its greenhouse gas emissions 63% by 2030 compared with the fiscal 2015 level, which is approved by the Science Based Targets initiative, aligns with the 1.5°C ambition of the Paris Agreement. In March 2021 raising the goal for sourcing renewable energy by 2030 from 30% to 50%, with a view to transitioning to 100% electricity derived from renewables by 2050.

Its efforts are already yielding gratifying results. Greenhouse gas emissions were down 36.5% in fiscal 2020 (anticipated 42.5% in fiscal year 2021) compared with 2015. 31 Ricoh Group companies across 24 countries have already switched to 100% renewable energy. Electricity used for production of flagship A3 MFPs was entirely derived from renewables in the summer of 2019. Ricoh introduced a comprehensive evaluation system for electricity derived from renewables in April 2021 to ensure the quality of electricity sourced and completed the transition to 100% renewable energy at headquarters by leveraging this system.

Climate change is one of the most pressing social issues facing our global society. Based on Ricoh's commitment to become carbon neutral by 2050, Ricoh will continue to promote the realization of a zero-carbon society throughout its value chain through intensive energy conservation activities, proactive renewable energy utilization, and active participation in international initiatives.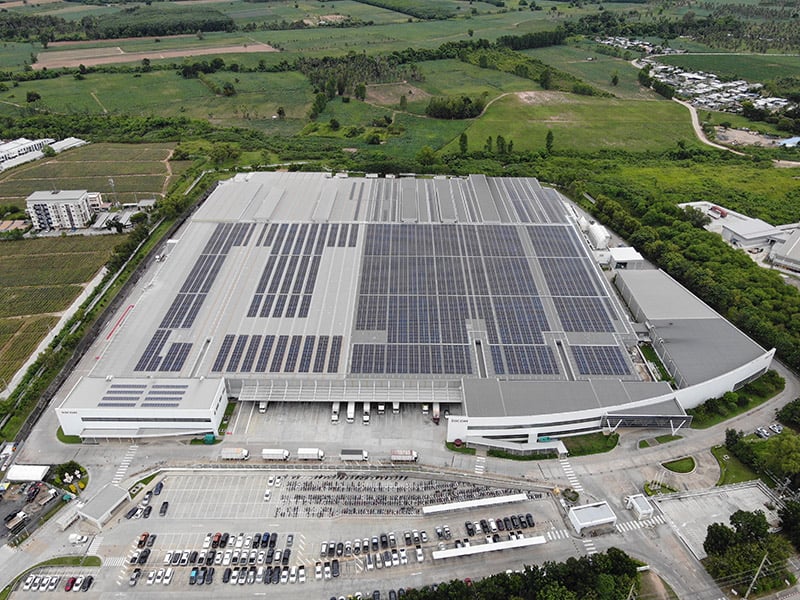 Solar panels installed on the roof of Ricoh Manufacturing (Thailand) Ltd.
Related links
[Financial Times] Asia-Pacific Climate Leaders 2022: interactive listing
[Nikkei Asia] Asia-Pacific climate leaders: Which companies cut emissions?
Information Disclosure Based on TCFD Framework
The Challenge of Decarbonization Leads to Enhancing Corporate Value —Ricoh's management strategy for sustainable growth
About Ricoh
Ricoh is empowering digital workplaces using innovative technologies and services that enable individuals to work smarter from anywhere.
With cultivated knowledge and organizational capabilities nurtured over its 85-year history, Ricoh is a leading provider of digital services, information management, and print and imaging solutions designed to support digital transformation and optimize business performance.
Headquartered in Tokyo, Ricoh Group has major operations throughout the world and its products and services now reach customers in approximately 200 countries and regions. In the financial year ended March 2022, Ricoh Group had worldwide sales of 1,758 billion yen (approx. 14.5 billion USD).
For further information, please visit www.ricoh.com