How Ricoh Unleashed its Professionals to Innovate an A3 Color MFP Series with 50% Recycled Materials Content that Delivers Top-Notch Environmental Performance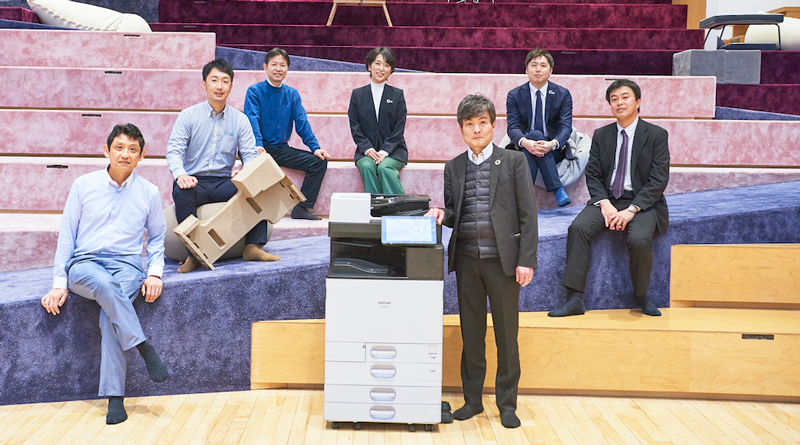 Ricoh has developed the IM (for Intelligent–Multifunction) series of A3 color multifunction printers (MFPs) to serve as edge devices in keeping with its commitment to becoming a digital services company. These models leverage some of Ricoh's most advanced technologies to help customers digitize and streamline their operations.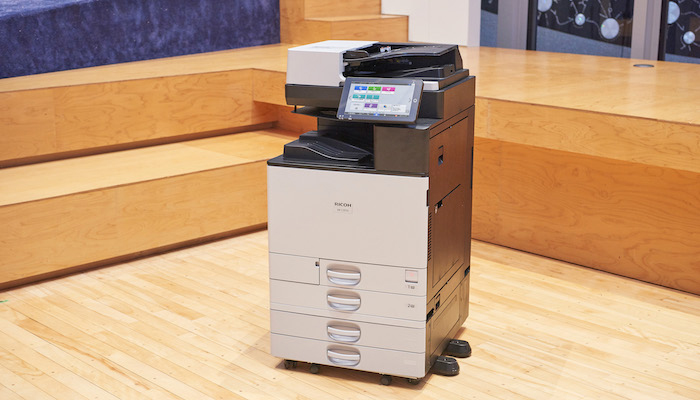 The Ricoh IM C3510 features a revamped design
The other key element of the value proposition of this series is that it helps resolve environmental issues. We spoke with several people from the team that helped developed this new multifunction printer platform to learn more about its features and the thinking that propelled its development. They were Yasushi Akiba, group leader of the Recycled Plastics Development Group, Yuki Sakai of the Materials Purchasing Group, Takashi Kobayashi of the Mechanical Parts Engineering Department, Masaaki Yoshikawa, group leader at the OC Business Center, Shinya Suehiro from Packaging Design, and Yusuke Sato and Yumi Arai from Marketing.
An industry-leading environmental management approach
Ricoh made helping to create a zero-carbon society and circular economy a key groupwide priority. It accordingly offers an array of advanced eco-friendly products and smart energy services and other environmental solutions. It was against that backdrop that the company launched the IM series, which revolutionizes the business efficiency and green credentials of its mainstay digital color MFP lineup.
The founding principles formulated by Ricoh founder Kiyoshi Ichimura, the Spirit of Three Loves, form the bedrock of the company's environmental solutions. Yumi Arai, who oversees environmental performance marketing for office printing products, says that, "The Spirit of Three Loves that states "Love your neighbor" "Love your country" "Love your work" and our commitment to caring for this precious planet drove us to pioneer efforts in our industry in the 1990s to pair environmental protection and business prosperity. In 1994, for example, we established the Comet Circle concept of a circular economy. In 1998, we advocated environmental management."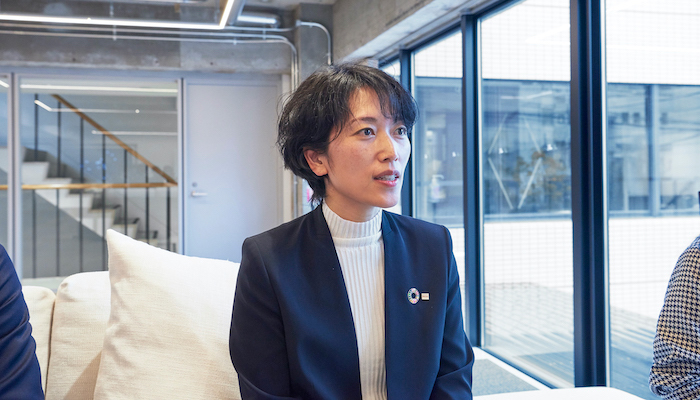 Yumi Arai, Product Planning Office, Office Printing Business Center, ICT Business Division, Ricoh Japan
An excellent example of Ricoh's long-held principles is its quest to use recycled materials in MFPs. Yasushi Akiba, who has spearheaded recycled plastic development for these edge devices, says that, "To date, our goal for recycled plastics content in MFPs has been the 5% recycled materials standard of such environmental labels as the Electronic Product Environmental Assessment Tool in North America and Blue Angel in Germany. But we set a 50% recycled content target for new IM models. We accordingly launched a project team in January 2020."
Creating A3 color MFPs delivering high environmental performance
The carbon footprint metric underpinned Ricoh's approach to developing its IM MFPs. Key outcomes from that endeavor are the 50% recycled plastics content and massive energy savings that lowered the environmental impacts of these models.
Arai says that, "The carbon footprint quantifies a product's environmental impact in terms of carbon dioxide emissions. This is across the product's entire life cycle, from raw materials sourcing and production through transportation, usage, maintenance, disposal, and recycling. The IM's line's carbon footprint is around 27% lower than that of predecessor models."
Arai's marketing colleague, Yusuke Sato, says that two prime factors cut the IM range's carbon footprint. "Power consumption is half that of previous models because we reduced the toner melting point by 12°C. The lower environmental impact comes principally from the recycled materials content and energy savings during usage. We augmented these hardware benefits with extensive efforts to slash the use of fossil-derived plastics in toner and other consumables and in packaging materials we use to ship products."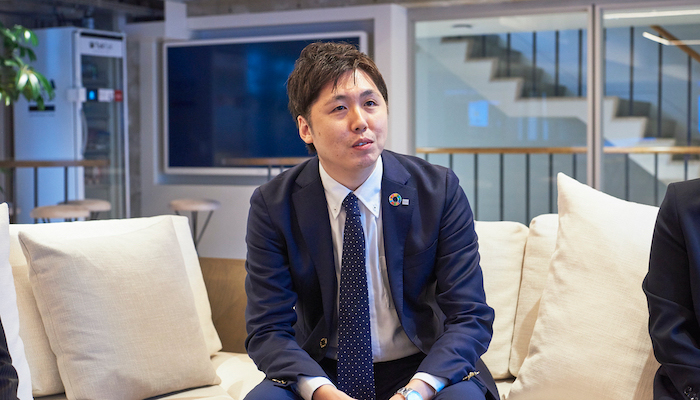 Yusuke Sato, Product Planning Office, Office Printing Business Center, ICT Business Division, Ricoh Japan
Shinya Suehiro, who oversaw packaging materials design and development, says that, "MFP packaging has largely employed fossil-based plastics. But for the IM line we opted for paper-based materials. That cut disposable plastic usage by 54%. We transitioned from regular plastic foamed polystyrene cushioning materials to pulp molds, whose raw material is recycled paper. After including the paper pallets on which we ship MFPs, paper accounts for around 97% of packaging materials. This was the first time for Ricoh to use pulp molds as a prime packaging material for mainline digital A3 color MFPs. We received awards* in Japan and internationally for that breakthrough."
* Large-sized Equipment Packaging Award in the Japan Packaging Institute's Japan Packaging Contest 2022, and an Eco-Package (Environmentally Sustainable Package) category prize in the AsiaStar 2022 Awards for Excellence in Packaging of the Asian Packaging Federation.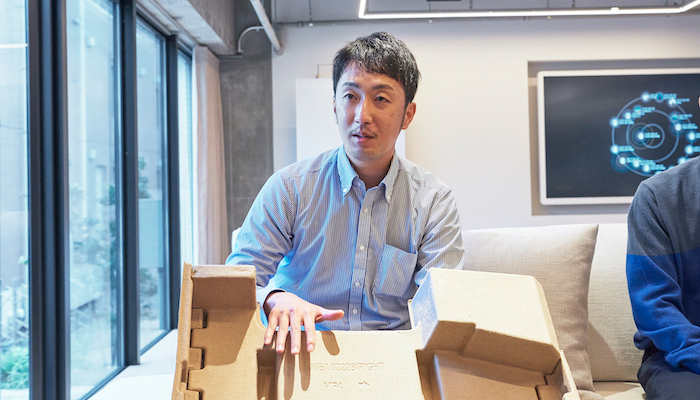 Shinya Suehiro, Third Imaging Technology Development Office, OC Business Center, RICOH Digital Products Business Unit
An unprecedented challenge that involved the entire company
Regarding his initial impression of the high target of 50% recycled plastic use, Akiba says that, "Our 50% recycled plastics content was a real stretch for an A3 MFP line. I can admit that now. We were essentially pursuing a world first*, which required a different development method."
* Source: Ricoh research into Electronic Product Environmental Assessment Tool registration information in North America as of January 25, 2023.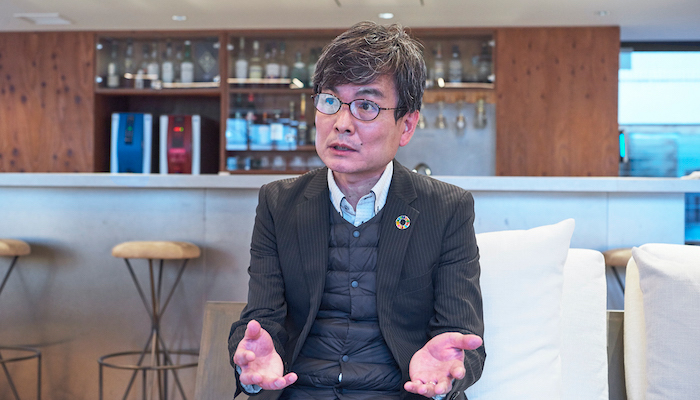 Yasushi Akiba, leader of Recycled Resin Development Group, Key Parts Business Center, CMC
Business Division, RICOH Digital Products Business Unit
Akiba formed a cross-functional team with members from design, recycled plastics development, purchasing, parts molding, and other functions of the Ricoh Group. The project manager was Masaaki Yoshikawa, who had managed designs such as MFPs.
Yoshikawa reflects that, "The greatest challenges with this unprecedented development effort were to formulate rules and criteria while setting quality, cost, and launch date targets. The conventional method of using recycled materials in products was to use finished materials. For this project, we had to pursue materials and product development at the same time without compromising high quality. And failure was not an option, as MFPs are mainstay offerings for Ricoh. We applied the management systems of product development people to those of recycled materials creation to ensure that the several dozen members of our project team could perform on the same page. This new structure was an all-Ricoh effort."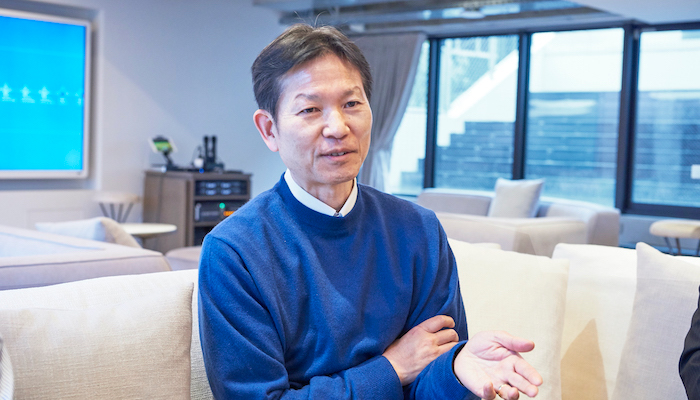 Masaaki Yoshikawa, leader of Development Group 1, 2nd Imaging Technology Development Office,
OC Business Center, RICOH Digital Products Business Unit
Creating a supply structure with a high used materials collection rate is vital to ensuring 50% recycled plastics content. Yuki Sakai from the Materials Purchasing Group, recalls that, "Resin materials manufacturers did not initially match the recycled content levels we sought."
He explains that, "We began by developing recycled resin materials with several manufacturers who understood our environmental product goals. We found it tough starting from scratch to obtain information and develop such materials to reach a high recovered materials usage rate. Even with that sorted out, we couldn't always ensure that the quality was good enough for parts usage. So, we had the parts technology and design departments assess recycled resin materials that were developed, coordinating extensively with resin materials manufacturers to ensure stable supplies."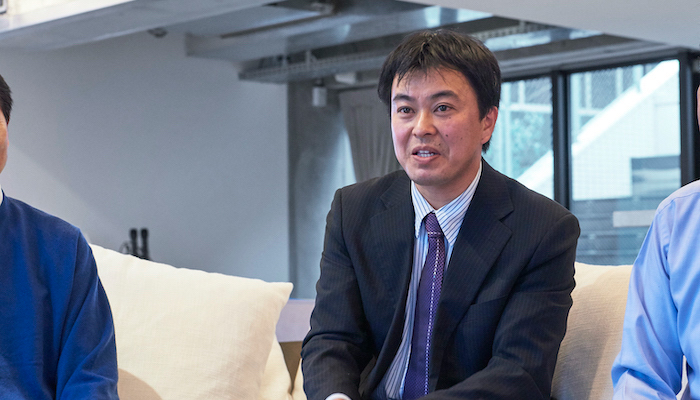 Yuki Sakai, Materials Purchasing Group, Mechanical Parts & Materials, Procurement Center,
Production and Purchasing Division, RICOH Digital Products Business Unit
Leveraging collaboration from professionals in each department to reach 50% recycled content level
Takashi Kobayashi from the Mechanical Parts Engineering Department oversaw parts development. He says that, "We had never simultaneously developed parts and materials. So, we had to proceed while formulating new standards to determine whether we could maintain parts quality with these materials. We checked carefully with each department and made decisions about all of the components."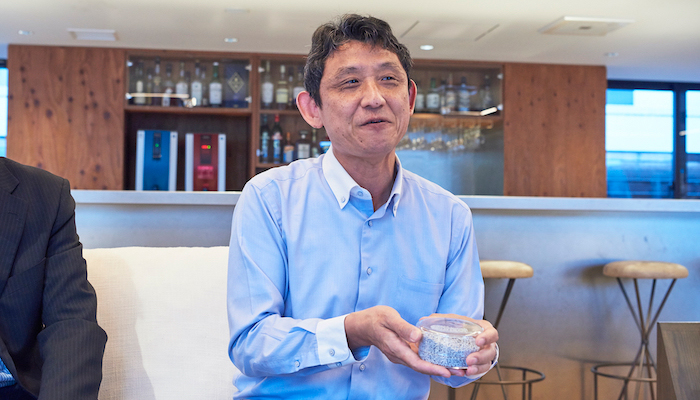 Takashi Kobayashi, MO Process Design Section of Mechanical Parts Engineering Department,
OC Production Center, RICOH Digital Products Business Unit
The fluidity of materials in molds is another factor in parts quality. While higher fluidity benefits machining, it reduces strength. Using materials with inconsistent flowability leads to more inconsistent parts quality. In view of these challenges, Kobayashi recalls that, "We set about working with materials manufacturers to deploy flowability quality control measures."
The team established detailed recycled materials usage rate targets for each component. Says Akiba, "The 50% recycled plastic content figure was an overall average. For example, plastic weight of the exterior cover account for about 30% of the product weight. Because of that, a 50% recycled content level for the cover alone would not be enough to reach the overall 50% target. So, we sought at least 80% recycled content for the cover." To attain the 50% average target, Ricoh greatly increased the number of parts made with recycled materials, including interior components, compared to conventional products.
Another challenge with recycled materials is that they are vulnerable to contamination. Foreign matter appears as black spots on exterior covers and other external surfaces. Kobayashi says that, "The team discussed this issue, set standards for contamination, and extensively investigated raw materials and manufacturers' production processes for recovered materials to confirm quality."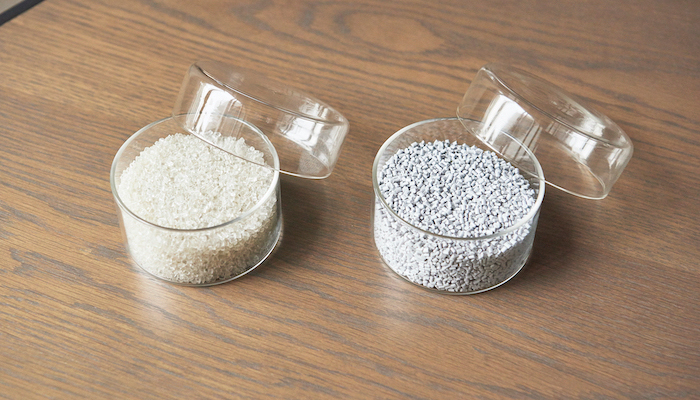 80% recycled plastic (left) and plastic used on a product's front panel (right)
(Photo courtesy of Mitsubishi Engineering-Plastics Corporation)
It was also daunting to adopt recycled paper as a packaging material. That is because A3 color MFPs are large and heavy and are subject to a lot of impact during shipping. The greatest challenge was to ensure that paper, which is harder than foam cushioning, would deliver sufficient shock protection during shipping.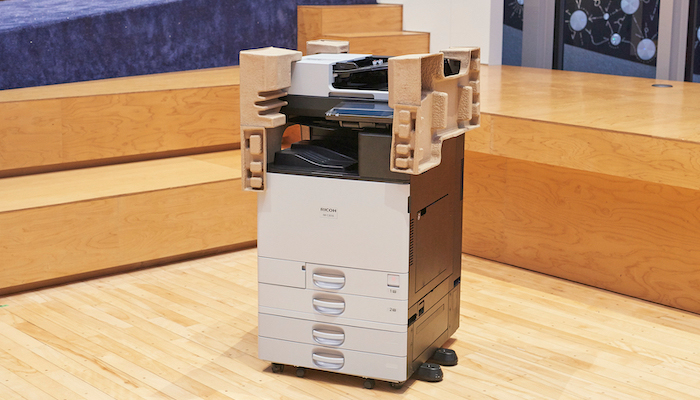 Paper packaging to protect the RICOH IM C3510
Suehiro says that, "While impact cushioning design techniques are common in plastic packaging, such techniques for paper packaging have not been established. So, we tapped dynamic impact analysis technology, which you see applied in car crash simulations. We created a computer simulation of how paper packaging materials respond to impact. We collaborated with the Quality Engineering Department to efficiently determine the composition and shape of packaging materials. We thus attained a cushioning performance that is comparable to that of plastic packaging materials."
Reaching the Ricoh Group's 2030 and 2050 environmental goals
One of Ricoh's environmental goals for 2030 is to pare virgin resource content in its products to 60% or less. The new IM line should contribute significantly to reaching that objective. The project team is now looking to reduce virgin resources content to no more than 12% by 2050.
Ricoh itself will have to develop materials to reach its 2050 goal. Akiba says that, "Developing alternative materials and striving to procure new materials and incorporate more parts made from recycled materials are issues we need to address. As well as using recycled resins, we will keep focusing on bioplastics development to replace fossil-based raw materials, which are essentially a depleted resource, while striving to expand our resin range."
The Procurement Department is also pushing ahead with new recycled materials initiatives. Sakai says that, "The Ricoh IM C6010 was the first model targeted to deliver on the company's environmental goals. As recycled plastic usage keeps rising across the industry, recycled materials shortages and procurement risks are on the cards. We will endeavor to secure stable supplies by adopting new measures, such as chemicals recycling, while improving materials."
Kobayashi has worked in component technology since joining Ricoh. This project was the first time for him to help evaluate materials. He says that, "I found this experience invaluable, which should help drive my career forward. Now that we have standardized the 50% content rate, I want to help establish quality evaluation techniques and reduce costs so we can use materials with even higher recycled materials content in our parts."
Ricoh also plans to employ paper packaging with successor models. Suehiro, who has designed packaging since joining the company, was the module leader for the IM series, engaging in everything from the packaging concept through to its design. He says that, "Theorizing shock absorption feature of paper packaging for MFPs and precision units has been a focus for me since 2016. That is because I anticipated that environmental issues would become even more important in the future. This product holds great personal significance for me in coming to fruition. I would like to continue enhancing the environmental performance and the cost effectiveness of this packaging while ensuring that Ricoh products are delivered safely to customers."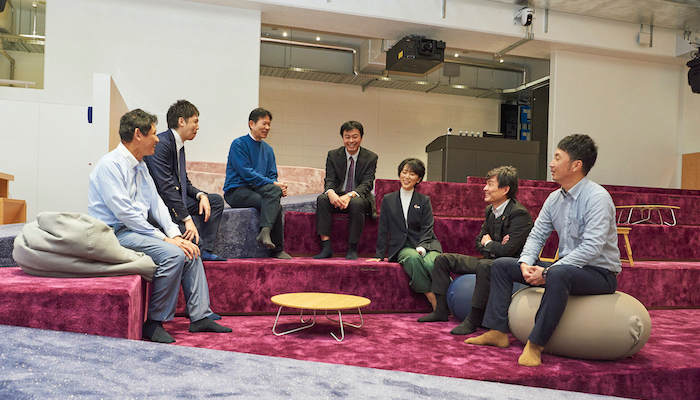 Continuing to pursue a better future for the world
Rich's new models also cater to the environmental concerns of companies. Says Arai, "Customers increasingly take interest about the environmental impacts of MFPs and the electricity they consume during printing. We hope to contribute to a decarbonized, circular economy through the IM series and deliver wins for customers, us, and the environment."
Yoshikawa, who led the project, says that, "We were able to create an MFP that incorporates 50% recycled materials based on input from all functions of Ricoh. But we cannot rest on our laurels. Now that we have laid the foundations for materials procurement and parts development, we will make our progress thus far the benchmark to beat and pursue even higher recycled materials content in future models."
Sato says that, "In the Marketing Department, we are not content with simply claiming that IM series machines are very eco-friendly MFPs. We want to create a climate in which the whole market naturally chooses eco-friendly products, while we highlight environmental issues which are universal."
The project team marshaled the Ricoh Group's collective clout in creating a model range that is unparalleled among its industry peers. Now that it has overcome pivotal challenges in resolving environmental issues, the team is already looking toward contributing to a better future for the world.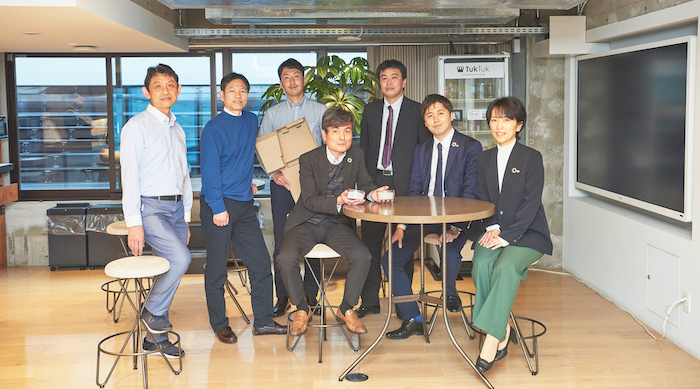 Related information