Why digitizing documents is important in a post-COVID-19 world
It cannot be denied that the impact of COVID-19 has changed the way organizations do their business.
In 2020, we saw how the world had been quarantined where employees had no choice but to work remotely at home to slow the spread of the virus. This has caused workplaces to recalibrate how work is done.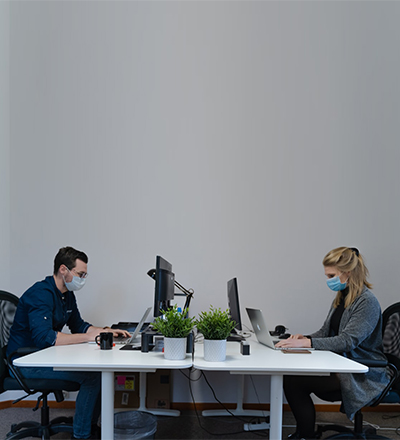 Photo by Maxime from Unsplash
Employees need a good laptop or home PC, good Internet access, and access to essential work documents remotely or through the cloud.
In the wake of the COVID-19 pandemic, changes in the way employees do their jobs have also accelerated the transition of organizations to digital documents and the goal of having a paperless office. Since employees have spent months working from home, the exchange of paper documents has become obsolete and infeasible.
As the vaccine rolls out worldwide, we all hope that it will be a welcome relief to industries heavily affected by the pandemic.
However, the widespread workplace changes caused by COVID-19 that significantly changed the way we do our jobs will not go away anytime soon. From the adoption of remote work policies to the increased reliance on eCommerce and digital transformation, the global economy had indeed been redesigned by the pandemic last year.
The impact of the COVID-19 work from home ideology
After the immediate phase of scrambling to adapt to COVID-19 has passed, organizations can now shift towards the recovery phase. Rebuilding the business and implementing an agile workforce for the long haul is crucial in this process.
In a post-COVID-19 world, the traditional way of managing the workplace will simply no longer suffice. Storing paper documents in filing cabinets or merely relying on email threads for accessing important files are not just cumbersome to employees who are working remotely; it's also prone to errors and resource-intensive.
Companies need to realize that digitizing their supply chain is one of the most effective ways to rebuild their infrastructure to give the organization a competitive edge in the future.
Current digitalization strategies in the wake of the COVID-19 pandemic focused on keeping the employees productive. Nevertheless, the pandemic has also taught us that maintaining productivity for the long-term is equally important.
A robust technical infrastructure that seamlessly facilitates end-to-end digital "paperless" processes is crucial to maintain productivity during unforeseen circumstances.
Companies that responded well to the COVID-19 disruption have immediately implemented their business continuity plans to stabilize their business operations. However, as the recent pandemic has taught us, these plans should also be accompanied by proactive measures.
In other words, organizations need to recalibrate their digitalization strategies to increase their resilience and optimize business operations. Companies can have a holistic and sustainable digitalization strategy to help future-proof the organization beyond COVID-19 withRICOH's Cumo-nect Series.
Connectivity, or as we like to call it, RICOH "Cumo-nect," is more critical than ever, not just as a measure of innovative and cost-conscious practice but as an essential requirement for business continuity. Keeping employees and the company's resources connected means adapting quickly in the face of unexpected business risks, just like the COVID-19 pandemic.
Challenges of Document Management beyond COVID-19
CHALLENGE 1: Greater need for physical space due to social distancing protocols
Considering social distancing protocols in the workplace, companies need to invest in a robust technology like
RICOH Cumo-nect OCR Plus
to convert scanned paper documents into editable electronic files easily.
CHALLENGE 2: Labor shortages
Companies may tend to experience labor shortages as government-mandated protocols may require employees to follow staggered or flexible work arrangements since it may not be safe for the workforce to come to work in full capacity. It may cause delays in processing critical data and documents since some essential files may not be immediately available to employees working on-site.
CHALLENGE 3: Hybrid or staggered workforce
By adopting the hybrid or stagged workforce model within the organization, companies need to ensure that essential documents are easily accessible so business operations can continue uninterrupted. Organizations need to make their employees' home office an extension to their on-site office and seamlessly work between them.
CHALLENGE 4: Document security
As companies expand their document processing operations, essential documents tend to be processed across longer distances, which can potentially increase risks. RICOH Cumo-nect OCR Plus supports user authentication for enhanced security, and administrators can set up several profile settings for individual users. Essential documents can be easily delivered directly to popular cloud services or by email.
Digitizing documents is more important than ever
Over the past year, digitizing documents has been regarded as a "Nice to Have" item to a "Must-Have" item. Rethinking how documents are stored, processed, and accessed is crucial to the success of a business that is now mostly computer reliant.
As we have seen from the past year, the pandemic has changed the workplace because organizations have been forced to adopt a more agile ideology. Consequently, it has become increasingly important for organizations to adapt to a better document management system and create a more agile work environment.
Here are just some of the workplace changes that are predicted to thrive in a post-COVID-19 world:
Employees have gone back to their hometowns.
The COVID-19 lockdown has shown that many jobs that were expected to be done in the office can also be achieved remotely. To achieve a better quality of life amidst the pandemic, many employees have moved out of their rented homes in cities near their workplace. Working remotely has prompted many employees to move back to their hometowns during the pandemic's aftermath.
E-signatures have become the norm.
For the retail and FMCG sector, the move towards the digital economy has been dramatic. The pandemic has accelerated the adoption of digital technologies. As such, e-signatures are just one technology that has transformed the way a business deal gets done. It is also recognized as legally enforceable and provides a more integrated workflow for internal approvals that beats the original pen-to-paper approach before the pandemic.
Employees have already adapted to digital collaboration.
Employees that had been abruptly ordered to work from home had to adapt to their own set of software collaboration tools immediately. There is no turning back at this point since digital collaboration requires digital documents and electronic access to data. Going back to the old school paper document approvals may be more of a hassle for employees who have gotten used to the convenience of digital collaborations.
Intelligent document management systems like RICOH's Cumo-nect OCR Plus will accelerate digitalization.
It is expected that the rapid digital transformation of organizations will also drive innovations in digital documents. Technologies like RICOH's Cumo-nect OCR Plus will help improve document use and handling within the organization. Productivity gains from the Cumo-nect OCR Plus cannot be ignored, especially for companies with a hybrid or staggered workforce. It can help improve your organization's workflow by eliminating slow, manual re-typing of documents. You can quickly scan and transform paper into editable electronic formats.
The value of Document Digitalization beyond COVID-19
VALUE 1: Greater process efficiency
Digitizing manual workflows will enable the organization to streamline and standardize its processes. It can also help employees reduce their time spent on repetitive administrative tasks such as modifying errors or tracking down incomplete forms from paper documents.
VALUE 2: Robust documentation and processes
Document digitalization enables employees to have built-in checks and balances to ensure that the scanned content is accurate and complete. RICOH's Cumo-nect OCR Plus significantly reduces the time to edit paper documents and improve business workflow. You can easily adjust image quality and send documents to your preferred destination directly from the control panel.
VALUE 3: Improved information sharing
Converting physical documents to digital can immediately improve usability. Digital documents can be securely shared within the organization with just one click. Contents of the documents can be easily classified, searched, and analyzed. RICOH Cumo-nect OCR Plus easily transforms and delivers almost any paper document into usable and editable electronic files such as Excel spreadsheets, Word documents, or Searchable PDFs, all at the touch of a button.
VALUE 4: Strengthen workplace security
With documents digitized, employees can gain insights to people who are accessing documents and how they are being used. This will essentially enable the enforcement of compliance on document security within the workplace.
VALUE 5: Improved business continuity and flexibility
Digital documents will enable organizations to seamlessly transition to a remote workforce when necessary. By reducing the need to access physical documents on-site, digitalization enables a more efficient workplace collaboration regardless of the employee's location.
We are here to help future-proof your document infrastructure beyond COVID-19
To comply with social distancing and ensure a safe working environment for employees this 2021, it's definitely worth investing in a document scanning solution that minimizes the number of "touches" within the workplace.
Overall, this will become an efficient process that will not only minimize the spread of COVID-19 infection but it will also future-proof your document processing. RICOH Philippines is here to help you transition your paper-based archives to digital archives.
RICOH Cumo-nect OCR Plus quickly transforms and delivers almost any paper document into usable and editable electronic files such as Excel spreadsheets, Word documents, or Searchable PDFs, all at the touch of a button.
Check out this link to learn more!