The rise of accounting automation during COVID-19 and beyond
At this point, businesses worldwide have probably reached a consensus that there are no lingering doubts about the necessity of digital transformation. As the economy tries to recover from the devastating impact of COVID-19 from 2020, the vast majority of interactions with customers and fellow employees still need to occur virtually.
We have seen that a digital operation is the only way to stay in business amidst government-imposed lockdowns. Companies had no choice but to go digital or to go dark and eventually shut down.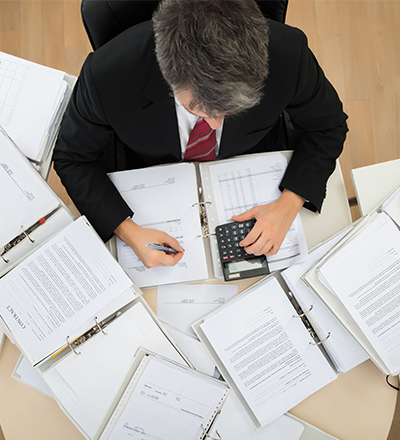 Photo by: Andrey_Popov
While the digital transformation mandate is not a new concept, the pandemic has just accelerated the paradigm shift towards a more digital world.
COVID-19 actually served as a brutal reality check for businesses that were reluctant to adopt digital transformation. As such, they have found themselves regrettably unprepared amidst the crisis.
Going digital in itself is not a cure that will magically resolve all problems that ail businesses in the current economic environment. They do, however, have the right tools in their arsenal to weather the crisis and come out stronger for it in a post-COVID-19 world.
As most companies during the pandemic have realized, a crisis will breed ingenious innovation. Good ideas that have been institutionalized during the lockdown can just be what the organization needs to propel the company and move forward into a future that would definitely be very different from the year before.
Harnessing the digital advantage for the future
We have seen how COVID-19 has made it more critical than ever to reduce inefficiencies and make the most out of every employee. The pandemic has affected businesses in many ways, including expediting payments and managing cash flow more effectively within the organizations.
Having efficient financial solutions for the organization is made even more critical now that businesses are facing economic uncertainty. Amidst the pandemic, companies have been struggling with issues in their accounting and finance departments.
Firms with manual accounting processes struggle with limited visibility and control over their invoices, unrecorded liabilities, and cash flow. These problems create a bottleneck in payments and unpredictable cash flow.
In particular, companies have been struggling with their accounts payable (AP) departments as firms with manual processes are struggling with issues stemming from manual data entry. Inefficient processes became a key pain point in the organization's invoice processing workflow.
That's why the focus of digitalizing accounting processes, which should have been a primary agenda for digital transformation, has become even more critical in 2020. As more and more companies adopt digitalization, businesses also begin to re-assess their processes to streamline operations beyond COVID-19.
A transparent and streamlined accounting workflow is critical to an organization's financial management, especially its AP operations. Accounting provides crucial information that other departments like procurement and treasury depend on to manage monthly bookkeeping closes efficiently, cash flow, spending, and so much more. As such, inefficiencies in this department will actually impact the effectiveness of the organization as a whole.
Effective accounting tools to make business more effective beyond COVID-19
TOOL 1: Optical Character Recognition
Manual data entry in an organization's accounting process can actually take up a considerable portion of your accounting team's day. It is also prone to have a variety of issues. Human error can introduce incorrect data into the entire accounting workflow. Reports made on inaccurate data will make it harder to gauge the company's financial health in order to make accurate forecasts beyond the pandemic era.
Organizations can benefit from the latest automatic document recognition technologies and avoid the need to enter supplier invoice data in your accounting IT system manually. As such, Ricoh's Accounts Payable solution automates every phase of supplier invoice processing, from the document's approval to the creation of an accounting book entry.
Ricoh can even speed up your organization's invoice approval process by integrating your supply chain invoices in an electronic approval workflow so you can do away with manual entry of records and long approval times.
TOOL 2: Document Management System
Most organizations have essential documents such as invoices, purchase orders (POs), receipts, and other information scattered throughout multiple applications and locations. As we have seen during the work from home setup, there may be certain instances when employees could be working on entirely different versions of accounting data, leading to human error and redundant work.
The simple task of just tracking down and looking for the latest versions of documents can be very time-consuming. Ricoh's document management solution can help you do away with this inefficient process by bringing all your organization's necessary paperwork in one database.
Rather than launching a manual paper-based process, Ricoh's DMS starts a digital workflow that's far more efficient and cost-effective than a paper process. Its document management solutions can help you reduce paper, archive data easily, improve invoice processing, get fast online approvals, enhance employee management programs, and push sales and marketing digitally.
TOOL 3: Automated Accounting Workflows
Robust automation tools can support your team's workflows and allow them to create automated processes that can change the way a company does business. Rather than getting stuck on tedious data entry, automating accounting processes mean that employees have more bandwidth to do things that will require their full attention, such as tracking missing payments, following up with suppliers, and handling audits.
With powerful digital workflows, e-forms, document management, and analytics, employees can get more work done faster. Ricoh has robust accounting software capabilities that enable organizations to automate business processes and securely manage content while eliminating paper, optimizing costs, and powering innovation.
Its innovative platform of services can help your organization support compliance that will integrate accounting applications and processes to drive information security. Ricoh also uses security audit features that support compliance without compromising the user experience of the accounting platform.
Busting the myths of accounting automation
MYTH 1: Accounting automation takes the jobs of employees.
Reality: Accounting professionals can focus more on higher-value activities without having to worry about tedious tasks.
As we have learned during the pandemic, accounting automation is not here to replace employees. Instead, they are tools that can help empower them as they spend more time doing other critical tasks. It's actually here to support employees by accelerating the most time-consuming parts of their job.
This is why automation should not be viewed in a negative light. Instead, it should be considered as a more efficient way to maintain productivity since it handles the standard, easily processed work.
MYTH 2: Accounting software can "instantly" do all the work.
Reality: Accounting automation still requires human intervention when needed.
Unrealistic assumptions can go both ways. One of those is the belief that every single aspect of the accounting process is automated. However, keep in mind that the accounting software can only make decisions based on the information that employees have provided. It does not have the human intuition of making judgment calls whenever there are exemptions to the usual workflow.
As employees become more familiar with automation, they will also realize its capabilities and limits. They will learn to adjust their workflow to accommodate human intervention requests, and they'll be able to find workarounds for cases that usually required hands-on work and attention.
MYTH 3: Employees no longer have control over the process since the software will handle it.
Reality: Employees actually have more control in the process.
The perceived lack of control over the accounting software is one of the underlying worries that accounting professionals have with automation. While the control that employees have may be different from what they use for manual processes, accounting automation will actually give employees the capability to enforce new processes and procedures. The organization can determine what that control will be like and have software support that ensures that everyone will abide by the same consistent and established processes.
MYTH 4: Automation is costly.
Reality: There are actually many levels to accounting automation.
It's a common misconception that automation may be too expensive of an investment. However, accounting automation does not have to be one big full-scale change.
It's more common to gradually go about it based on the firm's budget and the expected value it entails. There are different levels of accounting automation, and partnering up with a company like Ricoh can help you develop an effective solution for your own unique needs.
Ricoh is here to help your business thrive in a post-COVID-19 world
Whether we like it or not, COVID-19 has actually created an opportunity for organizations to implement a sustainable digital transformation since it has sparked a receptiveness to adapt to change.As the organization's processes become more digital, these changes are expected to carry over beyond COVID-19. Ricoh helps businesses work smarter and work anywhere with a robust selection of document management and accounting solutions for organizations.Contact us to learn how we can assist you to become more "digital ready" in a post-COVID-19