The Future is in The Cloud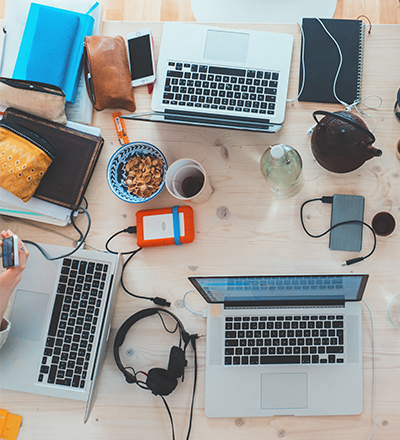 Photo from Unsplash
The Cloud. It's a term that has become more and more prevalent over the past decade. Many organizations have been clamoring to back their content in the Cloud. Some are even computing in the Cloud. Everyone is talking about "the Cloud" but what is it exactly?
What is Cloud Computing?
In recent years, cloud computing is proving to be the next stage in the Internet's evolution. It provides the means through which everything can be connected and delivered as a service from computing power to computing infrastructure, applications, business processes to personal collaboration.
Cloud computing, also called "the Cloud," is an enormous collection of computer technologies that give people access to practically unlimited amounts of computer processing, data storage, communications, and software programs. A cloud computing system is composed of four characteristics:
On-demand self-service

Cloud computing allows an organization to adjust its computing service based on their preference. This includes the amount of server time and network storage. It can also be accomplished automatically without human interaction with the service provider.

Broad network access


The Cloud has can extend the user's capabilities through various devices such as mobile phones and laptops.

Resource pooling


Cloud computing can serve multiple consumers using a multi-tenant model based on their customer's needs like specific physical and virtual resources that may include storage, processing, memory, network bandwidth, and virtual machines.

Measured service


The Cloud also allows its system to automatically control and optimize resource use by leveraging its storage, processing, bandwidth, and active user accounts. This service makes it easier to monitor, control, and report the cloud storage usage. Thus, providing transparency for both the cloud service providers and its clients.
Defining the types of cloud computing
Microsoft Corporation defined cloud computing as "the delivery of computing services—servers, storage, databases, networking, software, analytics, and more — over the Internet." It is also "the delivery of on-demand computing resources — everything from applications to data centers over the internet on a pay-for-use basis," according to IBM Corporation. They also noted that there are three basic categories of cloud computing:
Infrastructure as a service (IaaS)
The IaaS public cloud providers offer storage and computing services on a pay-per-use basis. However, all major public cloud providers also offer an array of services such as highly scalable databases, virtual private networks, big data analytics, developer tools, machine learning, and application monitoring. Amazon Web Services, Microsoft Azure, Google Cloud Platform, and IBM Cloud are just some of the famous public cloud providers available today.
Platform as a service (PaaS)
PaaS provides services and workflows that are specifically targeted to developers. Developers can use shared tools, processes, and APIs (application program interface) to accelerate the development, testing, and deployment of applications.
Software as a service (SaaS)
SaaS delivers applications over the Internet through the web browser. The most popular SaaS applications for businesses are Google's G Suite and Microsoft's Office 365. Typically, SaaS applications offer extensive configuration options as well as development environments that enable their clients to code their own modifications and additions.
Cloud computing can completely change the way companies use technology to serve their customers, partners, suppliers, and other stakeholders. Cloud computing has various deployment models and can be hosted through the following ways:
Private Cloud

These are computing environments that are dedicated to a specific business. These data centers are designed to be managed internally or by a third-party administrator. Private clouds also give companies the efficiency and security of the Cloud without the risk of sharing their resources with other businesses.

Public Cloud


These services are available for use by the general public and owned by a cloud service provider. Public clouds provide flexible access to computing resources whenever it is needed. Amazon Web Services, IBM Bluemix, and Microsoft Azure are just some examples of public clouds.

Hybrid Cloud


These services are a combination of the other two. Individual cloud models will remain separate but are still bound by a standardized technology to allow data and application portability such as SaaS public cloud resources.
Adapting a cloud-based model for your organization
Companies that already adopted the cloud-based model have found that it can significantly eliminate many complex constraints of the traditional computing environment. Here are some common reasons why organizations are turning to cloud computing:
Cost

Cloud computing will reduce the expenses of buying hardware and software for the company. This includes the cost savings on the fees for setting up and running on-site data centers, servers, electricity for power and cooling, and even the manpower for managing the infrastructure.

Speed

Cloud computing services typically provide self-service on demand. Vast amounts of computing resources can be delivered within minutes, giving businesses the flexibility it needs to function effectively.

Global scale

Cloud computing services have the ability to scale elastically. It can deliver the right amount of IT resources such as computing power, storage, and bandwidth to where it is needed.

Productivity

Cloud computing removes the need for time-consuming IT management chores such as hardware set up, software patching, among others. Your organization's IT teams can focus on more productive business-related tasks instead.

Reliability

Cloud computing makes data backup, disaster recovery, and business continuity easier for businesses. Their data can be easily mirrored at multiple redundant sites on the cloud provider's network.
Before you move towards a cloud-based model
Shifting to cloud computing can be daunting to any organization. Tangible software and hardware serve as an organization's security blanket that can be managed easily within arm's reach. Since the organization's data is one of its most strategic assets, here are several questions you should consider before you move forward to the Cloud:
Is the company credible?
Your company is placing valuable data in the hands of another service provider. Make sure that they are reliable by asking if they have robust security at all levels, including physical, network, application, internal systems, and operating systems. It would help if you did your due diligence with the cloud provider as you would also do with any other major business partner.
Are my people well trained?
Before moving to the Cloud or making any other significant change in your company's IT infrastructure, make sure that your employees are equipped with the right training to handle the change. Your organization should have a transition plan in place before the deployment to the Cloud.
Will I need help with the transition?
Consider hiring an expert that will help you make the transition. Bring in someone with a proven track record of enhancing IT infrastructure services such as Ricoh Philippines to help you transition smoothly into a cloud-based model.
Is my recovery plan robust enough?
An automatic backup plan for your company's data is a must. However, it would help if you also had a disaster recovery plan for your data. Your company needs to be equipped with the right equipment and technical know-how to assess the company's data during an emergency.
Have I selected a reliable telecommunications provider for stable cloud connection?
Make sure that you have the right service provider that will promise minimal connectivity disruptions. Find the right provider that will also allow easy scalability in case your company's needs change over time.
Is your organization ready to adopt a cloud-based model?
Data is one of the most vital assets of an organization. Your organization's data storage and back up can be stored easily in the Cloud. The bottom line – cloud computing can provide real business advantages as long as you also carefully consider both its risks and benefits.
IT service companies such as Ricoh Philippines can help establish a flexible, high-performing, and cost-efficient IT infrastructure that will meet the needs of all organizations in all sizes and types.
References
MALONEY, M. (2012). What is Cloud Computing and How Can it Save You Money? Enterprise (New Jersey Chamber of Commerce), 9.
MILEY, J. (2012). What You Need to Know About Cloud Computing. Kiplinger's Personal Finance, 66(3), 71.
What is Cloud Computing? (2012). POWERGRID International, 90(3), 26–27.
What is Cloud Computing? (2014). Insurance Advocate, 125(7), 20.
What is cloud computing? Everything you need to know now. (2018). Asia Cloud Forum, N.PAG.