The future-forward organization: Sustaining digital transformation from 2020 and beyond
The COVID-19 pandemic has been a global health crisis that had massive ramifications to the global economy. COVID-19 has been seen to quickly and severely affect organizations from various industries at an unprecedented rate. It has forced businesses to respond with speed, vigor, and agility.
Given the dynamics of the pandemic, a "slow and steady" approach will not work. Consequently, businesses around the world are trying to navigate the COVID-19 disruption through the adoption of new technologies.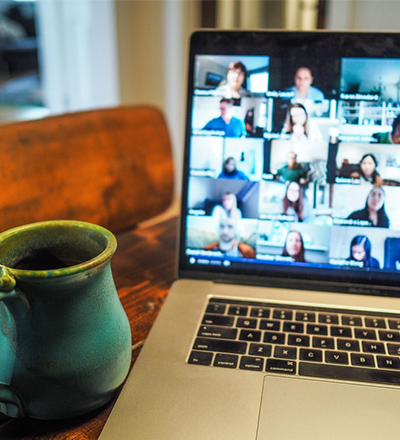 Photo by Chris Montgomerry from Unsplash
To safeguard customer well-being and employee health, there was a dramatic use of digital technologies to reduce face-to-face interactions. To ensure business continuity and emerge from the crisis in a position of strength, businesses relied on these digital technologies to keep them afloat.
However, the acceleration of the adoption of digital transformation also raises the question of how businesses can sustain the use of these technologies in a post-COVID-19 world
Moving forward from the disruption with digital technologies
As various industries worldwide gear themselves up for recovery, businesses are still scrambling to handle the business ramifications of the COVID-19 pandemic. While no one has foreseen the intensity of this black swan event to the global economy, some companies are seen to be better equipped than others. It may largely be due to their own digital know-how.
For some companies this 2020, digital is the only way to go. Digital has not just been an essential sales channel this year; it has also helped companies adapt their business processes to make their operations better, faster, and cheaper.
For example, digital transformation has enabled innovative logistics and sales fulfillment opportunities for the retail industry, like click and collect and drive-through options. It has also encouraged new ways for customer acquisition and helped predict and manage inventory to create more resilient business operations.
Even before the pandemic, companies that were willing to invest in digital transformation have outperformed their competitors. However, these prior attempts at integrating digital transformation to the business model were more scalable and revolved around carefully planned opportunities for experimentation within the organization.
In the wake of COVID-19, one thing remains for sure; every company needs to create a strategy that will sustain its digital transformation initiatives.
The common pitfalls of unsustainable digital transformation initiatives
Organizations who opted to adopt early into the digital transformation bandwagon are already starting to see the fruits of their investments. At this point, organizations also realize that the digital transformation that resulted from the COVID-19 disruption was more than just a stop-gap solution before things went back to normal. It has been a fundamental foundation of a company's renewed business operations as the world transitions to the "New Normal."
However, it cannot be denied that sustaining this digital transformation can be a more complex endeavor than it seems to be. Though many companies have adopted this transformation, a McKinsey Digital report noted that around 50% of companies surveyed admitted that their digital transformation initiatives are still in the pilot phase.
Here are some common pitfalls that explains why some digital transformation initiatives fail:
PITFALL 1: Piecemeal digital initiatives with limited scope
Companies focus on digital transformation initiatives without accounting for the big picture that needs to be in place to make the changes permanent.
Over the past decade, there has been no shortage of digital transformation initiatives. All of them seem to have promising results. However, it has been a common occurrence that companies are often too focused on implementing these digital initiatives without accounting for the crucial organizational change that needs to take place to make it permanent.
For example, organizations that have migrated their systems to the cloud without thoroughly implementing a full digital strategy will only make the business unable to fully take advantage of the automation, scale, and flexibility of cloud-based systems. To implement a sustained digital transformation initiative, make sure that cloud-based technologies will help improve the business operations for the long-term.
PITFALL 2: Digital initiatives with no apparent link to business value
Many digital technologies are just "shiny objects" that seem to be great at the moment but will serve no value for the long-term.
The technology industry will always have something new that promises to solve many challenges to an organization's business operations. However, many of these new technologies have limited value to the business due to its inability to fully communicate the importance of these digital technologies to the core functions of the business operations.
Forward-thinking organizations are deliberate in adapting and developing a full digital transformation program that is tied to their essential business operations. Organizations need to ground each digital transformation initiative with projected ROI (return on investment) results built on specific metrics to track the initiatives' progress against the business targets.
PITFALL 3: Implementing digital initiatives that are too expensive to sustain
When these digital technologies' ROI lies too far ahead in the future, the investment may often get pulled back.
Digital transformation initiatives are costly investments, especially during a critical time in a post-COVID-19 world when budgets are tight, and ROI is essential. It has been a common occurrence for organizations to abandon digital transformation projects when the projected ROI seems to be too far ahead into the future. As such, investments from these projects will often get put into the backburner or get entirely pulled back.
How to future-proof your digital transformation
If done effectively, an organization's digital transformation can unlock a firm's potential and drive optimized operations to fuel a future-proof transformation. The process must begin with a clear direction that will engage every aspect of an organization's business operations. Following this vision, companies can then set their own course for a sustained digital transformation. Here are several tips to get started:
TIP 1: Reimagine the role of digital technology for the company with a future-forward business strategy.
An effective digital transformation needs to maintain seamless operations with other business functions by helping technology drive the core business functions. It requires organizations to reimagine the role of digital technologies with a technology-driven business model in mind. As such, these technologies can help businesses become stewards of an employee's digital user journey by integrating digital capabilities across various office-related tasks, even ones as mundane as document management.
A genuine digital transformation will seamlessly integrate an organization's content and digital assets in a fully functional remote management system. RICOH's @Remote is a dynamic Internet-based workplace support service for remote management of an organization's digital multi-purpose devices and printers. Ricoh's new remote service can help employees minimize manual printing tasks, monitor printing activity, and even automate Service Call notifications to reduce downtime in the event of a device breakdown.
Effective Printer Fleet Management with RICOH @Remote
An organization that automates its service call procedures means that it eliminates the need for employees to initiate service calls to their suppliers. RICOH's @Remote network capabilities will automatically place a service request with detailed diagnostic information. To further ensure that your device is entirely up and running, alerts can be sent instantaneously, such as warnings about low toner.
@Remote technology eliminates the need for manual meter reading by automatically providing accurate information from your printer fleet without user intervention. It automatically reports meter counts at a scheduled time and eliminates errors from manual reading.
In addition, RICOH's @Remote also creates detailed usage reports to help the organization gain more insight and knowledge on printer usage. Organizations can effectively manage their printing fleet by reviewing for black-and-white and full-color usage on your Ricoh network printers and MFPs to make better choices for overall printer management.
TIP2: Reinvent digital technology for the company with agile software delivery.
The primary function of digital transformation is to help an organization keep up with the fast-evolving needs of its customers and employees. Using agile methods of software delivery, companies will not just reduce their operational expenses but also help employees work more effectively by having the right digital infrastructure to help them achieve their sought-after performance gains.
Copiers, printers, and multifunction printers are essential technologies that help businesses function well. It's part of a company's essential operating expenses that keeps an organization's back office fully functional. Amidst the turmoil of the COVID-19 disruption – with work styles and technology for the New Normal evolving so rapidly – employees need new functions and enhancements to help them work more productively and efficiently.
Without requiring obsolete web plugins, programs, and tedious maintenance, RICOH's Always Current Technology allows the organization to update their multifunction printer's device software easily to enjoy the benefits of the latest functionalities, technologies, and features, regardless of when you purchase the device. Learn more about RICOH's Always Current Technology here.
TIP 3: Create a solid foundation for your core technological systems by investing in an intelligent software enterprise for the business.
It cannot be denied that organizations need to make significant investments with their digital transformation initiatives. Companies need to leverage this investment to create a solid foundation that will help create an intelligent software enterprise that will eventually lower general administrative work and business costs. Investing in an intelligent enterprise means that the organization is investing in its core technological systems to support new digital functionalities that can provide significant performance benefits for their employees. All that and more can be found in RICOH's @Remote intelligent support service. RICOH's @Remote is a new kind of Internet-based support for remote management of multi-purpose digital devices and laser printers. With the advent of this kind of service, the status of devices on the network can be monitored in real-time, required services can be delivered rapidly, and breakdowns prevented and downtime shortened.
Security in an "At-Risk" environment with RICOH @Remote
RICOH engineered its @Remote technology by taking into account the organization's concerns regarding network and information protection. As such, it is fully equipped with:
Secure HTTPS communication—designed to meet virtually any security requirement.
Complete automation, including set-up and installation with no on-site support required by IT professionals.
Information Technology Security Certification—Common Criteria / IS015408.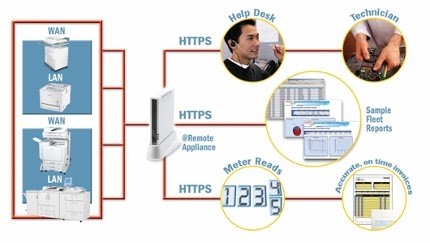 Are you ready to sustain your digital transformation initiatives for 2020 and beyond?
COVID-19 has changed the workplace, and the way employees do their work. Embracing digital transformation has made it possible to refine and scale up business operations in the wake of the global pandemic.
Ricoh Philippines has a proven track record of creating IT infrastructure and software services that will help your organization's digital transformation. Click on this link to find out more!