How to choose the best printer for a Remote Work and Homeschool Setup
2020 has been the year for the homebody economy. Households around the globe are adjusting to making their home conducive for remote work. Parents with kids are also scrambling to make their home a suitable alternative learning environment.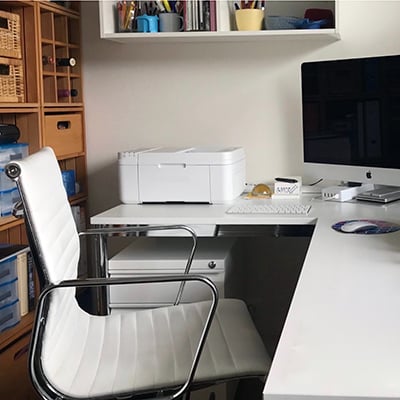 Featured photo by
Evelyn Geissler
@eggeissler
As such, the need for a home office printer has never been more prominent than it was a year ago as most of our homes are already re-purposed for remote work and distance learning.
Parents are busy printing workbook modules for their children. At the same time, remote workers are pre-occupied making notes and printing business reports. Whatever the reason may be, remote work employees and distance learners have a variety of printer choices to choose from.
Before giving in to the impulse of simply buying the first thing you see on the market, it's a good idea to figure out what kind of printer will suit your needs.
The Choice Between Laser and Inkjet Printers
Choosing between laser and inkjet printers was relatively easy until a few years ago. Since laser printers used to be more expensive, at-home computer users would typically choose inkjet printers.
However, several improvements have been made to laser printers over the past decade. As such, the arrival of compact laser printers that print impressive color documents such as Ricoh's SPC261DNw and SP C261SFNw Color Printers are proving to be a more suitable choice not just for the office setup but even for today's remote workers and distance learners.
Laser printers for your 2020 home office needs
With this year's government-imposed lockdowns, both the private and public sectors must follow remote work or staggered and flexible work arrangements.
The education sector has also prescribed distance learning to all levels of school, even for higher education. Under these circumstances, remote workers and remote learners need an efficient "office-grade" printer that can handle a large amount of document printing for their office paperwork and learning modules.
They need a printer capable of handling the functionality, efficiency, and support they need to transform their home into a full-fledged remote office. Compared to inkjet printers, laser printers today are proving to be a more economical choice for remote workers and distant learners.
Equipped with high levels of print productivity and easy functionality into a small and compact footprint, Ricoh's laser printers are guaranteed to deliver a reliable printing operation into a remote office setup.
Guide Questions for the Search for the Best Home Office Printer
QUESTION 1: Do I need a printer for my home office?
Almost everyone has attempted to print a few personal documents in the office at some point in their lives. But now that remote work is steadily becoming the norm this year, printing the occasional document in the office is no longer possible.
This may be the right time to consider buying a printer for your home. Here's a checklist to help you narrow down the type of printer you may need at home:
How much and how often do you print at home?

What is the quality of the printout you need?

How much has to be in color?

Do you print photographs to keep at home?

Do you need to print on A3 or other non-standard sizes of paper?

Do you need your printer to have multifunction such as a scanner and photocopier?

How many types of devices (PCs, tablets, smartphones) do you need to print from?

Do you want to print directly from a phone or camera without using a computer?
If your answer is yes to more than three of these questions, then it's probably a good idea to start looking for a home office printer that will suit your printing needs.
QUESTION 2: What type of documents do I need to print? Do I need a color printer?
Laser printers today have the capability to print a variety of documents. More than just printing text documents, printers nowadays can produce high-quality, impressive color documents and crisp black and white text. To find the right printer for your home, start asking yourselves these questions: What type of documents do I need to print? Will I need to print in both color or black and white?
QUESTION 3: How much do you currently print?
Your household's print volume should set the standard on how robust your printer needs to be for your home office. It is often measured by the number of pages that you print per month. A good indicator will be the number of reams that your home office use for printing. A typical pack will usually have around 500 sheets of paper.
If you are printing fewer than 100 pages per month, then an entry-level laser printer may be enough for your home office. However, for households that print around 500 sheets of documents per month, it's best to choose a compact office-grade printer for your home like Ricoh's SP C261DNw Color Printer. Ricoh's laser printers will give your home office a definite upgrade to help make remote work and distance learning more manageable. Don't miss the chance to avail of this printer at a special discounted price. Click here to learn more.
QUESTION 4: What level of printing connectivity do I need?
Your home's printing connectivity will depend on how exactly you are planning to use your laser printer. If multiple family members will share it at home, it needs Wi-Fi connectivity or features that will enable users to connect it over a network. Another useful printer feature is a USB access that allows users to print images via USB port to provide added flexibility and convenience to your home office.
QUESTION 5: How will I calculate and manage the printing costs with my house budget?
Most households may find it challenging to understand the lifetime cost of using and maintaining a printer for their homes. Here are some of the primary factors that will help calculate the cost of a printer beyond the initial cost of the device itself:
Cost Per Page
This is the rough guide that estimates the cost of the toner per printed page. It can be calculated by taking the price of the toner and dividing that price by the number of prints it is estimated to produce.

Total Cost of Ownership
This is the total estimated cost of a printer in its entire lifecycle. You can calculate it by simply adding the printer's cost and its ongoing monthly costs (e.g., ink, paper, energy) for a given length of time.
QUESTION 6: Will my printer work with my PC/Laptop, Tablet/iPad, and Mobile Phone?
The simplest printers at home will usually connect to a computer via a USB port. However, if you really want to experience complete convenience and mobility in your home office, then your printer needs to have the capability to connect to a wide variety of smart devices.
Just like Ricoh's SP C261DNw and SP C261SFNw Color Printers, smart connectivity that lets you print on-the-go with no printer drivers required will be useful for the home office. Since family members usually own different smartphone brands, you should also ensure that multiple types of mobile device printing are supported, such as Apple AirPrint, Google Cloud Print, and Mopria mobile printing.
Essential Printer Features for the Home Office of Remote Workers and Distance Learners
Multifunction Printer
If you see yourself working and learning from home for the next few months, then it is more practical to consider a multifunction printer for your home office. These printers will not just print your documents, but it can also scan, copy, or save them as files on your computer. These features will come in handy if you want to keep paperwork at your home to a minimum since you can save PDFs of most of your documents for archiving and storage rather than let the hard copies sit around at your home for the rest of the year.
With Ricoh's SP C261SFNw multifunction printer, you can use its embedded Near Field Communication (NFC) tag to perform various tasks from your mobile devices, such as printing with the Smart Device Connector App or scanning documents with the SP C260 Scan App.
Input and Output Trays
Robust printers in the market will typically have an input tray from the back of the printer, and some may even have more than one paper tray that can hold letter-size and legal-size papers. Since distance learners will need a robust printer that will efficiently print large quantities of learning modules, households keen on buying a home office printer should also note how many sheets of paper the input and output trays can hold.
Duplexing
Duplex printing or the ability to print on both sides of a single page is one of the most underrated cost-saving printer features. Automatic duplex printing is a very useful and convenient function, especially if you are printing large quantities of documents, and you want to save on the cost of your household paper consumption.
Wireless Connectivity
Ensure that your home office printer offers the standard wired and wireless networking that is compatible with a variety of smart devices. Nothing beats the ease and convenience of being able to print on-the-go. As such, wireless connectivity via NFC or Wi-Fi is an essential feature that your home office needs.
Easy Set-up and User Friendly
At the end of the day, you still need to look for a printing device that will simplify your workload and make your home office a more conducive work and learning environment. You need a printer that's easy and convenient to use at home. Consider the overall setup of your home and find a printer that will simplify your workload overall.
Check if you would be able to change toner cartridges by yourself and if its display and panel settings are user-friendly enough to offer at-a-glance jobs and supply status monitoring. All these and a lot more are found in Ricoh's SP C261 Printer Series. As the most suitable home office companion, these printers pack high productivity, easy functionality, and flexibility in one compact footprint.
Give your home office the "office-grade" printer it deserves.
Make the smart choice and consider investing in laser printers for your home offices. Maximize your printer's costs and usage at home with Ricoh's laser printers. Providing high-quality color printing with a low fuzz and compact size, Ricoh provides industry-leading laser printers.
Our laser printers like our SP C261DNw Color Printer and SP C261SFNw Color MFP pack high productivity and easy functionality into its compact footprint. For a list of our color printers, check out our website here.