Going digital: Document management systems and how to tell if you need one
No company can run for a day without sharing and viewing documents. They form the building block of any organization and play a primary role in the success of its operations.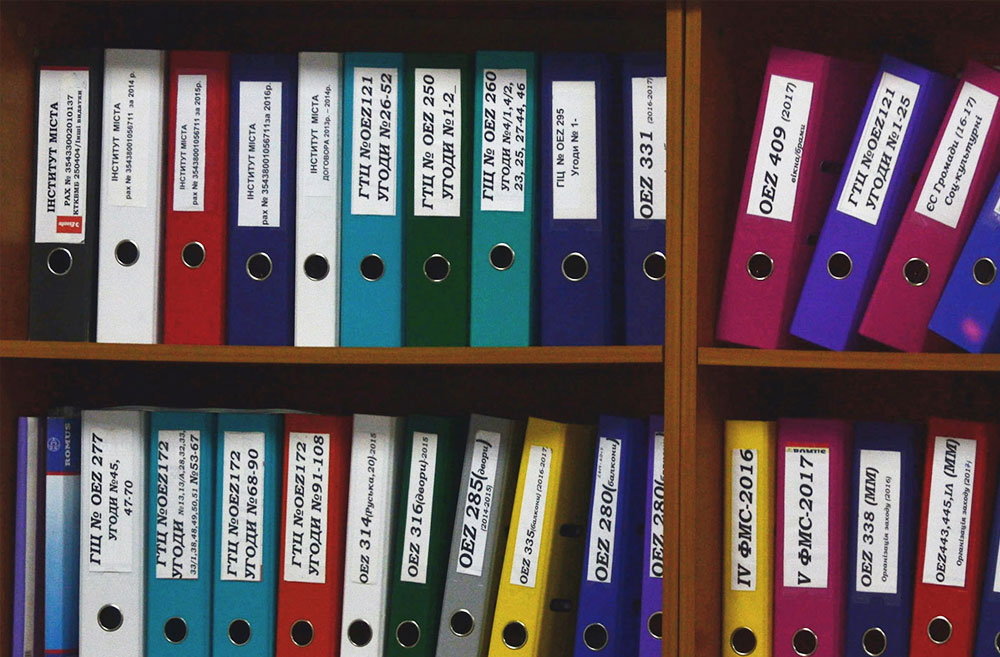 Featured photo by Viktor Talashuk on Unsplash
Organizations create and manage massive amounts of business documents daily. They all range from contracts, proposals, decks, marketing materials, blog posts, and HR guidelines, among others.
These documents can often be scattered all over your digital workplace. The more they are created and used, the more critical a management system becomes for your organization.
In the 2019 Intelligent Information Management Benchmark Report, 86% of the respondents say that they face difficulties while locating office files. On the other hand, 83% say they end up recreating documents because of being unable to find the original.
65% of the respondents also find it difficult to check, approve, and use office files and documents. Overall, 46% of the respondents say that locating files in itself is a challenging and time-consuming task.
This is why organizations need an electronic document management system (EDMS), especially in the wake of the digital transformation of offices. Today, many businesses turn to EDMS to avoid productivity loss and decreasing employee morale.
What is an Electronic Document Management System?
With vast improvements since the rise of computing and the digital age, companies have been racing towards better structures and organizing methods.
According to the Association for Intelligent Information Management, a Document Management System (DMS) is "the use of a computer system and software to store, manage and track electronic documents and electronic images of paper-based information captured through the use of a document scanner."
Hard copies of documents can be uploaded directly into the system with a scanner. Softwares also allow users to use metadata and tags that can be used to organize all stored files.
Simply put, it is a system embodied through a software that allows its users to create, store, manage, index, and retrieve digital documents. They serve as electronic filing cabinets that can serve as a foundation for organizing all digital and paper documents.
For example, RICOH's Kofax® PaperPort Professional allows you to take control of your documents and have instant access to them all. From scanning and converting, to editing and sharing files, this software is a must-have in managing your documents. [1]
Common uses and features of an EDMS
Jared Weitz, CEO and Founder of United Capital Source, said that having a DMS as part of a paperless and organizational process can bring about freedom and peace of mind.
"Your business will grow in time, and having proper documentation established will make this growth more fluid," said Weitz.
Today, document management systems vary in size and scope. There are small, standalone systems, and large scale business-wide configurations that serve a global audience.
Basically, it is the job of a DMS to do standard physical document filing practices electronically. A proper filing system is essential for any business, regardless of its size and industry. Generally, however, its functions and use have been saving costs and time for its users.
Now, let's take a closer look at the common features of a modern EDMS.
Document storage
At its very basic, an EDMS is a central hub for all paperwork that goes both in and out of your organization. Such documents range from client contracts, invoices, up to the daily timesheets filled out by every member of the team. Even when it houses all files under one roof, EDMS providers offer tiered levels of storage for the different needs of organizations. This is so clients can think about their future-related needs without overspending on storage that is currently unneeded.

Information capturing
Aside from storing documents, EDMS also automates the capturing processes of both digital and physical documentation.

Capturing digital information is very simple. The EDMS replicates incoming documents that are about to be stored. It then converts such files into more appropriate file formats.

With mass-quantity scanning technology, high volumes of handwritten or printed documentation are captured with near accuracy.

A great example is the RICOH Streamline NX V3 Scan and Capture Option, which provides a wide range of scanning choices that also keep information secure while having a 98.8% accuracy for file conversion.[2]

Programs such as the RICOH OCR Lite, on the other hand, easily transforms and delivers almost any paper document into usable and editable files. Such include Excel® spreadsheets, Word® documents, searchable PDFs or PowerPoint® slides, all at the touch of a button. [3]

Structuring and indexing documents
After capturing a document, EDMS also creates metadata for both the digital and physical documents. This gives the file other identifying information for individual data such as its date of creation, date of recent edits, and many more. An EDMS is also indexing based on a hierarchical structure it automatically generates. Sequential file names for documents are created within a series (e.g., File001, File002, etc.). It streamlines the process of creating folder trees. Looking at the metadata created will also allow you easy retrieval of common or recently-used documents that fit a specified category or tags.

Locating and retrieving documents
Once your files are organized and stored well, locating and retrieving them for use will be so much easier. Most EDMS applications do this by providing user-friendly browse and search functions with an intuitive User Interface (UI). In many ways, EDMS search functions are becoming more advanced. Auto-generated file names and metadata all lead to more accurate search results within the system.

More than anything, many EDMS uses semantic analysis to consider the content of files when searching for a queried term. This allows the user to find documents quickly, even without the main file name, for example, of any specific information about the document at the time.

Most EDMS software has a cost-efficient method of tracking and controlling large quantities of documents. RICOH Set Numbering does this by applying a serialized page stamp in the location and format you wish.[4] Retrieving documents can be made hassle-free.

Permission Granting and Gating
EDMS software also allows you to control who can access specific documents. This is because not all documents that flow in and out of your organization are meant to be seen by everyone.

With such a feature, setting permissions for individual files and for files that meet a certain criteria will become so much easier. This means allowing some teams and individuals to make changes to a given document while some may not be able to see it at all.

It also minimizes the chances of files being lost, misused, or damaged by those who should not have been able to access them in the first place.

Communication and collaboration
Such a system usually has capabilities that allow your team to communicate with one another and make collaborative changes to documents.

Generally, EDMS allows owners of documents and managers to message one another. They can leave comments on certain parts of the document, and edit documents as necessary. This is an important feature that will allow the collaboration of the members of the team.

In the same way, information can also be hidden or censored for some collaborators, depending on their permissions and clearances. This will allow them to focus on information that matters well for their purposes.

The EDMS you choose must be platform agnostic. This means that the products can perform equally well across many platforms. This will enable your team to collaborate on documents from desktop, mobile, and tablet devices.

Versioning
While collaboration is easy to do with an EDMS, each collaborator will want to know the record of changes a document or a file has gone through.

An EDMS software needs to keep a clear record of document changes, and also that it keeps copies of the different versions of the document through its life cycle. This is so administrators can revert to previous versions of the document whenever the need arises.

Versioning also serves as a transparency measure. It provides recorded proof that changes were made and that collaborators present agreed to such modifications. This can help ease confusion in the workplace, especially among people involved with the file in question.

Security and compliance
Aside from storage, modern EDMS provides security features that keep your data safe, secure, and compliant.

Features stated above, such as permissioning and versioning, minimize the chances of a document falling into the wrong hands, and eventually being misused. Moreover, if a file is accessed or changed accidentally, a manager can recover the document in its correct form.

On compliance, laws and regulations require companies to keep a record of their documents from beginning to end. This means that having an EDMS to manage your files is an essential component in being able to deliver proof of compliance.

Using RICOH GlobalScan NX will create digital documents, automatically archive them, while also providing a high level of security to meet regulations.[5]
Benefits of using an Electronic Document Management System
After knowing the features of an EDMS, browsing through hundreds of folders while in a meeting does not sound appealing at all. In a hard day's work, it no longer makes sense to stay in this kind of digital clutter.
Still, it is very easy to do, especially when all can opt to choose their own ways to file documents and paperwork. Let us dig a little bit deeper into the benefits of an EDMS and how it can assist your organization to thrive.
Increases Productivity and Profit
Since an EDMS makes processes easier and more efficient, it cuts down on the legwork initially involved. Without an EDMS, more resources are needed to capture, store, and retrieve data.

With a system in place, less time will be spent on locating documents. More time will be allotted to actually using them for their purpose. Immediately, an increase in profit margin can be observed.

Some businesses estimate that they were able to reduce document management related costs by up to 40%. All this leads to more streamlined processes, focus on research and innovation, and overall better customer service and support.

Provides Better Adherence to Processes
A centralized document system allows you to operate and systematize your document processes. It will enable your team to follow specific standards and best practices of document management.

Following protocols also means letting the system do its magic. In more hands-on cases, the EDMS software can ensure that the path of least resistance is being followed in completing some tasks.

For example, creating new invoices from a defined template and sending file updates through the EDMS, as opposed to email, will make processes more manageable.

Enhances Knowledge Sharing
An EDMS allows managers to control the flow of information through their organization. This means that data and documentation can flow freely from team to team, given that the permission-based restrictions have been lifted.

Employees will also always have immediate access to the most recent version of any file they may need. Instead of sending data back and forth, they can see the changes in the server in real-time.

Modern EDMS also integrates well with third-party tools and software. This makes communication among members of the team easier.

Improves Knowledge Preservation
While knowledge sharing is easier with an EDMS, knowledge is also preserved over time.

An EDMS lets your employees follow the necessary laws and regulations by simply using the tool. This is because of the versioning and recordkeeping features of the software that prevents its user from committing violations.

More importantly, the system can preserve data after an employee leaves your company. An EDMS can still allow you to locate, access, and use documents any team member may have left behind. This will let the rest of the team pick up where they left off.

Guarantees Quality Assurance
Everything we have discussed all leads to assuring your team and your customers better quality of work.

Your team can operate confidently with the knowledge that they have control over the files they are working with. At the same time, both the team and your customers will not need to worry over the proper security and compliance measures over their data.

Optimizing simple and basic processes will trickle down to your customers' experiences in terms of speed and responsiveness. When locating documents is faster, your team can serve customers faster and more efficiently.
Get Started With a Document Management System
The best way to approach getting started with a document management system is to try one. Ricoh is all about improving work life by providing better user experiences, optimized workflows, anytime anywhere collaboration, and digital infrastructure solutions.
We have a series of products that will help resolve your organizational challenges.
For general inquiries about and on how to buy our products, you may fill out a form and contact us here!