Establishing Digital Transformation for the Manufacturing Industry
As we have seen during the pandemic, it's no longer just a matter of products and services becoming more digital. Most of the organization's daily processes and workflows are transitioning from manual to digital.
It's becoming more apparent that companies that resist digital transformation will usually find themselves losing their competitive advantage.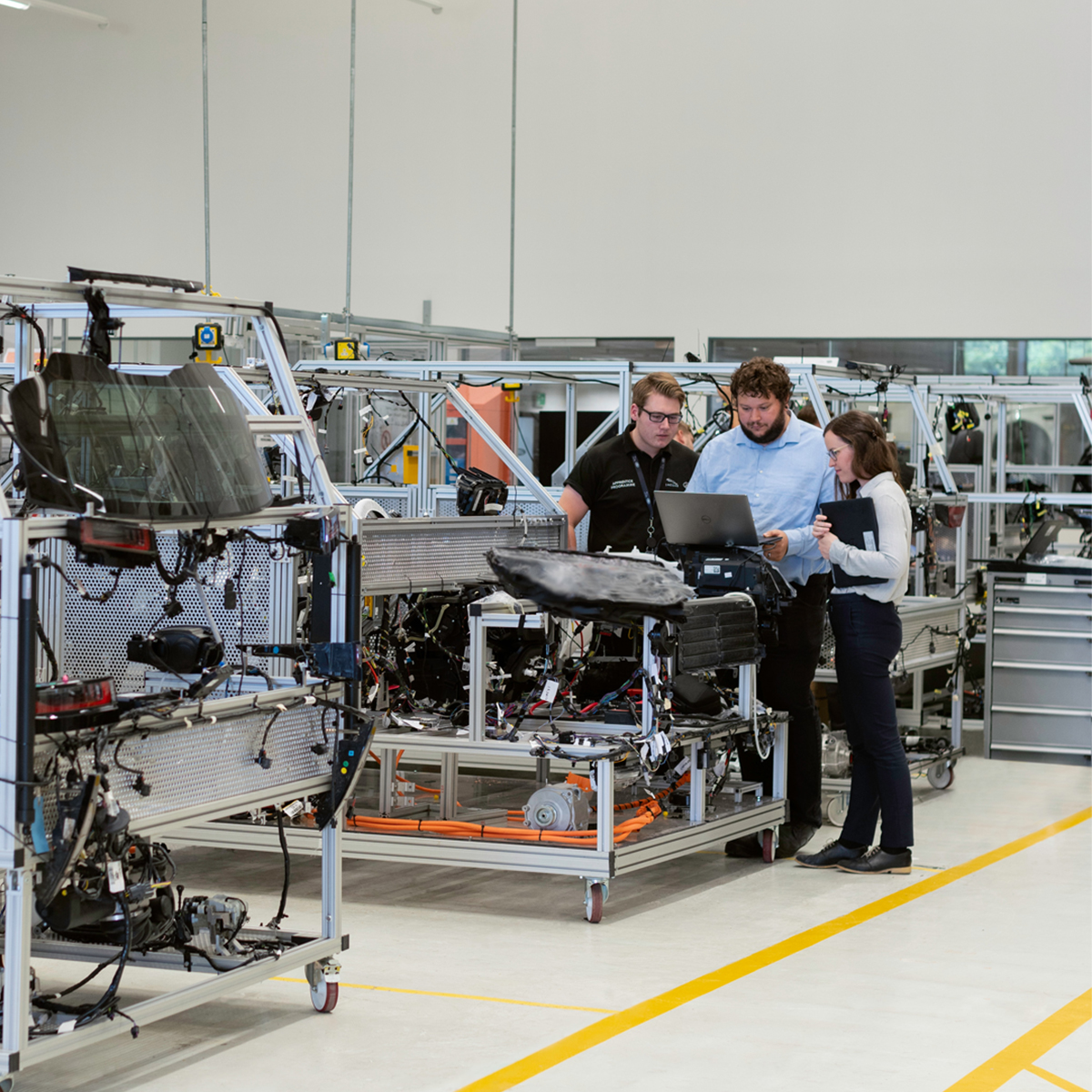 Photo by @headwayio
An IDC MarketScape report noted that digital transformation in the manufacturing industry has a great potential to increase the industry's economic value by $4.5 trillion.
With this bright outlook, forward-thinking companies in the manufacturing industry have already started to look at technologies such as IoT (Internet of Things), machine learning, and artificial intelligence to help optimize supply chains, improve factory manufacturing performance, and accelerate innovation for products and services.
Leveraging Digital Technology in the Manufacturing Industry
Historically, manufacturing companies have had a mixed reaction to new technology. They would usually have existing systems to support the management and control of their internal workflow processes. However, they have been slow in adopting recent digital technologies such as big data analytics and real-time order confirmation, among others.
Most manufacturing companies have factories and warehouses that are usually controlled and managed automatically by CNC (Computerized Numerical Control) and DNC (Distributed Numerical Control) software.
The problem with these technologies is that they are usually implemented in silos. Most of the technologies manufacturers have adopted have created a connectivity gap in their operations to a varying extent.
In fact, research from the MIT Center for Digital Business showed that only 12% of manufacturing companies truly leverage digital technology's power. Most of them actually fall in the "Beginners" category in digital maturity.
Research also showed that while some manufacturing companies started implementing digital technologies, they mostly did it in silos. Only 38% of manufacturing industry executives have indicated that digital transformation in their organization was a coordinated effort across different functions and regions.
Why Should Manufacturers Implement a Holistic Digital Transformation?
REASON 1: Lack of holistic digital integration between planning and operations impedes operations.
When it comes to the core aspects of their business operations, most manufacturers are still relying heavily on outdated planning models. Until today, most manufacturing companies still use systems that offer poor visibility and excessive human intervention, leading to suboptimal results. Due to this disconnect between planning and operations, frequent manual adjustments on the manufacturing floor are often executed to improve deviations in production. This unnecessary manual work impedes operations and affects the overall productivity of the manufacturing system.
REASON 2: Cuts down delays by eliminating human errors and interventions
Integrating digital technologies into the manufacturing operations allows seamless and direct transfer of orders to the machine itself. Alternatively, the production orders can also be transferred to the digital devices, which can be displayed to the production floor control team. This eliminates the probability of human errors and interventions since the digital device can automatically direct information flow to the production floor. As such, this seamless connectivity will introduce more transparency and visibility into material availability.
REASON 3: Bridges sales connectivity gaps
Multiple sales opportunities are lost since manufacturers fail to confirm customer orders consistently. Lost sales due to time delays are common in the manufacturing industry. Production downtime also tends to occur since there's no information about the delays in the inbound supply chain. Integrated digital systems can synchronize data such as inventory management, order fulfillment, delivery planning, and coordination. These tools will help companies reduce the complexity of the production planning process and ensure the reliability of sales projections and the stability of the supply chain.
REASON 4: Drives transparency with holistic business planning
Manufacturing companies can have the capacity to increase the overall level of transparency in their supply chains by implementing digital processes that integrate the company's production functions into the planning process. This will provide greater stability in the overall operational processes. Reliable production planning can significantly reduce the logistics costs for transportation in the supply chain. It can also minimize warehousing costs since inventory levels can be optimized.
REASON 5: Enables effective management of information flow (end-to-end supply chain model)
The power of digital technologies can also be harnessed to manage the information flow from the suppliers and manufacturing facilities right down to the value chain and, ultimately, to the customer itself. Manufacturing companies can now use digital tools to connect inventory management across transportation systems so they can track product inventory and delivery using navigation systems. Digitally enabled supply chains can help handle shipping information to improve lead times and staff efficiency. It can help companies reduce the manual tracking and tracing of inbound shipments of products.
Benefits of RICOH's DTS for the Manufacturing Industry
BENEFIT 1: User-friendly
Ease of use for long-term effectiveness
In terms of product design and development, user-friendliness is a primary consideration of RICOH's DTS (Digital Transformation Service). This gives administrators and staff a fast adaptation time for the new digital processes and long-term satisfaction using a system they can rely on.
BENEFIT 2: Scalable and Flexible
Best fit for all your IT needs
RICOH's DTS services support manufacturing companies of every size. With the flexibility of this cutting-edge cloud-based solution, manufacturers can increase users and storage immediately as the business scales and evolves.
BENEFIT 3: Secure
Industry-leading security
RICOH's DTS ensures that it has the capability to control the flow of documents and data, including how they're accessed. Its industry-leading security features ensure that everything is captured, processed, and stored securely against misuse and loss. BENEFIT 4: Mobile Mobility access hybrid staff In the age of remote and hybrid work arrangements, all staff can remain connected and productive since they can easily access and process information anytime, anywhere, and from any device.
Simple Steps to Make Digital Transformation a Reality for the Manufacturing Industry
STEP 1: Set a goal.
Figure out what digital processes the company needs.
One of the most critical steps to digital transformation is to figure out the company's goals and then create an action plan that will drive them forward. Manufacturing companies nowadays yield more data than ever. Companies can look for a reputable partner like RICOH to enable their systems with cloud-based services and technologies. Implementing this strategy can help companies address operational issues and avoid long-term integration issues.
STEP 2: Start small and scale-up.
Begin with field-level intelligence for initial setup and deployment.
From both a manufacturing and fiscal standpoint, companies may be hesitant to invest in digital transformation since it requires a lot of time and effort to adapt to new processes. Contrary to popular opinion, digital transformation does not involve an all-or-nothing approach. It can actually be done in phases. Companies can start small and scale over time. They can find production issues that they can pilot test first using digital technologies. Once they have seen tangible results, they can expand these capabilities throughout the organization.
STEP 3: Don't lock yourself in.
Consider open tools and protocols like RICOH's cloud-based DTS.
Digital transformation won't certainly happen overnight. With all the choices of systems in the market today, companies must choose the right provider that won't restrict their operations for future expansion. A flexible and open architecture like RICOH's cloud-based DTS is the best choice for companies who want to integrate their legacy systems with centralized cloud-based workflows.
Implementing a full digital transformation for manufacturing companies will undoubtedly take time and effort.
However, the necessity to use a DTS is more crucial than ever before. The right DTS will future-proof any manufacturing company to ensure that the organization will run as seamlessly as possible.
As such, it will always be a necessary investment for the long term. Ultimately, you will also need a trustworthy DTS provider like RICOH Philippines, who has the proven expertise to modernize your company's manufacturing processes.