Embracing secure document archiving for the post-pandemic future
No matter what industry you work for, every company in the world will generate and maintain significant amounts of documents. Every member of the organization needs access to information on a daily basis.
Consequently, employees need that information to be acquired quickly and effectively, with the assurance that it is also secure. Over time, even more documentation and records are produced, which in turn need to be stored safely and securely.
Document storage simply refers to a large room filled with shelves, boxes, and paper for some organizations. While this may be a common practice more than a decade ago, a surprising number of businesses still store their information the old-school way – more than most people think.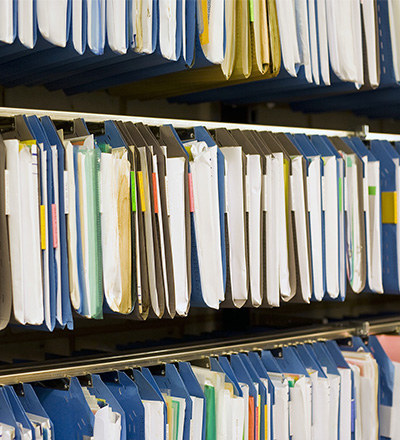 Photo by rona1880
These are the types of businesses that have most likely felt the impact of COVID-19 in their workflow. Not only are these filing systems archaic at this point, but they are also a fire hazard for the organization. Employees will most likely experience more difficulties accessing files during a time-sensitive situation since staff members are unable to have access to physical documents while they are working from home during the lockdown. With localized lockdown restrictions imposed by the government, organizations must find ways to be agile enough to adapt to new rules and regulations.
Document storage has been a bigger and bigger concern for business in a fast-evolving world.As such, the decision to move paperless with digital archives and cloud storage has been proven to be more valuable and practical over the past year.
Secure document archiving has been an invaluable asset for businesses with remote workers during the pandemic. To keep the organization running at optimal performance, employees need to quickly and easily access the information they need while working from home
COVID-19 and beyond: Digital document archiving is the way forward
While there are indeed a significant amount of benefits, the prospect of going paperless can still be daunting for some businesses.
Documents archiving can be likened to an invaluable digital currency, a storage and management system used to handle an organization's sensitive and valuable documents. If a company loses its contracts, invoices, and other valuable documents, it will more likely lose money, and transactions will get delayed.
However, despite its seemingly critical value and importance to businesses, only a few have really invested in these technologies, and even fewer have managed to integrate them into their team's workflow.
This is one aspect that has been largely overlooked by more traditional organizations and has caused countless issues for many businesses over the past year with COVID-19.
A safely managed document archiving and cloud storage software that every employee can access remotely while working from home and in the office is proving to be essential for organizations in the newly emerging landscape of post-COVID-19 recovery.
A McKinsey report noted that the pandemic recovery would be digital. "Many organizations will need to rapidly reinvent processes that previously required physical documents to become paperless," said the report.
The report also noted that "Enabling the submission of scanned copies for document verification and supporting contactless servicing capabilities (for example, by creating digital forms to replace physical forms and enabling electronic signature capture) will likely be key priorities."
While this is not the first time that businesses sought to eliminate paper processes, unlike the previous years, there are now elements of necessity and urgency.
On the road to a post-pandemic recovery, digital document archiving is more than just reducing the organization's paper consumption. Instead, it's all about improving the overall workflow of an organization's document management amidst a society that is becoming increasingly touchless.
The key is to manage the proliferation of the barrage of documents effectively. Paper is becoming increasingly cumbersome, and now, organizations are starting to recognize the value of digital document archiving.
Benefits of document archiving
Storing unused old documents will free up an organization's valuable office space. An office warehouse needs to be used productively, and businesses are not using its full potential if it's only for storing unused documents. Document archiving allows organizations to function at full capacity with all records, documents, and information fully accessible online.
Prevents unauthorized access
Sensitive records with confidential information are in danger of being compromised by theft or prying eyes. If that's the case, regular filing storage is not safe enough. Ricoh's Document Management System (DMS) ensures that all workflow and document access are managed by password-secured rights. Digital documents are provided with right-restricted access to confidential records such as signed forms and financial documents.
With Ricoh's Document Management System (DMS), organizations can leverage cutting-edge technology with smart workflow integrations to digitize paper and work anywhere. It will help businesses simplify document archival and retrieval. It can store documents and emails from Outlook and transfer business data into applications like SAP, Sage, QuickBooks, MS Dynamics, and other ERP systems.
Manual paper document retrieval is inefficient and a waste of time. Instead of doing valuable work, employees are wasting their work hours from manual paper documentation. The fewer time businesses spend managing paper, the more they can focus on strategic, growth-oriented activities. With Ricoh's Document Management System (DMS), electronic documents and assets reside in a centralized repository which is backup, so they do not get lost. In addition, they can be secured, so authorized individuals only access them. Thus, empowering employees to get more done with faster approvals, reviews, and records retention.
Helps maintain legal compliance
Ricoh's Document Management System (DMS) protects the organization's data and helps them stay compliant. It supports HIPAA, GDPR, Sarbanes-Oxley, SOC 2, Type I security, and many other US and international regulatory guidelines through rights-protected access, legally binding digital signatures, file encryption options, and more.
An organization's step-by-step guide in implementing a DMS to archive documents
Document archiving is more than just a one-time activity. An organization needs to devote many resources to set up a document archive and maintain it properly. Of course, this can be a significant investment for the business. However, the benefits enumerated above will more than justify and offset the cost, especially for organizations gearing for a post-pandemic recovery.
STEP 1: Initial assessment
Identify the processes involved in your current document system. Find out how each record is produced, received, processed, stored, and discarded. This step also consists of an inventory of existing records to determine the quantity. Categorize all documents by function, including financial, personnel, shipping, receiving, etc.
STEP 2: Identify goals and roles
Identify document archiving goals and determine organizational roles. Explicitly prioritize the organization's goals to keep the digital archiving efforts on track. Ensure that there will be someone who will oversee the initial archiving process and manage it moving forward. This will help promote compliance across all members of the organization.
STEP 3: Implement a retention schedule
Once the first two steps have been accomplished, it's time to set a retention schedule for its business documents. It's also recommended to hire an authorized person to triage all the official documents and ensure the secure transport, destruction, and subsequent disposal of unnecessary documents.
STEP 4: Digitize paper files
Digitize all paper documents to reduce the costs and required storage space and improve ease of access. It's possible to keep records as hardcopies and to digitize them for easy retrieval and safekeeping.
STEP 5: Choose a DMS provider
Guarantee that your organization's documentation process is ready for the post-pandemic future by choosing the right DMS provider like Ricoh. Ricoh's DMS will increase the company's business agility by simplifying approvals and document processing with automated workflows. With Ricoh's DMS, organizations can save, store, manage and share documents – regardless of format or source – in the office, at home, or on the road.
STEP 6: Evaluate internal process
Document archiving is an ongoing process. As part of the organization's overall policy, it's equally important to revisit procedures annually to see how they work to make the necessary adjustments. It's also essential to periodically review the access and integrity of the archived documents.
FAQs on document archiving
Why should I archive my documents?
Moving documents off-site physically will significantly reduce the office storage space. It will also lower the costs and improve the speed of day-to-day processes. Document archiving will also keep the organization compliant with government and industry regulations such as records retention and data security.
What is the difference between document storage and archiving?
Data storage is only temporary. It's meant to provide copies of files in case data loss or corruption occurs. Meanwhile, archived data is fixed, and when it's needed to be accessed in the future, it will not change.
How should documents be archived?
Hard copies of documents can be archived, and digital versions can be stored on disks, tape, or the cloud. Essential documents should be archived and should be typically stored in at least two formats in one or more off-site facilities.
Document Archiving Supplier Checklist: Does the system…
Authenticate through individual username and password system?
Send all data between web-based components through HTTPS?
Enable group, role, individual, and document-centric access rights?
Provide modern 256-bit encryption?
Actively backup all data, including in a geographically separated area?
Store data within legally sovereign borders?
Protect against malicious crypto virus and malware?
Enable workflow to enact retention policies?
Help you meet specific compliance standards for information handling?
Retain the documents' integrity using electronic signatures?
Log all changes to create a complete audit trail?
Manage active and past versions of documents?
Achieve recognized third-party security and quality standards?
Enable secure integration with other corporate systems like CRM and ERP?
Assure non-repudiation?
Ensure maximum uptime and availability?
It's time for your organization to take advantage of the benefits of document archiving.
COVID-19 has made an impact on people's lives around the world. As a result, employees have to adapt to new business practices. With this shift in work practices, long-term changes will likely occur.
It's time to make your organization's future-proof with Ricoh's document management system for digital archiving. With Ricoh's DMS, archiving is made simple.
Get in touch with us now and find out how Ricoh's DMS can help you streamline your business.