The Importance of a Document Management System for the Healthcare Sector
Over the past year, we have seen the invaluable contribution of the healthcare sector in our society. Naturally, a hospital or even a small medical practice will always have a lot of paperwork done.
With the era of telemedicine in the aftermath of the global pandemic, more and more organizations are relying on technology to improve the healthcare system.
Nothing could be more critical today than an efficient healthcare system. This article discusses document management systems for the healthcare sector, why organizations should embrace them, and their importance.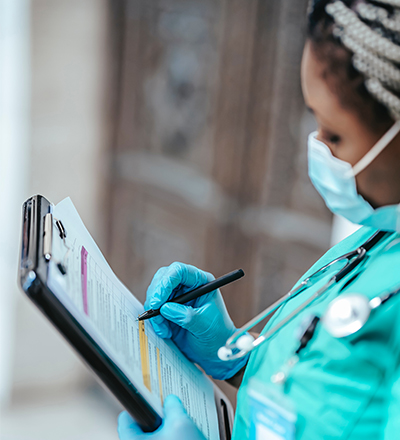 Photo by: Laura James
What is a document management system (DMS)?
Forward-thinking companies often use a document management system (DMS) to streamline troublesome processes that stem from paper documentation. A DMS is a multi-functional tool that can be used for various purposes:
It is a tool for digitizing and capturing documents.
A DMS is a tool that will speed up a company's processes by easily converting office documents into digital copies. With Ricoh's forms management solutions for the healthcare sector, medical organizations can replace their paper documents with electronic forms and integrate them into seamless digital workflows.
It is a tool for document storage.
A DMS software is an efficient tool that will save organizations space from storing piles of paper documents. Ricoh's DMS will provide companies with an easily accessible centralized database to protect all its digital files online.
It is a tool for document distribution.
Paper document distribution is often error-prone, out-of-date, and inefficient. However, an efficient DMS can easily help the organization keep track of invoices and other crucial documents for the company.
It is a tool for document tracking.
Ricoh's DMS allows organizations to easily track the exact location of the files they are looking for by indexing documents. This feature also includes the tracking of the edited versions and the changes made within the document.
It is a tool for workflow management.
Ricoh's highly advanced DMS will help organizations have flexible business workflows to save time and resources for their employees. It will also help employees collaborate on certain projects, make adjustments, and set notifications quickly and efficiently.
What are the indications that signify the need for a DMS?
DMS is now becoming an invaluable tool for organizations in the healthcare sector whose work in streamlining documentation and patient information is the highest priority. Here are some indicators that signify why your medical organization needs to integrate DMS technology:
The organization is growing at an unprecedented rate.
Amidst the global health crisis, medical organizations are transforming and growing by leaps and bounds. In this case, paper documentation is also expected to increase, including the odds for human errors, paper loss, and ineffective document management. Integrating DMS software for the medical institution will help mitigate these incidents.
The current document management strategy is inefficient.
The pandemic has forced organizations to scale at speed. The healthcare sector is no different. As such, if the productivity of the medical organization is dragging because of a document management strategy that is lagging behind the times, then using Ricoh's DMS is the way to go. It will consolidate patient information and process paperwork simultaneously to reduce time spent on administrative tasks.
The need to reduce costs on document management is needed.
If the expenditure of the healthcare organization on paper, file cabinets, and shipping paper documents is higher than ever, then having Ricoh's DMS integration is the perfect solution. It allows companies to reduce costs on physical paper storage and documentation.
Employees waste too much time on document retrieval.
A DMS is beneficial for cases when hospital employees spend too much time retrieving paperwork. Physical papers with patient information may be misplaced or lost, but these risks may be diminished with Ricoh's DMS integration.
Benefits of DMS in the Healthcare Sector
BENEFIT 1: It saves storage space.
The amount of space needed to store physical documents increase every year. Having an efficient DMS can help free up storage space for those essential documents and confidential patient information that needed to be kept as hard copies.
BENEFIT 2: It increases security.
Without the security of a DMS, protecting confidential patient information and sensitive data may put a medical organization at risk. With Ricoh's DMS, the healthcare sector will have better control over document access for various departments and individuals. It even keeps records of when these documents are accessed and modified.
BENEFIT 3: It helps with regulatory compliance.
With laws on data privacy being implemented in the country, the last thing that a medical organization needs are the liability of not following compliance requirements. Ricoh's DMS reduces this risk with an efficient system that will classify and store all essential documents in compliance with existing laws and regulatory requirements.
BENEFIT 4: It provides easy document access and retrieval.
So much time and labor are spent filing, searching, and reproducing documents. With a DMS like Ricoh's, healthcare organizations can save time and resources by easily retrieving files using a full-text search and indexing documents by categories in one centralized database.
BENEFIT 5: It helps in disaster mitigation.
With Ricoh's DMS in place, medical organizations can implement a user-friendly solution to protect company data against natural disasters with a fail-safe disaster recovery plan. This plan will keep all medical documents protected from fire, flood, or other natural disasters. Since Ricoh's DMS centrally stores documents, the healthcare organization will avoid the risk of having their files lost, misplaced, or misfiled.
BENEFIT 6: It helps in policy management approvals and workflow.
Ricoh's DMS streamlines administrative efficiencies to lower the risk of costly manual errors. With automated workflows to help route and move documents in the organization, regulatory updates can be done instantly. It can also automatically organize approval and review workflow to eliminate errors in filing.
Tips to Implementing a DMS for Healthcare Solutions
TIP 1: Develop comprehensive structures and policies for document control
A DMS needs to provide an effective document control mechanism for managing information that mitigates risks. Policies need to be implemented to ensure compliance that will protect the medical organization, its employees, and the patients they serve. It should be able to do the following efficiently:
Demonstrate regulatory compliance
Track signatories of essential documents
Pivot quickly to changing requirements
Ricoh's DMS provides strict security and regulatory compliance that will help medical organizations eliminate administrative healthcare bottlenecks to:
Restrict unauthorized viewing of confidential documents and develop guidelines to protect client privacy.
Prove compliance with HIPAA, Sarbanes-Oxley, GDPR, and other regulatory requirements.
Counter cyberthreats with state-of-the-art encryption of data, documents, and online communication.
Automatically enforce retention schedules of financial documents, employee records, patient files, and more.
TIP 2: Establish robust workflows and security
Security is critical to the healthcare sector, and it plays a considerable role in protecting patients and medical organizations. As such, medical organizations need a DMS that will effectively enforce these things in the workplace:
Workflows to help route and approve changes
Secure cloud-based collaboration
Always work from the most recent documents
Ricoh's DMS provides optimum collaboration in the medical sector to guarantee that every patient's health information is moved seamlessly throughout the continuum of care with powerful workflows that will:
Ensure accurate and timely availability of critical patient information.
Make collaboration among medical professionals easy.
Connect remotely to specialists and offsite teams.
Ensure accurate, secured & always available patient information.
Reduce avoidable human errors during transitions in care.
TIP 3: Integrate the DMS for the whole organization
In addition to compliance and security, accessibility is also an important aspect of a DMS in the healthcare sector. Having documents in one centralized location is crucial, but it should also be able to:
Find your files instantly
Reduce costs with paperless operations
Access documents anytime, anywhere
Ricoh's DMS ensures a smoother integration and consolidation of all the documents in the healthcare organization to help improve productivity and reduce human error that will ultimately:
Help ensure synergy
Integrate unstructured content across systems
Standardize processes and workflows across systems
Reduce risk and liability from aging information assets
Eliminate redundancy of data
Create a unified user experience
Implementing a new method for managing healthcare documents will undoubtedly take time and effort.
However, the necessity to use a DMS in healthcare is more important than ever before. Keep in mind that the right DMS to protect your healthcare documents will ensure that the organization will run as seamlessly as possible. As such, it will always be a necessary investment for the long term. Ultimately, you will also need a trustworthy DMS provider like Ricoh Philippines, who has the proven expertise to modernize your company's healthcare solutions. Click here to learn more.