New RICOH Pro C7500 colour production printer promotes the shift to digital printing with value added printing
SINGAPORE, Sep 18, 2023 - Ricoh Asia Pacific has announced the launch of Ricoh's latest production printer, the RICOH Pro C75001.
Positioned as the successor to the RICOH Pro C7200/C7200X series, the RICOH Pro C7500 offers high-quality and value-added printing with improvements in paper transportation, toner transfer, and support for an expanded media range. A new control system helps to reduce manual workloads and streamline operations, allowing customers to gain better efficiencies and provide room for business growth.
The RICOH Pro C7500 comes with a base print speed of 85 pages per minute (ppm) that can be upgraded to 95 ppm via an optional productivity upgrade unit.
In addition, its base 4-station toner configuration (CMYK) can be upgraded to include a 5th station for special colour toner2, enabling the RICOH Pro C7500 to inherit all the innovative and well-received features of Ricoh's special colour toner in the original RICOH Pro C7200X series.
Various enhancements have also been implemented for special colour printing, including a built-in neon colour profile function, which allows customers to expand the colour gamut easily and produce richer and more vivid colour expression with neon toner.
The RICOH Pro C7500 shares some key features with the top-range RICOH Pro C9500, including enhanced basic image quality and improved output for applications that use uneven surface media, such as textured paper.
These improved capabilities, as well as support for new peripherals, further promote the shift to digital printing in the commercial printing market.
The RICOH Pro C7500 comes with the new RICOH GC OS controller, which was developed specifically to meet the demands of commercial printing businesses. The new controller simplifies day-to-day tasks—such as media setting and adjustment, device usage management, and maintenance—enabling users without specialised skills to operate the device easily.
The new controller architecture also enables new features to be added via software updates, allowing the RICOH Pro C7500 to have the most current features and fixes for customers' peace of mind.
The RICOH Pro C7500 showcases Ricoh's commitment to help customers improve the way they work by transforming workplaces through its digital devices and services.
1— Available from October 2023
2— White, clear, neon yellow, neon pink, invisible red, gold, and silver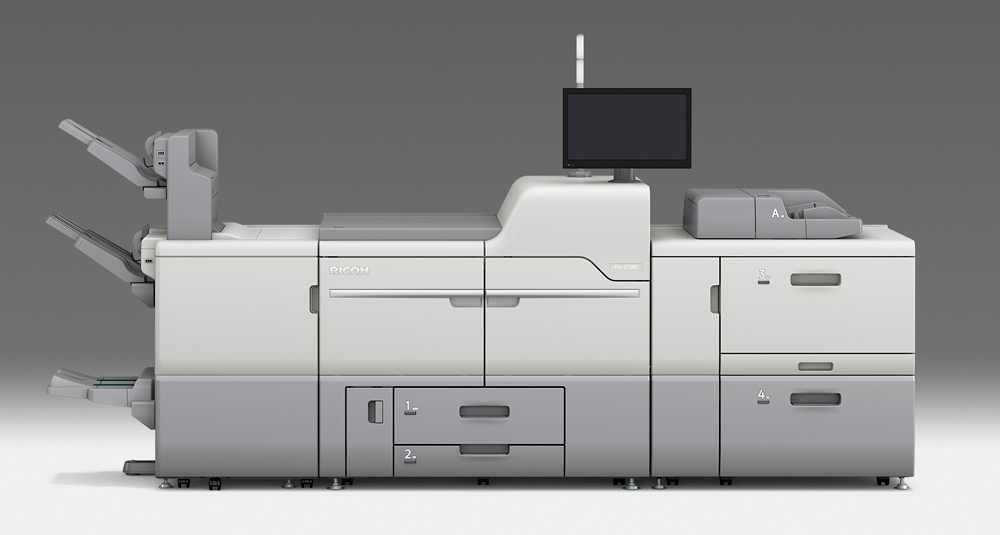 Main features of RICOH Pro C7500
New elastic intermediate transfer belt improves the ability to handle rough and uneven surface paper.
Paper weight range has been expanded to 40.0–470 g/m2 while the paper size for automatic duplex printing has been strengthened to support long sheets up to 1,030 mm1.
The 5-colour printing function with process toner (Cyan, Magenta, Yellow, Black) and special colour toner2 is the same as that of its predecessor, the RICOH Pro C7200X.
1—actual supported paper weight is dependent on paper size.
2—Color Controller N-50A or Color Controller N-70A, EFI 5th Station Hardware Upgrade Kit Type S9, and 5th Station Upgrade Kit Type S14 are required to print special colours.
The timeline function enables time-series checks of events such as device usage and setting changes, facilitating better information sharing among operators.
Users can access the printer and adjust settings remotely via a web browser on a PC or tablet, improving daily print operation efficiency.
New functions can be added via continuous software updates after the RICOH Pro C7500 launch to reflect the customer's voice.
The amount of time needed for special colour toner replacement has been reduced by simplifying the optional 5th Station Replacement Unit
A spot colour feature makes the colour matching for neon toners easier
The colour gamut can be easily expanded with a neon colour profile function that automatically adds settings for neon yellow toner and neon pink toner.