Laser vs Inkjet: Choose the right printer for your needs
With the global economy in turmoil, now is the perfect time to freshen up the company's business processes and do a little bit of spring cleaning with cost-saving opportunities.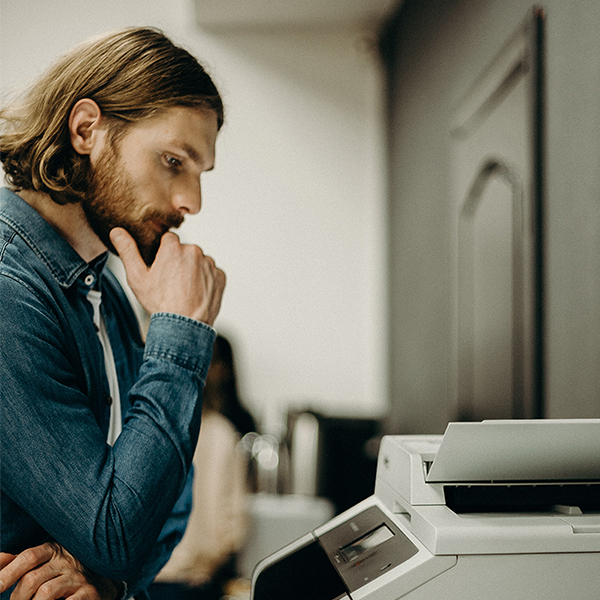 Of course, this should include your office equipment, such as the company's office printers. Why should you consider it? Here are several facts that might convince you to be more economical:
A typical office staff will likely print about 10 000 pages every year.
About 3% of a company's revenue is spent on paper. · Not to mention the fact those around 90% of companies have no formal printing procedures in place. · While around two-thirds of businesses do not really track down their printing expenditures.
Printer costs are often taken for granted since its operational costs are generally below utilities, rent, and payroll.
With these facts all thrown up together, it may be safe to assume that your company might also be spending too much with your office printers.
It would be great if you look for cost-saving measures today to ensure that your business will not be hemorrhaging money on operating costs from your printers for the next fiscal year.
All your printing needs
Whether you're thinking of buying a new printer for an office upgrade or you're simply interested in looking into several cost-saving measures for the office printers, there are a number of critical aspects to consider before making a purchase.
Several decades ago, choosing between a laser and an inkjet printer was an easy decision to make. Laser printers typically cost a lot, and its lack of color printing capabilities has made at-home computer users choose inkjet printers over the former.
However, several technological improvements over the years have blurred the line between laser and inkjet printers. Nowadays, it's more challenging to choose between the two.
The fundamental differences between an inkjet and laser printer will ultimately boil down to how each technology actually prints. As such, it will have an impact on how a printer will do well over the years and how expensive it is to print documents, and how big of an investment your company has to shell out.
All About Laser Printers
PROS
CONS

The toner is less expensive than printer ink
It is faster than inkjet, especially for longer runs
It is excellent for fine text on documents or for vector art - provides crisp, clean lines.

It is a bit more expensive to buy outright
It cannot print on many substrates - this is mostly limited to paper cardstocks
It is not as good a choice for continuous-tone images (like photographs).
How it Works: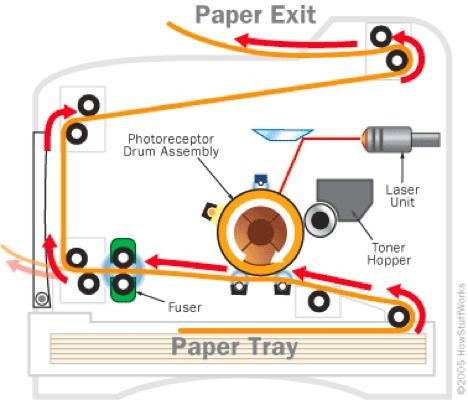 Laser printers work a little bit like offset printers. However, instead of ink and water, the printer uses electrical charges and powdered toner. Laser printers include not just a laser but also a rotating cylinder that is coated with photosensitive electrically charged material and a series of mirrors.
When you send a document to a laser printer, the laser light will be reflected in the mirrors to the cylinder, which neutralizes electric charges in specific areas. The rotation of both cylinder and mirrors, including the lasers that turn on and off at the precise moment the areas hit by the laser, will correspond to the actual print.
A sheet of paper is pressed against the cylinder, and the toner will be transferred through the paper using heat that fuses a toner into it. This is the reason why documents from the laser printer are always warm. The precision of laser printers makes it excellent in producing crisp and clear text.
Ricoh's SP C261DNw Color Printer and SP C261SFNw Color Multifunction Printer (MFP) are the perfect office companion to print various business documents. Made from Ricoh's reliable technology, their compact size is suitable for the office setup. It can produce impressive colored prints that are guaranteed to give your business the support and efficiency it deserves.
All About Inkjet Printers
PROS
CONS

It is cheaper to buy at the outset
It is excellent for continuous-tone images; better image accuracy / detail
It can print on many substrates and in a lot of substrate sizes.

It dries up and clogged nozzles easily
Slower runs than a laser; less quality in text and vector images
It prints as it spools - may lose info if the computer is interrupted before printing is finished.
How it works: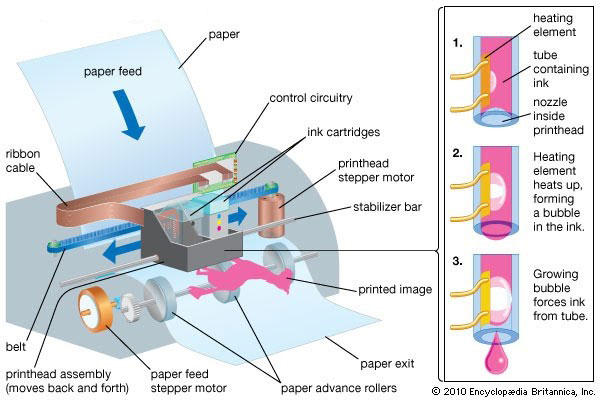 Principle of the ink-jet printer
Inkjet printers use special nozzles or jets to put the ink onto the substrate. An inkjet printer contains a firmware that can process the image. It uses a print head that moves across the paper to create one line of the image for each pass.
The printer puts ink on the paper using a matrix of small dots. A typical inkjet print head usually has 64 or 128 tiny nozzles, which can produce a droplet simultaneously. The plates will carry a magnetic charge to direct the ink's path onto the paper to form shapes. Inkjet printers can include one or more ink cartridges that contain the different colors of ink for the printer.
The Takeaways
Upfront Costs
Inkjet printers cost less to buy. However, you may pay more in the long run
Inkjet printers are typically less expensive than laser printers since its printing technology is less complicated, making it easier to manufacture. However, ink cartridges from these printers are more expensive. Sometimes it's even cheaper to buy a new printer than to replace a full ink cartridge set. That's not only bad for the environment; it's also unsustainable to replace a printer every time a set of ink runs out. It might be better to invest in a reliable laser printer that will last longer and print more documents.
Print Quality
Laser printers are better for documents at high volumes, but inkjets tend to print better photos.
The qualities of liquid ink and toner powder will affect how suitable your printers are for specific printing requirements. Inkjets will typically handle printing images and photos well since the nature of liquid ink means that the subtle shades of color will be easier to replicate with this technology.
Traditionally, laser printers are better suited to print text that produces crisp and clear letters unmatched by inkjet printers. The latter tend to bleed, causing individual letters to smear slightly.
However, Ricoh's SP C261SFNw Color MFP can produce high quality and affordable color prints with its low fuss and compact size. It has a vivid color output that can easily print presentations, flyers, reports, and high-quality images. It is the most convenient office printer for color printing, color scanning, and even faxing for a small office setup.
Cost of Printing
Laser printers offer cheaper prints per page, but the toner is more expensive.
A laser printer's toner tends to be more economical on a per-page basis than inkjet printers. In addition, toners come in a powdered form, making it easier to ship, store, and use for the office. Toner cartridges may be more expensive to buy than ink cartridges. However, its print yields will far exceed that of inkjet printers.
Toners are also best for storage on a long-term basis. While inkjet cartridges can be stored for months if kept safe, infrequent use may cause the cartridges' liquid ink to dry out. Since toners are made of powder, it's one less hassle to think about when it comes to restocking office supplies.
Before you set out to buy a new office printer, here are several guide questions to help you decide which ones will best suit your needs:
Q1: Does your company need a new printer?
An inkjet printer's average lifespan is three years, while a laser printer can last for about five years.
Q2: What are your printing priorities?
The current printing needs of your office will definitely have an impact on the lifespan of your office printer. It's better to make sure what your company's future printing goals will be and determine if the office is:
Looking for a printer upgrade for your company
This means that the current printing setup you have is a hindrance to your team's overall productivity. To streamline production and enhance your printing capabilities, upgrading to a new printer may be a good idea to improve your business operations.

Adding to your current printing production line
In this case, the current printers that you have may be performing well. However, adding a new printer may help print different materials or projects that your company may need in the future.

Investing for new opportunities
If you are in the middle of a transition from outsourcing your printing needs or branching into a different market for the New Normal, then now may be the best time to purchase a reliable laser printer like Ricoh's SP C261DNw Color Printer for the office.
Q3: What are your printing needs?
Know the type of materials you need to print. Carefully consider which particular features you will need for the office and find the best one that suits your standards. Here are some features that most businesses look for – colored and black & white print, copy, scan, fax, network-enabled, mobile-ready.
Q4: Where will the printer be located?
Consider the printer's purposes and whether or not it will require a lot of space. Your printing needs will differ if you have a small setup in a busy office building or a giant warehouse with a spacious location. Don't jump into making an instant purchase just because it's more cost-effective. Make sure that the printer you have your eye on will be compatible with your current office setup.
On your next printer purchase, consider investing in laser printers.
In the long run, laser printers can be the smarter choice based on your printing needs. The kind of printers that you will choose will eventually be affected by your firm's operational costs. Go the laser printer route and make the conscious effort to maximize your printers' office costs and usage. RICOH is a leading provider of world-class laser printer. Our laser printers like our SP C261DNw Color Printer and SP C261SFNw Color MFP pack high productivity and easy functionality into its compact footprint. For a list of our color printers, check out our list here.