Digital Workplace Reimagined for Hybrid Workforce Collaboration
More than a year into working remotely, industries have started to open up, and employees are starting to go back to work.
But of course, new working protocols wouldn't be returning to the same old office setup. The COVID-19 pandemic has fundamentally altered not just the way we work but also our sentiments on where work happens.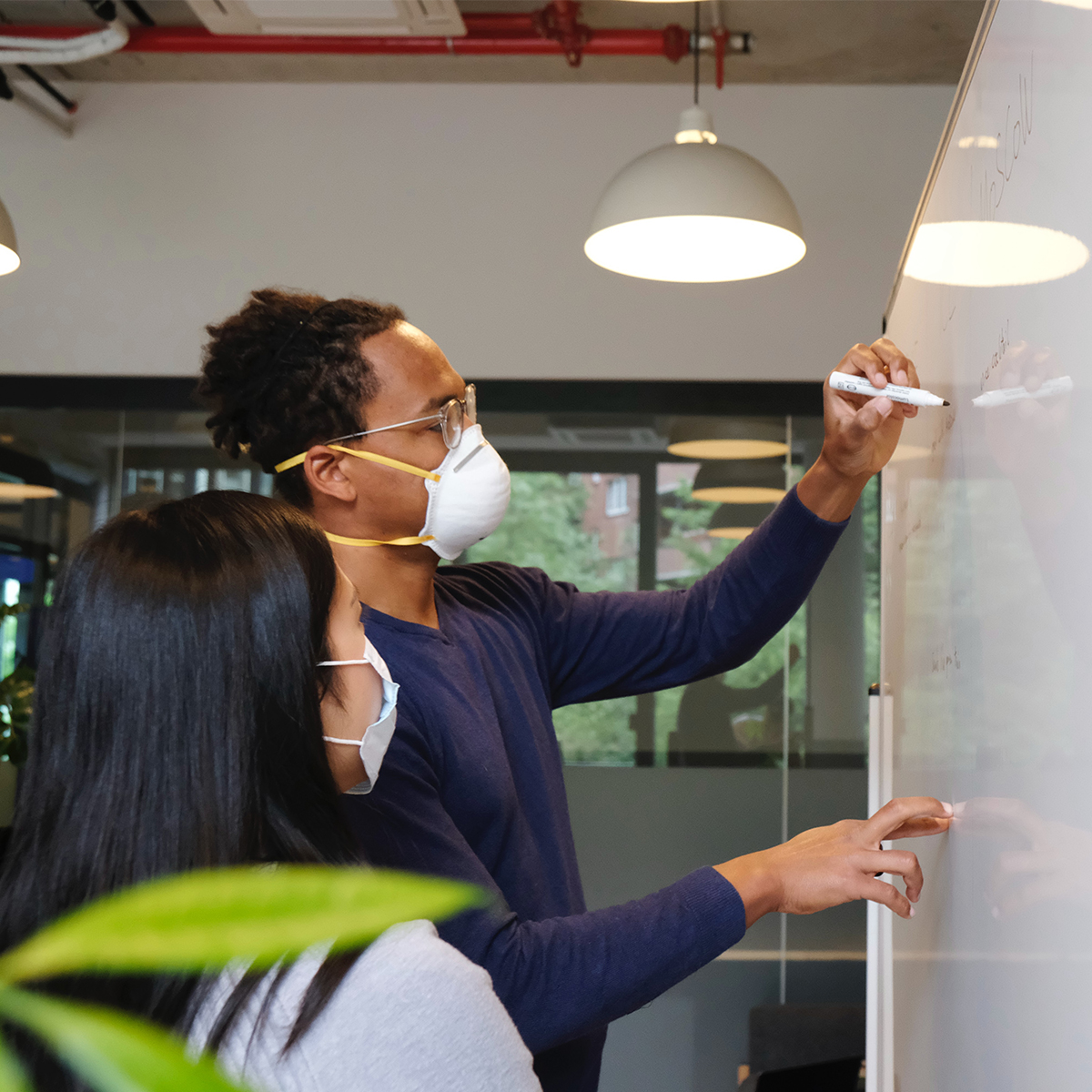 Photo by @airfocus
As businesses prepare for recovery, changes in the way work is being done can be most strongly felt in how digital technologies are utilized to support the day-to-day tasks of employees. The global pandemic has caused organizations to rethink, reimagine, and reinvent decades of practices around how work is managed. As a result, the hybrid workforce is predicted to grow significantly over the coming years.
There are already a lot of predictions regarding a significant increase in hybrid work arrangements in a post-pandemic world. Companies that were apprehensive about remote work have already started planning for a future with at least some of their employees working remotely.
Replacing the traditional concept of a "workplace" to a "workspace," companies are now giving the option to have employees work from home or at the office.
Organizations that are championing the arrangement of a hybrid workforce needs to have these fundamental approaches in place:
Total commitment to a hybrid-first arrangement.
Consider the needs of the hybrid employees and give them the same amount of importance as those employees who are working on-site. A hybrid-first arrangement requires management to be fully committed to implementing protocols that will equally prioritize those working remotely and those in the office.
Embrace learnings from remote work to do better.
Start with the mindset that employees a more digitally-minded compared to the year before. All of the initial resistance to video calls, shared folders, and shared screens have long been gone. Embrace the convenience of utilizing digital technologies such as online workshops and webinars instead of in-person to maximize efficiency.
Design workflows for iterative collaboration.
By this time, employees now understand how to use collaboration tools, from Google Drive to interactive whiteboards, to ensure that synchronous collaboration will be as easy as possible for the hybrid workforce. Create a workflow that will enable idea-sharing a seamless process for both remote and on-site employees.
Invest in digital technology and tools.
To succeed in fully implementing a hybrid workforce, organizations need to understand how their employees work while subsequently looking for the best tools that will enable their workflow. There are various options for project management software, interactive whiteboards, and cloud working environments. In addition, these technologies need to be scaled up for daily use in the entire organization.
Ricoh's interactive whiteboards provide the ideal solution for hybrid work collaboration. Taking team collaboration to a whole new level, these interactive whiteboards help stimulate creativity, craft new ideas, and provide experiences that engage the different learning and thinking styles of team members, customers, and audiences for more productive meetings.
Moving to a Hybrid-First Work Arrangement
Blending what employees want and what companies need requires careful consideration. For example, in a hybrid-first work arrangement, both employers and employees will determine how much time they work in the office and the number of days they work remotely.
Pew Research shows that 54% of workers who can work from home want to continue doing so even after the pandemic. While Elisabeth Joyce, VP of Advisory at Gartner, noted that "The question now facing many organizations is not how to manage a remote workforce, but how to manage a more complex, hybrid workforce."
"While remote work isn't new, the degree of remote work moving forward will change how people work together to get their job done," she added.
As employees adjust to the new hybrid environment, companies need to focus on "hybrid first" to streamline physical work locations and adopt digital solutions to this new work arrangement.
Here are several things to keep in mind when adopting a hybrid workforce arrangement:
Structure and flexibility need to work as seamlessly as possible.
At this point, organizations have already realized the advantages of remote work by giving employees the option to work from home or adjusting their work hours to suit their lifestyles. However, a flexible schedule also needs to be structured around the work that needs to be accomplished. A unified structure needs to be in place to collaborate with remote workers and vice versa. With the proper system in place, organizations can benefit from an efficient and effective hybrid workforce.
Technology-driven collaboration is a must.
With fewer employees working in the office, office spaces need to undergo the necessary transformation to make them more conducive to hybrid work arrangements. For example, unused office spaces can be transformed into hybrid conferencing spaces. For this arrangement to be effective, organizations need to equip their employees with the right technologies that will enable collaboration between on-site employees and remote workers.
The capability to easily interact, share, and view content between on-site and remote workers is essential. Sharing information and ideas from interactive whiteboards and collaborating with shared documents from laptops is a must in a hybrid work arrangement.
This is why RICOH provides a variety of high-quality interactive whiteboards that encourages collaboration, innovation, and engagement among the hybrid workforce. Their interactive flat panel display (IFPD) adds focus and creativity to every meeting. As a result, hybrid teams will get more done as they edit on the fly and exchange ideas in real-time.
Digital Collaboration for the Hybrid Workforce: How to Make it Work
Digital Collaboration has become more than just a trendy buzzword nowadays. Given that the hybrid work model is likely here to stay, enabling collaboration between in-office and remote workers is essential.
Here are five fundamental principles for hybrid work collaboration:
These are the strategic considerations around the organization's hiring, management, and culture that will complement a hybrid work arrangement.
The strategic considerations around the organization's hiring, management, and culture will help employees fully adopt a hybrid work environment in the most seamless way possible. In addition, knowing how employees can work together and communicate clearly in this arrangement will help drive connection and trust within the hybrid workforce.
These involve the parameters and logistics that shape the organization's hybrid work structure.
Without clarity and alignment on the basic rules of the hybrid work structure, employees may tend to feel apprehensive or reluctant about choosing where they should work—as such, reconciling the elements from the former work protocols and adapting new ones will enable organizations to clearly demonstrate that the management is fully committed to the hybrid work arrangement.
This pertains to the thoughtful design of the hybrid workspace to foster safe, inclusive, and successful collaboration.
As the organization adapts to the hybrid model, location is a primary factor that needs to be considered when structuring how teams work on-site and remotely. There are situations when employees need the flexibility and freedom to work remotely while also having the ability to have a centralized space to meet regularly for problem-solving and ideation purposes.
These are the digital collaboration platforms and technologies that organizations use to leverage for success.
Digital collaboration tools and software play an essential part in connecting remote teams. It helps people develop a strong sense of belongingness and purpose and leverage digital technologies for hybrid collaboration. Organizations need to provide the right devices to help their employees do their jobs properly, such as subscriptions to project management software, including shared devices in the office like interactive whiteboards for hybrid team meetings.
Hybrid team meetings can be made simpler and better with collaboration tools like Ricoh's interactive whiteboards. It helps enhance meetings among distributed teams, remote workers, and employees on-the-go with interactive features that help encourage teams to collaborate, share, edit, and annotate together in real-time.
These are the formalized digital processes to help people and teams support and engage with one another in a hybrid work arrangement.
Organizations need to reimagine their entire digital processes. As the world prepares for business recovery, now is the best time to formalize the digital strategies that were put in place during the height of the pandemic. Make sure that these processes complement the strengths of the hybrid work arrangements.
Interactive Whiteboards: Making Digital Collaboration Easier
Whiteboards are the proven and tested tool to share ideas, visualize thoughts and concepts, explain, teach, plan, and create. The traditional whiteboards pave the way for interactive whiteboards featuring large interactive displays.
Combining the practicality of traditional whiteboards with cutting-edge technology, Ricoh's interactive whiteboards help bring team ideas into focus with engaging visuals and video conferences that illustrate ideas and encourage teamwork and innovation. Its high-quality, high-resolution screens with interactive features empower your teams to collaborate in real-time, wherever they are working.
Now that hybrid work is slowly becoming the norm, interactive whiteboards are emerging as an essential tool to support team collaboration for office and remote workers. Here are some of the benefits of interactive whiteboards:
Increased hybrid workforce engagement
One of the primary benefits of an interactive whiteboard for the hybrid workforce is its capability to keep employees engaged and focused, even for those working remotely. While the usual distractions may not seem to be that bothersome, an interactive whiteboard will still help employees be more immersed in their work. For example, interactive whiteboards can annotate documents in real-time instead of having a meeting offline for miscellaneous tasks.
Enable a more streamlined teaching and learning experience
Interactive whiteboards will help allow the hybrid workforce to receive feedback in real-time, thus increasing worker communication and efficiency. For brainstorming, planning, and visualizing, interactive whiteboards are a great tool to help hybrid teams work more effectively.
Improved hybrid workforce collaboration
With the help of an interactive whiteboard, the hybrid workforce can visually express their ideas and concepts among the team members using text, images, and diagrams. Thus, it will help increase not just engagement and productivity but it will also enhance hybrid team collaboration. Furthermore, since it helps streamline visual collaboration, interactive whiteboards will also reduce miscommunications among team members, which is one of the most important aspects of a productive meeting.
Are you ready to sustain the future of work with the hybrid model for 2020 and beyond?
COVID-19 has changed the workplace, and the way employees do their work. Embracing digital collaboration has made it possible to refine and scale-up business operations for the post-pandemic recovery.
With Ricoh Philippines, digital collaboration is made simple with hybrid work solutions such as interactive whiteboards. It comes in a variety of sizes and resolutions for the best possible visual experience.
Click on this link to find out more!