New RICOH Pro C9500 drives print service providers' business growth and operational efficiency
SINGAPORE, August 2, 2023 - Ricoh Asia Pacific announced the launch of Ricoh's latest flagship production printer, the RICOH Pro C9500. The RICOH Pro C9500 provides a range of improvements, such as enhanced media compatibility as well as improved automation and operational efficiency to meet the diverse needs of customers in the commercial printing business.
As the successor to the RICOH Pro C9210/C9200, the RICOH Pro C9500 builds upon the superior image quality, high-speed output, quality consistency, and stable operation that have made the series well-accepted by customers the world over.
The RICOH Pro 9500's new fusing unit enables printing of 40 g/m2 thin media, which has been traditionally challenging for digital presses to print. This improved capability further promotes the shift to digital printing, such as for books and booklets, which require thin media.
Additionally, new peripherals enable continuous paper feeding and output up to 960 mm in length, making it easier for commercial printers to capture new business such as A4 size four-panel brochures.
Furthermore, the RICOH Pro C9500 comes with RICOH GC OS, a new engine controller developed specifically to meet the demands of commercial printing businesses. The new controller simplifies daily tasks—such as media setting and adjustment, device usage management, and maintenance—enabling users without specialised skills to operate the device. In turn, this allows customers to reduce their reliance on costly skilled labour and experience.
The RICOH Pro C9500 also supports the new optional Auto Color Diagnosis Unit Type S151, which enhances the automation and operational efficiency of the inspection process in commercial printing.
In addition to colour stabilisation and monitoring functions during printing, the new Auto Color Diagnosis Unit automates the three critical inspection stages in commercial printing, namely quality inspection, registration inspection, and colour fluctuation inspection.
By automating these three types of inspections, customers can save time and effort in the colour adjustment and inspection tasks, which used to be highly specialised and labour-intensive. Moreover, it provides customers with the flexibility to choose how the printer operates after inspection according to their requirements.
The RICOH Pro C9500 showcases Ricoh's commitment to help customers improve the way they work by transforming workplaces through its digital devices and services.
1—Scheduled to be available in Q4 2023.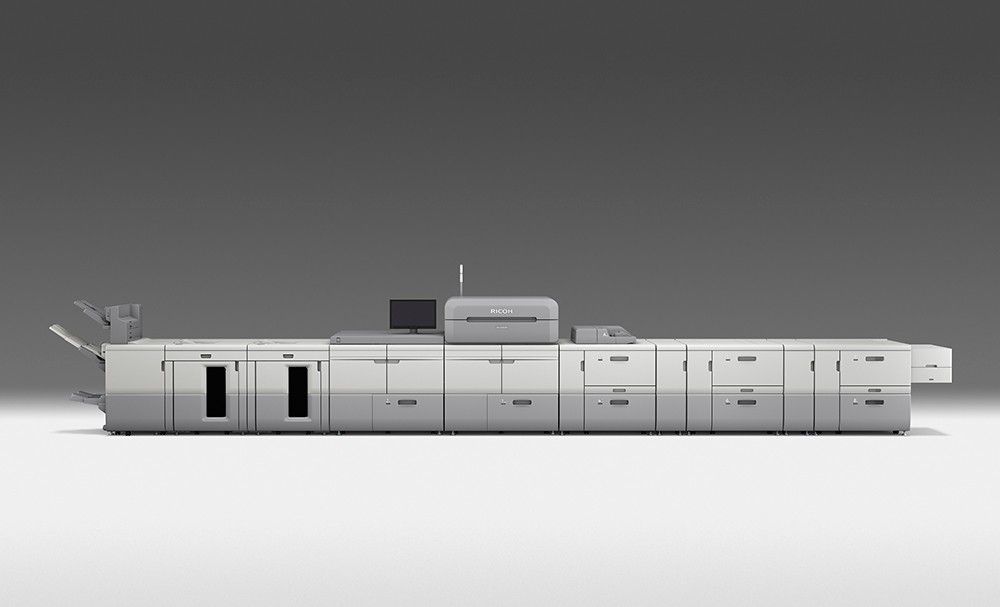 Main features of RICOH Pro C9500
Maximum speed of 135 ppm (A4) and high productivity on mixed media jobs.
Twin toner bottles for uninterrupted, continuous printing.
Up to three optional Vacuum-Feed LCIT units can be added to increase the feeding capacity to 18,100 sheets.
In addition to thick media support up to 470 g/m², the new fusing unit enables printing on 40 g/m2 thin media.
By improving the printing quality of thin-coated media, synthetic media, and envelopes, we have achieved the highest range of paper quality in EP-CS printers.
Expansion of peripherals enables continuous paper feeding and output up to 960 mm in length.
The timeline function enables time-series checks of events such as device usage and setting changes, facilitating better information sharing among operators.
Users can access the printer and adjust settings remotely via a web browser on a PC or tablet, improving daily print operation efficiency.
New functions can be added via continuous software updates after launch to reflect the customer's voice.
The latest Auto Color Diagnosis Unit Type S15 enables important inspection operations to be performed automatically, as well as real-time monitoring and colour stabilisation during printing.
Auto Color Diagnosis Unit Type S15 main features:
Image Quality Monitor: Automatic inspection function
Inspection of image quality imperfections* such as spots and streaks
Inspection of front-to-back registration for image position misalignment
Inspection of colour fluctuations
Auto Color Diagnosis: Automatic colour stabilisation/monitoring function
Inspect for colour fluctuations during printing by scanning output and adjusting/stabilising the colour in real time.
Visualisation of colour fluctuations during printing using the monitoring function.
*The master image is generated automatically based on raster image, so it is possible to inspect variable jobs as well.