Back to results
RICOH @Remote Enterprise
@Remote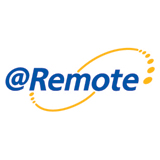 Intelligent Remote Management System
With @Remote Office, you can remote manage print devices, optimize device usage and reduce TCO. @Remote Office utilizes a single, thin-server type hardware appliance to collect device data, receive and report service and toner alerts, and enable remote firmware upgrades. In addition, @Remote's secure, web-based reporting portal transforms captured data into valuable reports on population, usage and new Green reporting capabilities.
About @Remote Office
The @Remote management system facilitates remote device management for your networked fleet of Multifunctional products and printers
Provides remote access to device utilization reporting via a secure web-based reporting portal
Intelligent alerts automatically notify service providers of devices needing service and toner
Enables remote scheduling and completion of firmware upgrading and device adjustment
Features and Benefits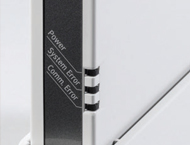 Anyone looking to eliminate manual meter reads
IT Managers seeking to understand what output devices are on the network, optimize these assets and control where and how printer supplies are being consumed
Anyone wanting to simplify management of a printing fleet
Increased up-time and the ability to match device location to work load
Automatic, accurate, timely meter reads and billing
Eliminates need for manual meter collection saving hours of labour
Usage reporting for the device fleet is accessible remotely from a secure (HTTPS) website using a web browser
Ability to optimize for efficiency and cost reduction
Downloads
---
@Remote Enterprise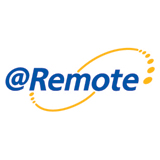 Automated, Scalable Device Management
@Remote Enterprise Pro provides centralized monitoring and device management for your entire network of Multifunction products and laser printers. This server-based solution gives I.T. support personnel the information and control they need to maximize uptime and lower support costs. @Remote Enterprise can be paired with the @Remote Connector option* which expands services to include: web-based fleet reporting, toner and service alerts, automated meter submission, and remote firmware upgrades.
About @Remote Enterprise
Locally installed server-based software for monitoring and managing networked MFPs and printers
Designed for an enterprise level environment
Optional @Remote Connector* delivers access to detailed reports and lets you automate service tasks to streamline business processes
The @Remote Connector option*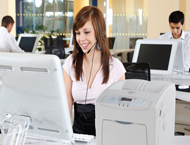 Access a secure web-based portal (https://www.atremote.net) to monitor aggregated fleet data and monthly trend reports
Visual reports include: Fleet population, utilization, trending, an environmental report, and other reports and options for drill-down analysis and data export
Automatic notifications to service provider upon critical service events
Automatic low-toner notification to service provider
Setup automatic collection of device meters and submission to service providers at a pre-defined schedule
Enable remote firmware update at the customer's discretion
Using @Remote Enterprise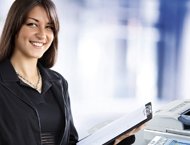 Remotely collect detailed page counters from each device by function, color and mono or total print meter for other manufacture's devices.
Perform remote print driver installation
Receive real-time device status including paper, toner, configuration and early warnings such as "Low Toner", "Almost out of Paper"
Alerts can be automatically emailed to support personnel
Mapping function lets you manage devices visually based on their location on a floor plan with color indicating the device's status
Downloads
Intelligent Remote Management System
Remotely manage print devices, optimise device usage and reduce TCO
The @Remote Connector option*
Access a secure web-based portal (https://www.atremote.net) to monitor aggregated fleet data and monthly trend reports
Visual reports include: Fleet population, utilization, trending, an environmental report, and other reports and options for drill-down analysis and data export
Automatic notifications to service provider upon critical service events
Automatic low-toner notification to service provider
Setup automatic collection of device meters and submission to service providers at a pre-defined schedule
Enable remote firmware update at the customer's discretion
Using @Remote Enterprise
Remotely collect detailed page counters from each device by function, color and mono or total print meter for other manufacture's devices.
Perform remote print driver installation
Receive real-time device status including paper, toner, configuration and early warnings such as "Low Toner", "Almost out of Paper"
Alerts can be automatically emailed to support personnel
Mapping function lets you manage devices visually based on their location on a floor plan with color indicating the device's status
Download PDF brochure